Boston to Washington D.C. Via NYC
Rail Journey - from £106
Intercity
The Northeast Regional and Acela Express offers regular downtown to downtown service between New York, Washington D.C., Baltimore, Philadelphia and other intermediate cities, as well as many convenient round-trips between New York and Boston.
Comfortable reclining seats
Free WiFi onboard
Dining car for refreshments
Air-conditioned carriages
Your Rail Journey
Speed past the traffic jams and toll booth tie-ups. Rest, read or reflect, the choice is yours. Arrive at your selected station to find yourself just steps away from our nation's hubs of business, commerce and history. Discover the hassle-free way to travel to the great cities of the Northeast.
Coach Class Travel
Coach Class travel is an economical way to travel from New York to Washington or Boston whilst taking in the beautiful scenery along the way. Coach Class seats include:
Wide, comfortable reclining seats
Ample legroom for your comfort
A fold-down tray for dining
Individual reading light
Electrical sockets right at your seat
Business Class Seating
Enjoy an enhanced travel experience in Business Class and you'll enjoy all the benefits of Coach Class travel, as well as upgraded amenities such as:
Exclusive business class carriages
Comfortable leather seats with footrests
Extended legroom
Complimentary non-alcoholic beverages
First Class Seating
First Class seating is available exclusively on Acela Express. First Class passengers enjoy premium amenities, complimentary onboard food and beverage services and privileged access to ClubAcela lounges in Boston South Station, New York Penn Station, Philadelphia 30th Street Station and Washington, DC Union Station.
Dining Onboard
Onboard the Acela Express, food service is available in the Café Car, featuring table seating. Foodservice is normally available from early morning until late evening. On these cars, there is a variety of pick up and go style foods, including sandwiches, pizza, snacks and a selection of alcoholic and non-alcoholic beverages.
Boston to Washington D.C. via New York (Daily)
Departs: Multiple departures
Washington D.C. to Boston via New York (Daily)
Departs: Multiple departures
Rail Journey - from £106
OPTIONS
Upgrade to First Class travel – from £169
Call Freedom America for departure dates and availability Seasonal variations may apply – call 0333 234 0922 or enquire now for more details** Note: schedules may vary for journeys departing from 1st April 2020 onwards.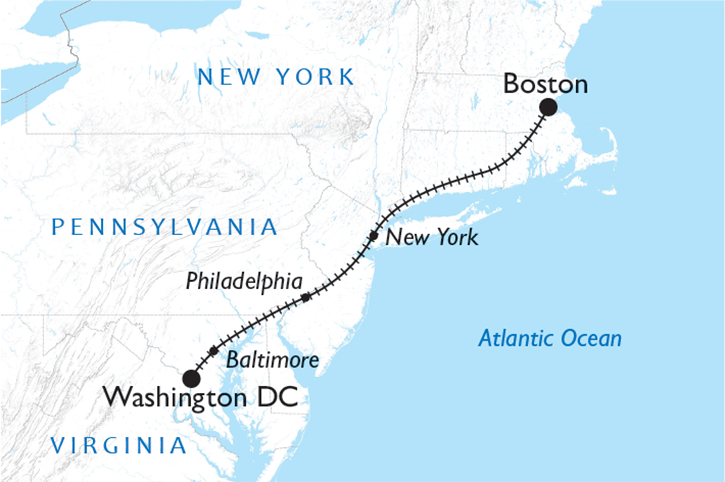 AMERICA'S GREAT RAIL JOURNEYS
Travel in style between America's great cities, soaking in the scenery on the way. These great rail journeys are a spectacular alternative to flying as you travel between two centres.
Coach & Business Class
Coach Class seats are wide, comfortable, recline and have plenty of legroom for you to stretch out. The carriages are air-conditioned with large windows perfect for viewing the wonderful scenery.
Sleeper Cabins
Available on long distance rail journeys, Sleeper cabins are the perfect way to get some sleep whilst you travel. Cabins range from roomettes suitable for two passengers to bedroom suites that can fit four, a great option for families.
For advice or to start planning your holiday
talk to an America Expert on 0333 234 0922