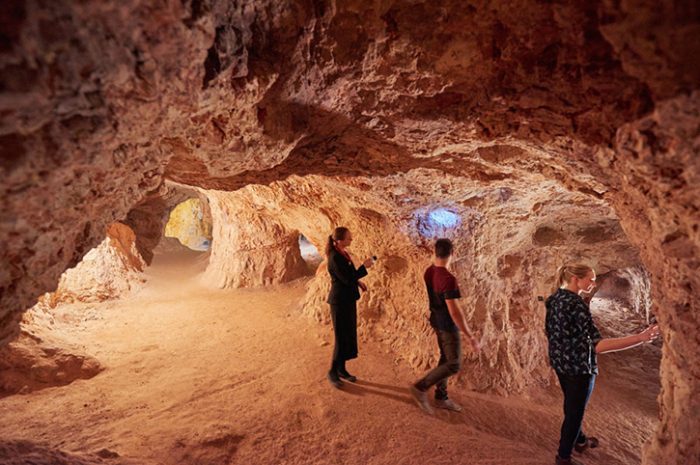 Desert Cave Hotel
Coober Pedy
FREEDOM rating: ★★★
Experience unique dug-out style living at the Desert Cave Hotel, found in the opal-mining town of Coober Pedy.
Swimming pool
On-site restaurant and cafe
Underground shopping arcade
Underground bar and gaming Room
Complimentary WiFi
About Your Hotel
Located in the harsh outback region of South Australia, Coober Pedy is recognised around the world as the largest producer of opals. In this opal mining outpost nearly half of the population lives underground to escape the high temperatures of the summer months. Coober Pedy is a fascinating, friendly place to visit, a must do on any outback adventure.
Offering guests the unique experience of dugout style living, the Desert Cave has both aboveground and underground guest rooms, shops and a bar. Visitors here have the choice to sleep underground where rooms are quiet, cool, dark and airy. Many have said it's the best nights sleep they've ever had.
Accommodation
Rooms have TV with in-house movies, WiFi, mini bar, fridge and room service. Deluxe rooms are underground.
Facilities
Restaurant, bar, café, shopping arcade, pool and laundry facilities.
Room Type
Occupancy
Meals
Room
Deluxe Room
FREEDOM rates this hotel
Local Attractions
Breakaways Conservation Park
Old Timers Mine
Umoona Opal Mine & Museum
Faye's Underground Home
Painted Desert
Big Winch
Josephine's Gallery & Kangaroo Orphanage
Serbian Orthodox Church
For advice or to start planning your holiday
talk to an Australia Expert on 0333 234 2889