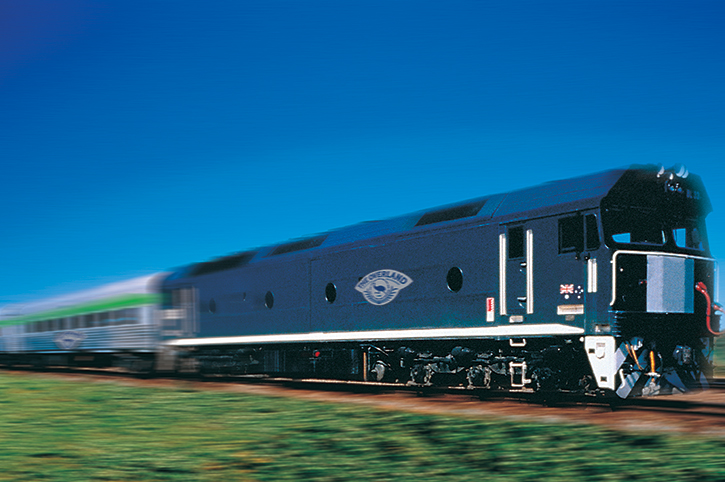 Adelaide to Melbourne
Rail Journey - from £62
The Overland
An affordable and convenient way to travel between Adelaide and Melbourne, enjoying spectacular scenery as you go.
Highlights:
Comfortable reclining seats
Diverse scenery
Range of dining options
Day time travel
Your Rail Journey
Choose to travel between these two great cities in comfort on board The Overland train. Whichever direction you travel, both depart during daylight hours meaning that you get to enjoy the diverse scenery from the city skyline to rolling fields of green and gold.
Embark on your interstate adventure with comfortable semi-reclining seats and a range of dining options, and dedicated hospitality attendants, and a choice of red or red premium seating.
Your Seating Options
Choose the style of travel that suits you:
Red Service
Ideal for travellers looking for comfortable and affordable travel in reclining seats. Drinks and snacks are available from the licensed Cafe 828. Luggage allowance is 2 x 20kg per person.
Red Premium Service 
Offers extra space and comfort in reclining seats that offer extra leg room. Complimentary in-seat breakfast, lunch and afternoon tea is included in addition to free tea, coffee and soft drinks throughout your journey. Luggage allowance is 2 x 30kg per person.
On board facilities: A buffet car on each train service provides you with a variety of hot and cold meals as well as snacks and drinks. You can purchase your meal and then take it back to your seat.
Rail Journey - from £62
**EARLY BIRD – Book NOW and SAVE up to 15%**
Complimentary breakfast, lunch and afternoon tea on board the Red Premium Service is included.
JOURNEY DETAILS
ADELAIDE TO MELBOURNE
Departs: 07:45 Monday and Friday
Arrives: 18:50 Monday and Friday
MELBOURNE TO ADELAIDE
Departs: 08:05 Tuesday and Saturday
Arrive: 17:40 Tuesday and Saturday
For advice or to start planning your holiday
talk to an Australia Expert on 0333 234 2889