7 TOP Canada Holidays for 2020
2020 is set to be a record breaking year for our newest Freedom Destination, Canada. Voted in Lonely Planet's Best in Travel as one of the top places to visit in 2020, we'll explain why we love Canada holidays, why our customers are loving them and why we think you'll love them too.
From across this expansive country there's a diverse range of things to enjoy and holiday memories to make over the travel year ahead. From spotting wild bears on a unique lodge stay to taking a helicopter ride over impressive Niagara Falls, or even exploring the wilderness of the Rockies from the comfort of a train, there's a 2020 Canada holiday to suit you and your budget.
Read on to discover our 7 best Canada holidays for 2020, as recommended by our North America and Canada Destination Experts.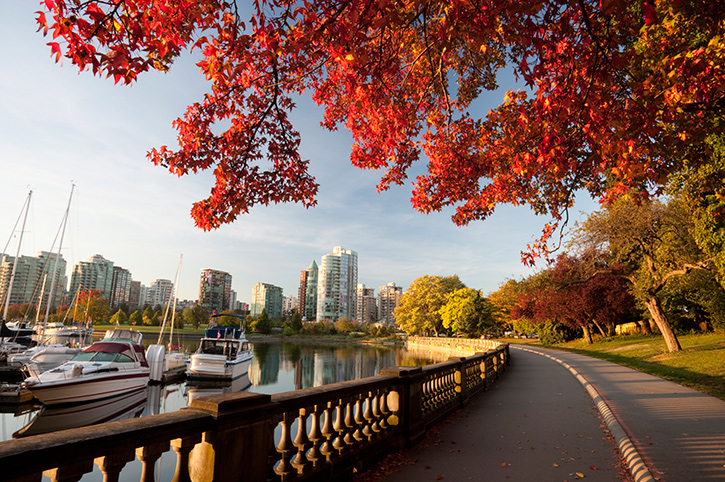 1. Lonely Planet's Top City to Visit in 2020 – Vancouver
Recently voted 8th in the world in Lonely Planet's top cities to visit in 2020, Vancouver is the perfect base, start point and/or end point for a 2020 Canada holiday. Enjoy walks through the city, visit Granville Island market, catch a hockey game with local team the Vancouver Canucks and more.
Repeatedly voted as one of the best cities to live in the world, Vancouver is nestled between the sea and the mountains. With plenty of beautiful green spaces and a strong passion for protecting its natural environments, you can enjoy the great outdoors within the city as well as just beyond it.
Further afield, catch a boat to Vancouver Island for wildlife experiences that will take your breath away or drive the sea to sky highway up to Whistler. Vancouver pairs beautifully with many other parts of western Canada, including wildlife spotting in British Columbia and national park adventures into the natural wilderness for hikes, camping and exploring.
Expert Tip: Vancouver is an ideal place to start a Rocky Mountaineer journey travelling across some of Canada's most picturesque regions.
2. See Iconic Wildlife in British Columbia
If you're visiting Canada to see its native and impressive wildlife, then you will want to head to British Columbia. With vast open spaces that are home to Canada's famous grizzly bears and families of orca whales, along with countless other impressive birds, fish and seals, you won't be disappointed with Canada's natural playground.
If you are incorporating British Columbia's wildlife as part of a longer Canada holiday with limited time in the area, head to Vancouver Island. If you want to completely centre your trip around this once in a lifetime wildlife destination, our top 2020 recommendation has to be the Great Bear Nature Tour.
On the Great Bear Nature Tour, you'll visit Great Bear Rainforest, one of the best places in the world to observe grizzly bears in their natural habitat. You'll also stay in a unique floating lodge with uninterrupted views, where you'll benefit from both morning and afternoon viewings to maximise your holiday. With small group size limits too, you'll really be able to maximise this wonderful opportunity.
Expert Tip: As seen on the BBC's 'Secrets of our Living Planet' series, the best time to visit Great Bear Nature Lodge is October when there is abundance of salmon in the waters for the bears to catch.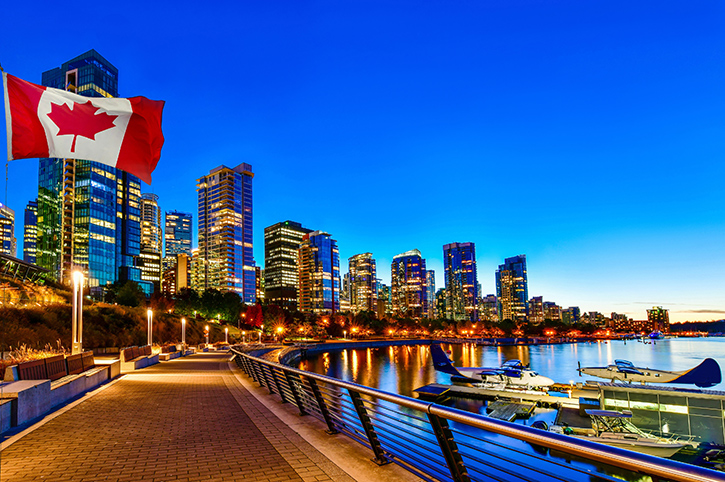 3. Visit in July for a 2020 Celebration
All across, Canada there are endless festivals and celebrations, events and parties happening in 2020. Whilst every month sees something fabulous taking place in Canada, when it comes to festivities the month to be here in 2020 is July.
Time your visit with one of the following to get involved in the merriment, Canadian style:
1 July 2020 for Canada Day
3 to 12 July 2020 for the Calgary Stampede in Alberta
15 to 26 July 2020 for Comedy Festival Just For Laughs in Montreal, the funniest city in the world
Our team of North America and Canada experts can help you plan a 2020 Canada holiday that incorporates the events that you want to attend. Ask them for personal recommendations on the best places to be and when, and tell them all about the things you don't want to miss on your trip.
Expert Tip: Knowing when and where local festivals are is important to make your trip a success – we often see limited availability during these peaks times so planning is key.
4. Combine Banff and Jasper National Parks
When it comes to the most naturally beautiful place to be in Canada, there are many contenders. The most well known of course is the Rockies, home to both Banff and Jasper National Parks.
This past year, our customers have loved enjoying the scenic blue lakes, vast mountain valleys and the thick forest of green trees found in the Canadian Rockies. Visiting the area is a trip of a lifetime and one that you will definitely want to make the most of. We recommend you get outside as much possible, whether that's on a walking trail on your own with one of our self drives in the Rockies or with a local guide who knows the best spots to be on a Rockies' Escorted Tours.
If you're not a keen walker, you can enjoy the Rockies, from arguably one of the most luxurious seats with a view in the world; aboard the Rocky Mountaineer train. Canada's iconic and luxury railway service has multiple viewing carriages and provides excellent photo opportunities for all travellers. Combined with excellent food and first class service onboard, you should treat yourself to a Rocky Mountaineer train experience on your 2020 Canada holiday.
Expert Tip: The most important thing to remember about visiting the Rockies is to book early. Its high popularity can lead to disappointment if you don't plan ahead.
We're already seeing low availability for 2020 so if you know this is your year to visit the Rockies, speak to a Canada Expert immediately about your Canada holiday.
5. Attend Toronto Pride in 2020
Toronto holds a very special place in the Pride calendar. As one of the world's largest Pride celebrations, it's an ideal time to visit the city. You can get involved by enjoying the colourful street decorations at this time of year, observe a wonderful array of floats in the Pride Parade or enjoy multiple other smaller events surrounding the festival.
Toronto Pride started in 1981 and this year over a million people are expected to attend. Taking place from 26 to 28 June 2020, with the Pride Parade taking place on Sunday, most Toronto Prides see glorious summer weather and make for a great day or weekend spent outside in the city.
Combine your Toronto Pride visit with other exciting things to do in Toronto, including shopping, dining, city walks and impressive aerial views from the CN Tower. Explore further with a day trip from Toronto to bucket list worthy Niagara Falls.
Expert Tip: Toronto Pride is well known and popular so book your visit early to avoid disappointment – browse our ideally located hotels in Toronto now.
6. Closer than you think in Atlantic Canada
Visiting Canada for a long weekend in 2020? It sounds a little ridiculous but if you need a coastal escape and can't stand the thought of travelling too far, long haul destination Canada isn't actually quite as long haul as you might think. With the time difference considered, you could be in Canada in 3-4 hours!
Atlantic Canada is home to deserted coastline, fresher than fresh seafood and friendly local people. You can walk, cycle, kayak, shop, dine and relax, combining a little of everything to make the most of your time. Atlantic Canada is still very much an unknown destination so you'll have your pick of activities and large open spaces pretty much all to yourself.
There are many ways to explore the Maritime provinces of New Brunswick, Nova Scotia, Newfoundland and Prince Edward Island. You could take a Newfoundland Self Drive to see icebergs and whales, pick a 4 day Fogo Island Adventure if you want to disconnect for a little while in a remote location or combine both east and west with this incredible Classic Canada Coast to Coast Rail Journey.
Expert Tip: Visit Atlantic Canada in the summer months to enjoy the warmest weather, ideal for being outdoors, on the beach and in the ocean.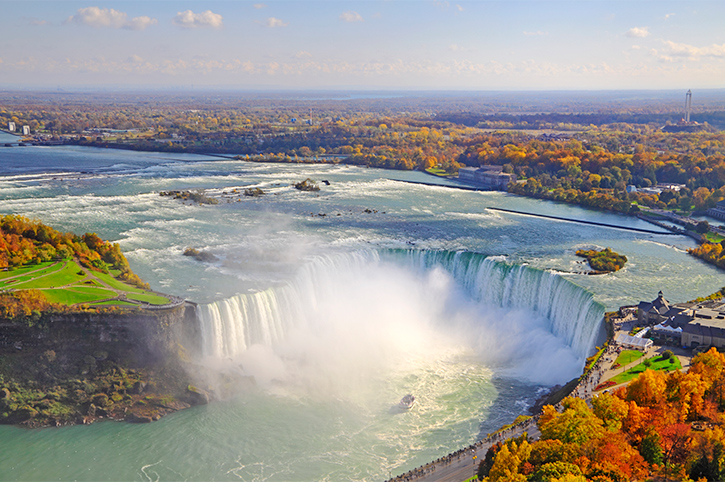 7. A Tick for Bucket List Canada at Niagara Falls
One of the highest things on any Canada 2020 bucket list has to be Niagara Falls. We have multiple ways that you can easily incorporate this natural wonder of the world into your holiday itinerary.
Niagara Falls is actually a group of three waterfalls that span the border between America and Canada. The largest of the three waterfalls is Horseshoe Falls. Located on the Niagara River, the combined falls have the highest flow rate of any waterfall in North America that has a vertical drop of more than 50 metres. During peak daytime visiting hours, more than 168,000 m3 of water goes over the crest of the falls … every minute.
The falls are located just a few hours southeast of Toronto, making them an easily accessible day tour for anyone short on time in the area, or a longer overnight stop if you prefer to take your time. The most popular option is to discover Niagara Falls in 2 days from Toronto.
Why not combine Niagara Falls with a longer eastern Canada holiday? We love the Best of Eastern Canada Escorted Tour option for visitors who want to enjoy all the benefits of a local guide whilst in Canada and the Classic Ontario by Motorhome Road Trip if going your own way in your own time is more your style.
Expert Tip: Upgrade your visit with a Niagara Falls by helicopter experience – the only view that can take in the whole area all at once.
If you're keen to visit Canada in 2020 or start planning a Canada 2020/21 holiday, use our free planning service today to get in touch with a Destination Expert – share with them what you would like to see and do, and they'll design a Canada Holiday especially for you.
WRITTEN BY
Karen
Karen joined the Marketing Team at Freedom Destinations after spending an incredible year in Australia, New Zealand and Bali, campervan road trippin' into the wild Outback, enjoying eco tours on beautiful islands and making friends for life.