Where To Travel in 2020
2020 will soon be here! With the end of the year fast approaching, it's more than time to start thinking about next year's travel plans. If you're looking for inspiration for your 2020 trip of a lifetime, discover our Destination Experts' HOTTEST destinations for the year ahead.
Our HOTTEST Holiday Destinations for 2020
There's a treasure trove of options on offer in the coming year, whether you're a beach lover or an adventurer at heart. The following eight worldwide destinations are selected for their surging popularity, an exciting 2020 event or their up-and-coming nature. Get ready to be inspired for your 2020 holiday.
1. The Deep South of America
The Deep South is one of the most iconic regions in the US. Steeped in history and boasting a vibrant cultural scene, visitors flock to this enthralling part of America from all over the world. The Deep South is more accessible than ever before, with direct and indirect flights available to New Orleans, Memphis and Nashville. There's a vast array of tours and excursions available for your America holiday. From languid paddleboat rides in the day to the opportunity to enjoy live jazz concerts by night.
Mardi Gras is an annual highlight, and in 2020, the streets of New Orleans are set to burst into life once again with a colourful display of floats, music filling the air and warm southern hospitality guaranteed. Visit on the 25th February 2020 to get involved in the carnival action. And don't worry, if you can't get there by February, include a trip to the Mardi Gras Museum as a worthy substitute … or start planning for February 2021 now.
Alternatively, music fans will also be in their element if visiting the lively streets of New Orleans during the famous Jazz and Heritage Festival. This festival will take place from the 23rd-26th April in 2020, a beautiful time to visit New Orleans.
The best way to explore the wonders of the Deep South is to take a Freedom Destinations America Guided Tour, providing you with all the important highlights and attractions that make this region unique. Follow in the footsteps of musical legends like Elvis Presley and Johnny Cash, soak up the energy of New Orleans, visit landmarks like Oak Alley Plantation and take a city tour of beautiful, atmospheric Memphis.
Our America Experts recommend this Deep South Tour for your 2020 holiday.
2. Bali Beach Holidays
For sand and sunbathing lovers looking for a brand new destination for 2020, nothing beats a relaxing break in beautiful Bali. Bali has emerged as an increasingly popular holiday destination, boasting multiple beach resort areas for visitors to choose from. A haven for sun-seekers, as well as those looking for a restful retreat or cultural experience, Bali offers something for everyone.
Spend an afternoon diving, snorkelling or catching rays before unwinding with an indulgent spa treatment. Then, devote the next day to exploring the verdant, cultural hub of Ubud. Bali holidays offer excellent value for money and they can easily be combined with city slicking in Dubai or Singapore en route to break up your journey.
Bali multi-centre holidays feature a free stop-over in popular worldwide cities because your plane needs to stop anyway, offering you the incredible opportunity to combine sightseeing and urban adventures with a relaxing beach holiday. From skyscrapers and lavish designer malls to temples, street markets and secluded coves, nothing beats the opportunity to enjoy the best of two worlds in one memorable trip.
Our Asia Experts recommend this Singapore and Bali Multi-Centre Holiday for 2020 visitors.
3. The Sensational Serengeti
If you have fallen in love with the idea of an African safari holiday following the success of the BBC's recent Serengeti series, or the relaunch of Disney's Lion King in 2019, a sensational Serengeti adventure is the ultimate holiday choice for your 2020/21 holiday.
Whilst there are many safari destinations across Africa, the Serengeti is one of the best places on the planet to spot the famous 'Big Five' and the scenery is nothing short of breathtaking. With all our safaris in Tanzania, you'll have the chance to come face to face with the creatures that illuminated TV and cinema screens this year, taking part in a magical real-life wildlife experience.
Although the Serengeti steals the show, Tanzania also has a lot more to offer. Picking a tailor made Tanzania itinerary designed by the Africa Experts allows visitors to experience the wonders of Lake Manyara, the Ngorongoro Crater and Tarangire National Park, alongside the traditional game drives and safaris.
Holidays to Africa are a once in a lifetime adventure, creating memories to last a lifetime. With more and more safari destinations becoming accessible to keen adventurers, 2020 looks set to be a fabulous year to take a walk on the wild side.
Our Africa Experts recommend this 8 Day Tanzania Safari for your Serengeti experience 2020/21.
4. Seychelles with Safari
It's often said that you can't have it all, but with a Seychelles and safari break combined, this notion goes out of the window! With the Seychelles tipped to be one of the most sought-after destinations for 2020, there's no better holiday than mixing African wildlife encounters with a luxury break on an island idyll surrounded by crystal clear ocean waters. The Seychelles are famed for their powdery, secluded beaches and jaw-dropping scenery, with stretches of sand set against a backdrop of giant, smooth boulders and lush green forests.
From the beaches to the plains, you can combine relaxing, sun-drenched sojourns with active pursuits. Enjoy the bustling city of Cape Town and discover magnificent, majestic species residing in Kruger National Park as part of an unforgettable 2020/21 experience. A Seychelles and safari holiday is also the ultimate treat for a landmark celebration or romantic honeymoon, providing the perfect backdrop for creating special and treasured memories.
Our Africa Experts recommend this indulgent 2 Week Safari and Seychelles Holiday for 2020/21.
5. Alberta and the Calgary Stampede
Canada has been steadily climbing the list of must-visit destinations in recent years and it's set to attract more visitors than ever in 2020. With the space to accommodate this increase though, you'll still feel like you're the only one around in many parts of Canada. Offering everything from cosmopolitan cities to remote islands and some of the world's most staggering national parks and geographical wonders, it's no surprise that Canada has emerged as a jewel in the Earth's crown.
A Canada holiday in 2020 offers scope to enjoy all kinds of experiences and adventures but a highlight likely to attract many is a visit to Alberta. Located in the west of the country, this province is home to some of the most dramatic scenery on the planet, with visitors able to lay eyes on a never-ending show-reel of glistening lakes, snow-capped mountains, sparkling forests and glimmering ice sheets.
It's not suprising that the Rocky Mountains form the focal point of most tours, with visitors eager to travel by popular train, The Rocky Mountaineer. As well as treating travellers to scenes that look like they've been generated using CGI, Alberta is home to some of Canada's most precious inhabitants, including black and grizzly bears.
If you're planning a visit to Alberta in 2020/21, time your trip to coincide with the famous Calgary Stampede. This annual festival is a celebration of all things rodeo-related. In 2020, the event will take place between July 3rd and July 12th.
Our Canada Experts can book your Calgary Stampede Experience but spaces are limited so don't delay.
6. Field of Light Exhibition at Ayers Rock
Ayers Rock is one of the most mesmerising natural wonders on the planet. A towering, burning-red monolith that is surrounded by acres of scorched, arid Outback, this iconic landmark attracts visitors from all over the world. While visiting Ayers Rock is always a fantastic idea, planning an Australia holiday for 2020 is a particularly good move if you want to enjoy the unique Field of Light Exhibition. This awe-inspiring collection of tiny orbs of light will be turned out in 2021, so plan your visit now to appreciate this spectacular area in its luminescent glory before the lights are no more.
The Field of Light is a beguiling installation, featuring more than 50,000 individual glass orbs. Curated by Bruce Munro, the exhibit has already been extended to allow more people to appreciate the spellbinding views of Ayers Rock being illuminated by a blanket of bulbs.
A trip to Ayers Rock (Uluru) also offers an opportunity to explore the Outback and take in some of Australia's most prized places. Whether you take an Escorted Tour or travel into the Outback aboard the popular Ghan train, the red centre is an authentic Aussie experience not to be missed on your next visit Down Under.
Our Australia Experts can book Field of Light Passes for your Australia holiday for a limited time only.
7. Australia's Hidden Gem, Tasmania
An up-and-coming destination for 2020, Tasmania is a rugged slice of wilderness located off the South coast of Australia. Affectionately known as Tassie, this paradise island offers unrivalled wildlife encounters, deserted beaches and the opportunity to hike, cycle and discover national parks, lakes and snow-topped peaks.
Tasmania may not be as high-profile a destination as Sydney and the beaches of the east coast but it has so much to offer. From thriving, charming cities like Hobart to miles of untouched coastline, this is a small but perfectly formed landmass that is ideal for anyone seeking a quiet holiday away from the crowds.
Hobart has a lively café and cultural scene and the natural scenery of Freycinet National Park has to be seen to be believed. To discover the best Tasmania has to offer and explore a different part of Australia, we highly recommend a self drive itinerary so can take this island at your own pace.
Our Australia Experts recommend this Tasmania Self Drive for 2020.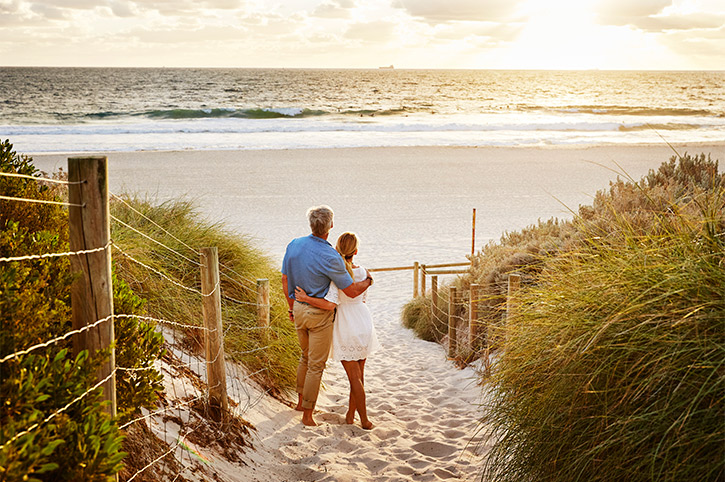 8. Direct UK Flights to Perth and Western Australia
A city bathed in sunlight year-round, Perth is always a good idea. With direct flights now available from some UK airports and the promise of sunny climes with beautiful beaches, it's no wonder Perth is now the place to be in Australia. The city itself offers an enviable blend of cosmopolitan and laid-back living, and it's ideally located to explore the rest of Western Australia too.
Rottnest Island is one of the most popular day trips you can take from Perth. A short ferry ride from the hustle and bustle of the heart of town, this quiet spot is ideal for those looking to sunbathe, snorkel or take a leisurely stroll.
Rottnest Island is famed for its friendly native; the quokka. This small, inquisitive mammal has become an online sensation, providing visitors with hilarious and impossibly cute selfie opportunities. Quokkas are nosy and used to human interaction, happily posing for photos and portraits.
Further up the West Australia coast, there are national parks and seaside gems ripe for exploration on four wheels. Our Australia Experts recommend this Western Australia Self Drive coupled with a Rottnest Island Explorer for your 2020 Australia holiday.
There are so many beautiful locations in the world to visit, it can be hard narrowing down the choices for your next holiday. If you're looking to make bucket-list-worthy memories in the new year, start planning your unforgettable 2020 holiday with the Freedom Destinations Experts now.