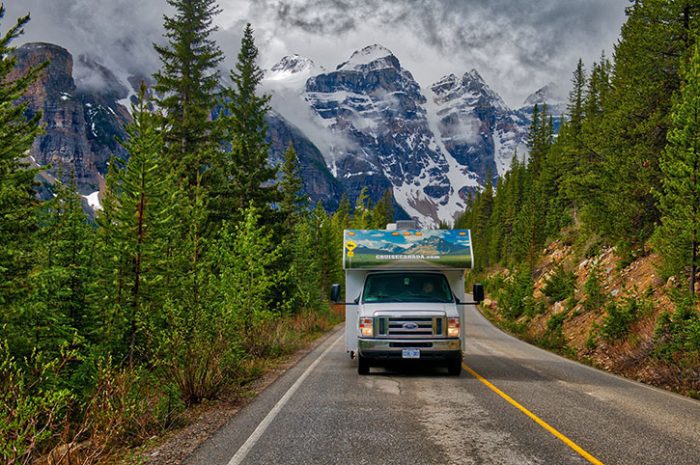 Cruise Canada C30
6 Berth Motorhome - from £79 per day
The C30 is one of our largest motorhomes, its special feature is the large separate bedroom at the rear with its 5ft wide bed! There is also a double bed over the cab, a convertible sofa-bed and a convertible dinette bed.
Highlights:
Three double and one single bed
On board shower and toilet
On board generator for unpowered sites
Entertainment system
Pick up from 5 locations with one way hire
About Your Motorhome
Enjoy your very own, well-equipped home on wheels as you explore the towns, cities and National Parks of Canada.
Your 6 Berth Motorhome includes:
Daytime and night-time air conditioning
Walk through cab and room for 2 up front
Well-designed kitchen with oven, hotplates and refrigerator
Hot and cold water, shower and toilet
Ancillary battery for night-time use
Freedom Value
With Freedom Destinations you can turn up and go, with all these essentials included in the price:
Sleeping bags, sheets and pillows
Towels and tea-towels
Cooking utensils, cutlery and crockery
Nationwide roadside assistance
Insurance* and taxes
One Way Hire: To make the most of your time in Canada, you can ask to pick up your motorhome in one location and drop off in another. There is generally a relocation charge of around $500 to $700.
Mileage
Whilst travelling, you will need to pay for your own fuel, which is much cheaper than in the UK. There is also a mileage charge of 34c per kilometre, although you can pre-purchase one of these kilometre packs before you leave:
£91 for 500 kilometres
£182 for 1000 kilometres
£273 for 1500 kilometres
£546 for 2000 kilometres
£639 for unlimited kilometres (max. 21 nights) – For each additional night (after 21), there is an additional charge of £26 per night.
There are no refunds for unused kilometres.
Book Now
During holiday seasons and nearer the date of hire availability of the Large 6/7 Berth Motorhome is limited and prices rise considerably. Secure your motorhome with a 10% deposit by calling a Canada Expert today.
6 Berth Motorhome - from £79 per day
Early Bird Departure Special – £275
Be the first on the road with the Early Bird Departure Special. The time saved on departure and gained on your return will give you between four and eight extra daylight hours of holiday time. The Early Bird Departure Special includes:
Transfers from hotels in designated areas to the depot
Early arrival at the depot for vehicle pick up (between 9am – 12pm)
Late vehicle return option up to 3pm
Return transfer to a local hotel or the airport
Rates and Terms & Conditions may vary for 2022/23 travel. Minimum rental is 7 nights. Motorhome rates operate on a best available price basis, please contact your consultant for an accurate quote. Price does not include mileage, one-way charges, a mandatory surcharge of $1.50 per day, 'BC Surcharge' if applicable (Note: if the booking is longer than 28 nights, then the BC surcharge does NOT apply) and a mandatory 'Environmental Fee' of $7 per rental to be paid locally. A refundable $500 credit card bond is required on all hires.
Please click here for further information.
Terms and Conditions
You must be over 21 and have a valid and identifiable driver's licence. All drivers must be identified and authorised upon pick up of the vehicle (there is no cost for additional drivers). On collecting your motorhome, you will be asked to sign the hire company's own terms and conditions of hire making the rental subject to a direct contract between each driver and the hire company. A basic refundable security deposit of $500 CAD and the use of a credit card to pay for all local charges and deposits are required at departure. Upon vehicle return, all extra charges are balanced against the security deposit and a credit will be issued to cover the refund.
Standard Hire Includes
Standard liability insurance, public liability insurance, tax on all pre-paid items, daily rate, personal kits (includes: sleeping bags, pillows, sheets and towels), kitchen kit (includes: pots, pans, cookware and crockery), RV preparation fee and on the road support.
Hire Excludes
Mileage charges, optional extras, one way fees and security deposit ($500)
Length of Hire
Minimum rental is 7 nights.
*INSURANCE COVERAGE SUMMARIES – CANADA DEPARTURES
Provided you abide by the Terms and Conditions of the Rental Agreement, report accidents and/or damage promptly, and avoid prohibited vehicle uses, your coverages include:
Auto Liability Statutory and excess Supplemental Liability Insurance up to $1,000,000.
Vehicle Damage/Loss Per occurrence or incident, only $1,500 of responsibility. You are covered for amounts in excess of $1,500 under most conditions.
Trip Reimbursement Travel Expenses incurred as a result of mechanical breakdown up to $3,000 per tour.
Ferry Restrictions
Ferry reservations can be difficult to manage during high season. We recommend that you make a reservation for at least a 30-foot vehicle on the ferry, irrespective of the size of motorhome reserved, to avoid problems due to possible upgrades.
Travel Restrictions
Coverages are invalid if problems occur in the following areas and all recovery expenses are at the client's own cost. Violations of these restrictions void damage waivers and the client will be held liable for all vehicle damages including to tires, towing charges and other related expenses as a result of a breakdown associated with operating in these areas. Clients should consult the Renter Assistance Guide and the departure location personnel for complete information on travel restrictions and local circumstances at the time they collect their motorhome.
ALASKA, YUKON AND NORTHWEST TERRITORIES & NEWFOUNDLAND
Travel on all public and/or numbered roads is permitted. Travel on non-public roads, unpaved back roads, trails and the like – commonly called 'logging roads' or on any surface subjecting the vehicle to unreasonable damage or road hazard is prohibited. Clients may receive further information from Cruise Canada regarding seasonal travel restrictions as well. We reserve the right to restrict travel, dependent on current road conditions.
CANADA MOTORHOMES
Discover Canada in your own holiday home on wheels. Our easy-to-drive motorhomes are fully equipped and self-contained for the ultimate adventure.
Included in your hire:
Air-conditioning
Bedding, towels and kitchen equipment
Maps and campsite information
Roadside assistance
The security of ABTA/ATOL protection
Talk to a Canada Expert about booking your Motorhome today.
For advice or to start planning your holiday
talk to an Canada Expert on 0333 234 0943