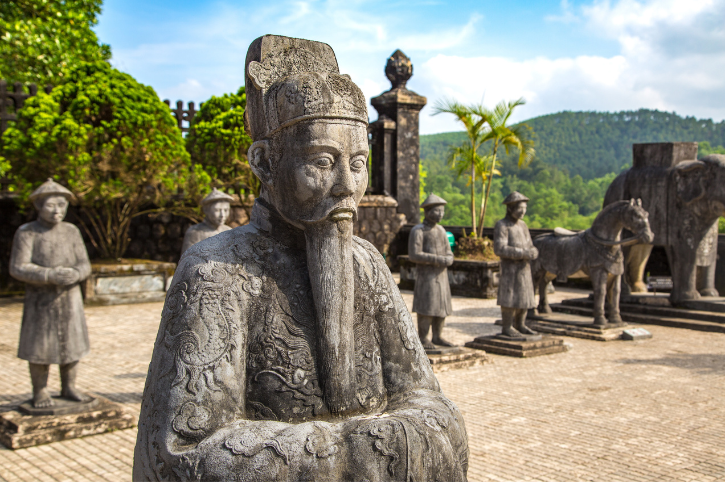 Hue Royal Tombs Tour
Half Day Tour
Embark on a fascinating half-day tour exploring the rich history of two significant Royal Tombs from the Nguyen Dynasty.
Highlights
Explore the traditional architecture of Emperor Tu Duc's tomb complex
Marvel at the European and Vietnamese styles of Emperor Khai Dinh's tomb
Learn from a knowledgeable local guide
Description

Located along the banks of the Perfume River, the tombs of the Nguyen Dynasty can be found. The tour takes a step back in time as it explores the importance of these tombs and the roles they played for their respective emperors. Before becoming their final resting place, the tombs would have been used by the emperors for recreational activities such as fishing, hunting and entertaining their concubines.

This half day tour led by a knowledgeable local guide will take you to Emperor Tu Duc's tomb and the tomb of Emperor Khai Dinh. Tu Duc lived a life of excess and this reflected in the grandeur of traditional architecture and features. Considered the most magnificent tomb, filled with majestic walkways and ornate pavilions, filled the grounds around his mausoleum.  Emperor Khai Dinh's tomb in contrast, represented an eclectic mix of European and Vietnamese styles.
Details

Approximate duration: 3.5 hours

Tours depart at 08:00 and 14:00

Pick-up from Hue hotels is included
Price & Availability
You can book this experience on its own or as part of a complete Vietnam holiday. For price and availability please get in touch.
Hue Royal Tombs Tour
Half Day Tour