Maori Cultural Experiences in New Zealand
New Zealand is a stunning land of natural diversity located at the edge of the world. It is also home to a diversity of a different kind, too. As much as we can wax lyrical about the volcanoes and glaciers found here, its human life offers a richness of culture that's not to be missed. So where can you find the best Maori cultural experiences for your visit?
For those hoping to get a glimpse of Maori culture on a holiday to New Zealand, we've put together a quick outline of the most important facts about the history and customs of the indigenous people before exposing the best cultural experiences on offer. Even if you only have a passing interest in the cultural heritage of this rich land make time for a Maori tour as it informs and enhances the amazing sights this country provides its visitors.
Maori Culture
The indigenous people of New Zealand have lived on these spectacular islands for thousands of years but Maori history is not one of static civilization solely in New Zealand. The Maori have traditionally been travellers, Polynesian peoples who travelled from island to island around the South Pacific before some eventually settled in the North and South Islands of modern-day New Zealand.
The origins of this ancient culture begin in the Polynesian culture itself and therefore share lots of traditions with those found in the myriad of Pacific islands even though they are, on the whole, further away from New Zealand's main islands than the continent of Australia.
In particular, these Polynesian cultures have always had a profound respect for the Earth, called Fenu'a in Maori, and the peoples of these islands – going back thousands of years – have lived in deference to nature in interesting ways. That will become clear as we discover the experiences dotted around the country.
Living to the Beat of Nature
Given limited resources, on many archipelagos, the exploitation of natural resources were always frugal and respectful in Maori history. People would take only that which was necessary for the life of the group and priests would issue seasonal bans (Tabu) on certain species or products designed to allow nature to replenish its reserves. This also had the benefit of instilling discipline into society – something that's in evidence today in the nation's love of (and excellence at) discipline-heavy sports, like rugby.
The wider cultural traits are still around today too and they inform much of the unique experiences that any visitor to New Zealand can have when they set foot on this ancient land.
The best way to get to know and to understand this culture – and indeed its influence on modern New Zealand – is to immerse yourself in it for a few days in the many cultural heritage centres. Learn about the history and customs, see art and dance performances, and of course, try the food. Best of all, enjoy the stunning scenery that New Zealand is famous for all the while.
North Island Maori Cultural Experiences
There are many opportunities to experience Maori culture all around the country of New Zealand but the majority of the experiences to be had by travellers are found on the North Island. The South Island is something of an outdoorsy paradise, with the Southern Alps, Queenstown and the Fiordland all providing adrenaline junkies, hikers and beauty seekers with their own personal havens. There are still opportunities in the south, however, and we will point them out – so don't fret if that's where you're headed.
With so much beauty and adventure on offer in New Zealand, experiencing Maori culture might not be the first reason many people choose to visit the country but rather it might be something they wish to learn a bit about when they arrive. That makes the following spots the perfect places to explore this ancient culture for a day or two on your travels to other places.
Maori Tours in Rotorua
Known as Sulphur City, Rotorua is a town in the northern part of the North Island, located inland off the Bay of Plenty and right in the volcanic heartlands of the country. It is just a few hours from Auckland, where Maori welcomes are common at the airport and once in Rotorua, there are more experiences to be had.
As it isn't far from main centres of interest in the North Island, Rotorua can be seen as part of a wider trip, and those whose main itinerary has stops in places like Auckland, the Bay of Plenty and Lake Taupo will find this town well-located for a day trip or an overnight stay.
The town is known for the land's geothermal activity, with geysers and mud baths dotted around the town. These are traditional Maori cultural places and also a great place to relax after a day's activity.
One of the best ways to take in a Maori cultural experience here is to book a trip from Auckland. Once in Rotorua, the New Zealand Maori Arts and Crafts Centre at Te Puia is the perfect place to start learning.
The history and myths of the ancient culture are explained through song and dance (just as it has been to Maori children for centuries) making it an easy to understand experience. There are traditional mud baths and geysers here too. Enjoy a traditional welcoming ceremony and amazing cultural entertainment over an unforgettable day.
Tamaki Maori Village
Rotorua has a myriad of other Maori attractions. The Tamaki Maori Village within the ancient Native Tawa forest is another place where you can become more acquainted with the Maori relationship with nature.
Here, make sure to try a traditional meal, where food is literally made using the Earth. Hangi, as it is known in Maori, is a stew of meat and vegetables prepared in baskets and lowered into an underground pit filled with hot coals where it is cooked. At Tamaki, observe Kiwi birds, a symbol of the country, and take in more geothermal goodness too.
There are plenty of other experiences available in Rotorua which really is a home to Maori culture, so it's best to plan a trip and ensure that you get a good look around. There are tales, legends and stories of ancient culture at every turn here.
Rotorua can also hold its own for those in search of other thrills too. White water rafting and mountain biking opportunities are plentiful and film buffs will be happy to find that the Lord of the Rings' Hobbiton set is not too far away, offering tourists the chance to see some of the spectacular scenery brought to the Silver Screen by Peter Jackson.
Waitangi Bay of Islands
A momentous event in New Zealand's history, the Waitangi Treaty frames the country's political and constitutional systems today. In 1840, Maori chiefs and British colonists signed a partnership which effectively created the basis for the modern-day country.
Located in the Bay of Islands – again on the North Island – Waitangi is a Maori settlement which played a major role in the establishment of the country, alongside another town in the region called Okiato – which served as the nation's first capital.
At the Waitangi Treaty Grounds, visitors can witness a Maori cultural performance of song and dance. As with all of the places of interest for Maori culture, there is also a chance to learn more from the many knowledgeable guides who take tourists around the site all year round.
South Island Maori Cultural Experiences
It's not just the North Island where you can experience Maori culture, of course. Those travellers who are heading south will still find their opportunities to learn about this fascinating history and way of seeing life.
Kaikoura is a town in the Southern Island that is perhaps better known to prospective New Zealand tourists because of its whale watching opportunities. But this is also a town where Maori culture is present and in arguably, its most interesting form.
Learn here about Ruaumoko, the God of Earthquakes, who brings about these natural disasters in return for the changing of the seasons. According to the local Maori legends, he is also the cause of the spectacular scenery on the South Island – the creator of the mountains and the breathtakingly dramatic landscape that New Zealand's South Island is so famous for.
If you know your recent history too, you'll know that the 2011 earthquake which hit Christchurch was one of the worst in modern times, killing 185 people and causing untold damage to the city and its economy. Kaikoura is just a little further north along the coast but Maori culture teaches us to be philosophical about such disasters; a respect for nature, its power and its bounty is a great lesson to learn.
The Best Maori Cultural Experiences
Discovering Maori culture is a breathtaking experience. This is a spectacularly beautiful country with adventure all around and that's what informs the culture of the local indigenous people who have been living their lives in sync with it for centuries.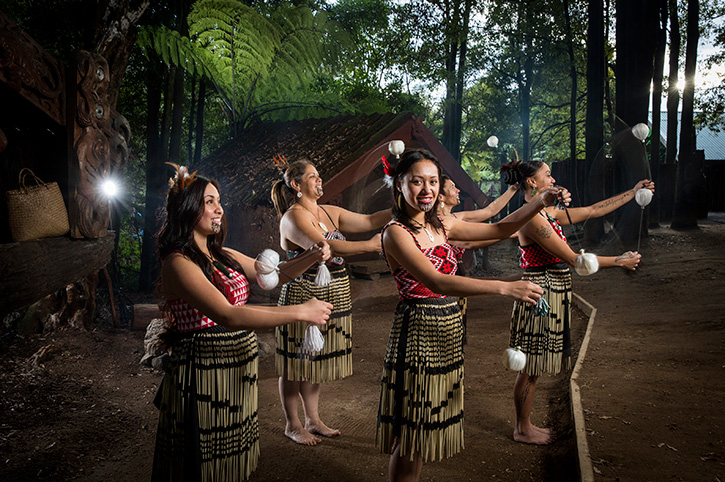 No matter where you go on a trip to New Zealand, the experience is enhanced and heightened by learning about Maori culture. Get the most out of this amazing country by seeing it through the eyes of those who have lived in the midst of such beauty for thousands of years. Book our Northern Spotlight 8 day Guided Tour to enjoy the best of the North Island's Maori cultural experiences or adventure between both islands incorporating Maori day tours along the way with our North & Fiords 2 week Holiday Idea.