New Zealand Food Experiences
New Zealand is a country famed for breathtaking scenery and outdoor pursuits, but it also offers some incredible food and wine experiences. Food plays an important role in the country's heritage, and the contemporary gastronomy scene is thriving. Self-confessed foodies won't find it difficult to find amazing places to dine or buy local produce, and most visitors are keen to explore and sample Kiwi delicacies before they return home. Here are some unforgettable culinary and cultural experiences to take on board during your visit so that you can enjoy the best New Zealand food there is.
Maori Hangi Feast
There is no other place to start when discussing New Zealand food than a traditional hangi feast. This experience is an opportunity to explore and discover dishes that are popular among New Zealanders, but it's also a chance to see the importance food and dining together play in Maori culture. The hangi feast is hugely popular amongst tourists, and it's a culinary adventure that is impossible to forget in a hurry.
The hangi feast takes place at Tamaki Maori Village, which is located just a stone's throw from the centre of Rotorua on the North Island. The village has been offering visitors the chance to embrace Maori culture for over 25 years, and many tourists come to New Zealand with the aim of spending time here and learning all about traditional dishes and the importance of making and enjoying food together. In the surrounds of a traditional Maori meeting place, the hangi feast showcases classic meals made using tried and tested cooking methods that have been passed down through the generations.
Making food in a hangi is a rustic culinary technique, which involves heating and cooking food using hot stones buried inside a fire pit. Traditionally, the ingredients are wrapped in flax leaves before cooking, but today, cloth sacks and foil are used more frequently. The food is placed inside the pit, covered in damp cloths and then covered in soil to retain heat. Usually, the meal is cooked over a prolonged period of time, which ensures that meat and vegetables are soft and tender.
A hangi in New Zealand is a special occasion, marking events and milestones. The aim is to draw people together, to celebrate and enhance community spirit, and so it is an experience, far more than a meal. For tourists, it's a real opportunity to gain an insight into Maori culture and to enjoy a unique social occasion. As well as tucking into a delicious meal, visitors can also watch and participate in dance shows and warrior workshops and marvel at artistic masterpieces and sculptures, making the most of a few days in the Tamaki Maori Village.
New Zealand's Favourite Foods
Gastronomic flair may not automatically spring to mind when thinking about New Zealand, but food is an important part of the Kiwi culture. Although there is no New Zealand national food as such, there's a veritable feast of traditional dishes and seasonal favourites on offer. Here are some must-try foods during a tasting tour on a New Zealand holiday:
1. Crayfish
When travelling along the coast, don't miss out on the opportunity to sample crayfish. The seaside spot of Kaikoura on the South Island is a particularly good place to sample this Kiwi favourite.
2. Hokey Pokey ice cream
Those with a sweet tooth will love New Zealand's most popular ice cream favour. Hokey pokey is a rich, indulgent blend of vanilla, caramelised honeycomb and toffee. A must for anyone with a sweet tooth!
3. Kina
Another gem from the sea, Kina is a type of sea urchin found in local waters. Beneath the spiky exterior lies a fleshy, soft centre, which is delicious served with lemon juice and a grind of salt and pepper.
4. Pavlova
The origins of pavlova are a contentious subject and a source of great debate between Kiwis and their Australian neighbours. Aussies swear blind that they invented pavlova, but New Zealanders are convinced that they are responsible for the world-famous dessert.
Whichever side you're on, there's no getting away from the fact that Kiwis make exceptional pavlova. In most cases, the chewy meringue is topped with whipped cream and fresh fruit.
5. Whitebait fritters
A visit to the western coastal resorts of the South Island would not be complete without a sample of the local whitebait fritters. They are widely available from waterfront shacks for a minimal charge – and more importantly, simply delicious!
6. Manuka honey
Manuka honey is one of New Zealand's most famous exports. Its sweetness and delicate taste, coupled with its medicinal properties make it so popular the world over.
7. Kumara
A vegetable similar to the sweet potato, kumara were brought to the island by early Maori settlers and they have been a regular feature of hangi feasts ever since.
8. Lamb
New Zealand is famed for its lamb, and farmers export their produce all over the world. Lamb features heavily on restaurant menus as well as in kitchens all over the country.
Dining out in Christchurch

Most people enjoy dining out when they're on holiday. Christchurch, the largest city on the South Island, has a vibrant culinary scene, which offers options for all budgets.
A popular spot for backpackers, cheap eats are available, but there are also plenty of options available for those hoping to splash out. Restaurants offer a diverse range of dishes, from classic Kiwi staples of lamb, hearty stews and freshly-caught seafood, to fusion fare with Asian and European influences.
Street food is becoming a trendy favourite in the city, and this is a great option for those on a budget. A quick scan of restaurants in the heart of Christchurch affords travellers the opportunity to enjoy Asian, French, Mediterranean and traditional cuisine. When choosing restaurants, it's wise to read reviews from other holidaymakers and take a look at guidebooks and food blogs.
Eating in Auckland
Auckland is a bustling city on the North Island. Here, it's possible to enjoy all different types of cuisine and there's a huge range of eateries on offer. From fine dining on the waterfront to market stalls selling organic produce, baked goods and craft ales, there's something for everyone.
The city boasts an abundance of restaurants and many have menus that are influenced by foreign flavours. It's very common to find Asian influences on the menu, and European dishes are also incredibly popular.
The foodie scene is thriving here: new restaurants of all kinds are popping up all around town, and the enviable location of the city means that many eateries offer stunning views over the busy urban streets or the natural beauty of the bay. Auckland residents tend to push the boat out at the weekends and classy, trendy establishments and cocktail bars are often packed to the rafters on Friday and Saturday nights.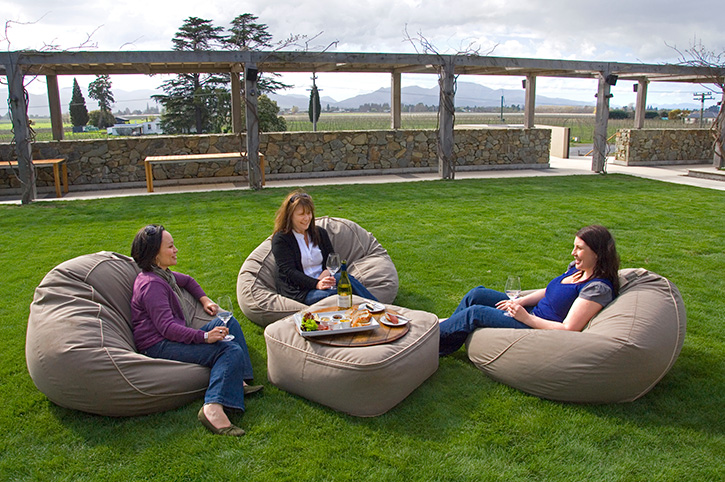 Food Experiences
New Zealand is synonymous with outdoor adventures, and it wouldn't be a Kiwi foodie trip without combining hiking, biking and rafting with culinary experiences.
Test your foraging and cooking skills within the local forests, collecting indigenous herbs, plants and natural ingredients; join an artisan baking class, or learn to use organic ingredients and employ rustic cooking techniques with classes like those available at the Treetops Estate near Rotorua. Foraging is a great way to explore incredible landscapes and breathe in the fresh air, and it's wonderful to be able to cook what you collect, while classes are ideal for meeting new people, learning about flavour combinations and developing skills in the kitchen.
Food in New Zealand is heavily influenced by the environment, and many chefs base their menus on seasonal ingredients and local produce. The impetus is very much on selecting the finest ingredients and using techniques to get the best out of them. Food tends to be fresh, simple, and natural.
Many people arrive in New Zealand with a desire to scale mountains, cruise through fiords and trek along pristine ice sheets, but there's a lot more to New Zealand than its spectacular geographical features.
Food has always played an important role in Kiwi culture, and there's no better way to gain an insight into the cultural significance of making and eating food together than enjoying a traditional Maori hangi feast. This is a unique experience, which affords visitors the chance to watch dance shows, take part in interactive activities and savour a sumptuous traditional feast prepared with love in a traditional hangi oven. The fondness for traditional cooking techniques is complemented by an interest in other cultures and cuisines, and restaurants in Christchurch and Auckland showcase a vibrant fusion of flavours and influences.
There's also a noticeable nod to natural and organic produce, which gives chefs – both amateur and professional – the chance to work with the finest ingredients all year round. Foraging is very popular and food lovers often favour simple fare that shows off the splendour of seasonal ingredients. New Zealand offers the best of both worlds for foodies. It's possible to combine the old and the new to sample a vast array of wonderful dishes, no matter where you're based or what your itinerary involves. Discover the best New Zealand food experiences on your visit to the land of the long white cloud.