12 Things to Do in Hong Kong
Hong Kong is a city with many faces. Thanks to various influences between Chinese tradition and Western modernity it has a rich culture. A bustling city where neon lights and skyscrapers mingle a few steps away from local life and a traditional Chinese culture with a specific Hong Kong flavour.
This is a city where the population is often extremely warm and always smiling, and it has so much to offer its visitors – it is almost impossible not to succumb to the spellbinding charms of Hong Kong.
It is an island with a rich history and tradition thanks to its place as a British colony and now as part of the Chinese state. It is also a world city where people all over the world come to visit or to live and work. It is simply one of the most interesting places on earth and one that should be explored to its fullest.
Here are some ideas of the best things to do in Hong Kong to make you want to immerse yourself in its picturesque universe and one of the world's truly unique spots.
Things to do in Hong Kong
It is really difficult to select the best places and Hong Kong attractions, there are so many things to do and see in the city and on the island. As such, what follows below is a list of the classic spots mixed in with some more off the beaten track experiences that everyone should look to discover in Hong Kong city.
The Peak Tram & Victoria Peak
This is the most popular tourist attraction in Hong Kong and is a must for any visitor to the city.
The Victoria Peak is also just known as 'The Peak', and it is surely the highest point of the whole city. The most desired district in town for residence, it is also the place where you will be able to finally breathe the fresh air above as Hong Kong can often feel stifling when walking through its streets.
From this incredible viewpoint, there are skyscrapers and the famous bay known worldwide. Try going there in the evening as the sun goes down to admire all those orange and pink hues that reverberate on the water.
You can get to The Peak with the Peak tram which is in itself an unforgettable experience: from the funicular, you will admire the skyscrapers that parade before your eyes as you climb. At its terminus, you can visit the historic gallery which has been a witness to more than 100 years of history of the city of Hong Kong.
The Peak Tram accesses it directly but beware it's steep! On clear days, the view is very beautiful, but at night it is totally extraordinary with all the lights of the city. As this is a must-see spot for tourists, the Peak also offers shops and restaurants, as well as a Madame Tussaud's Museum.
The Avenue of Stars
The walk pays tribute to the stars of Hong Kong's film industry. With so much activity going on in the Hong Kong film scene, the streets of the city will seem very familiar: Asian and even foreign lovers of the art will feel at home. This walk is a nod to Hollywood and offers a panorama of the entire city from which the many skyscrapers and the famous Victoria Peak are visible. This avenue symbolises all the glamour of Hong Kong cinema, including the imprints of an actor who introduced the world to this city through film, Bruce Lee.
Nathan Road in Kowloon District
This is one of the most important streets in the city where visitors will find many shops, banks, hotels and restaurants. It is an extremely busy street both during the day and at night, and a street that lives at its own pace and in which any curious visitor should immerse themselves.
Nathan Road is one of the most important streets in Kowloon, full of stores and places of all kinds, it is really a street full of life. Go your own pace in the daytime and at night get blinded by the neon lights. The street is also one of Hong Kong's traffic arteries from south to north, from Tsim Sha Tsui to Mong Kok and so there are several subway stations available.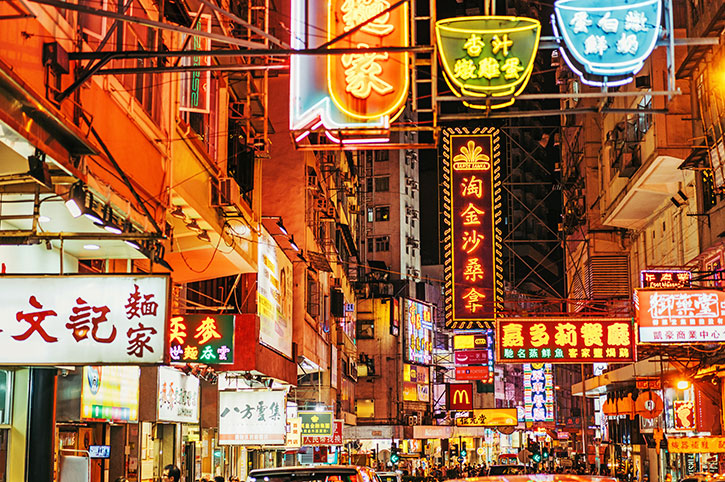 The Kowloon Peninsula is the political and financial district, where most of the population is concentrated (it has one of the highest population densities in the world). It is a must visit area as the neighbourhood is lively and you will find all the excitement of a big city without reaching the levels of disorder of the rest of mainland China.
It is also the area in which you will find the ​​counterfeit markets, electronics shops and hotels as well as restaurants for all tastes.
The Symphony of Lights
Every evening at 20:40, the skyscrapers of the city are illuminated and offer an incredible spectacle. The view of the city is as attractive on the continental side of Kowloon as it is on the island of Hong Kong itself and at night, the show is impressive with many light effects, lasers and buildings that change colour. It's also one of the few free things in Hong Kong. To appreciate it fully, take the ferry out into the bay to take advantage of the illuminations of the city. It is one of the most popular tourist attractions in Hong Kong.
Wong Tai Sin Temple
This place of worship at the confluence of the Taoist, Buddhist and Confucian religions is a magical place because it is said that all the wishes come true on request. In any case, the place offers a fantastic serenity, the natural setting is sublime, and the buildings are richly decorated. People come here to beg for good fortune, to ask for help or to make offerings to the deity.
Shopping in Hong Kong
No visit to this city would be complete without a shopping trip. Shopping in Asia is a way of life and you will find thousands of stores, malls, markets and stalls where you can find souvenirs, clothes, gadgets and more.
Causeway Bay
This is surely one of the most beautiful shopping areas of the city. Located in a residential area, there are always people, no matter the time of day. This is where the locals come to buy what they need for their daily lives and if you want to breathe the true soul of Hong Kong and discover its inhabitants, it is to Causeway Bay you must go.
Ladies Market
Located on Tung Choi Street for nearly a kilometre, Ladies Market is a paradise for women's clothing and accessories. With over 100 stalls of clothes and souvenirs, you will not be able to leave without having bought at least a little something. There is something for everyone between clothes, watches, home items, trinkets, cosmetics and more.
Temple Street
It is especially for its market that the street is known. Indeed, when night falls, stalls appear here and there, opera singers and fortune-tellers start to make their shows. Temple Street is a popular open-air bazaar. An inescapable place that is steeped in local culture and has been used for many sets in several films. You will be able to find everything you need such as trinkets, teapots, watches, clothes, antiques. A lively, festive, theatrical place that illustrates the soul of Hong Kong.
Food in Hong Kong
Food is a vital part of any trip and when getting to know a city and its culture, its gastronomic features are some of the most satisfying. Luckily, in Hong Kong, it certainly won't be a problem to find cheap Chinese restaurants with menus translated – more or less accurately – in English or with photos to help you choose.
Dim Sum
This is a city with a variety of Dim Sum restaurants, with everything you'd expect to find and much more. Meat buns, which combine a slightly sweet brioche-type dough with a cooked meat in the centre, fried glutinous rice balls with pork or shrimp steamed ravioli are all on the menu.
Street food in Hong Kong
Skewers of seafood, steamed bites and all sorts of fun little vegetables are all favourites of the locals here. The street food is varied and of all colours and, remarkably, all quite healthy and simple. This is a city full of street food stalls with meat, seafood and fried or steamed vegetables found throughout the town. The most common form takes skewers of each and makes for a super-convenient way to eat whilst exploring the city without dropping your lunch, and you can get almost anything served up in this way.

Hong Kong is one of the most exciting cities in the world and you won't really get to understand how amazing it is until you step on the island. The bustling streets, the shiny skyscrapers, the iconic harbour, the shopping in markets and malls, the nightlife and the thousands of restaurants, bars and food stalls – nothing is quite like Hong Kong.