Top 3 Multi Centre Holidays in Asia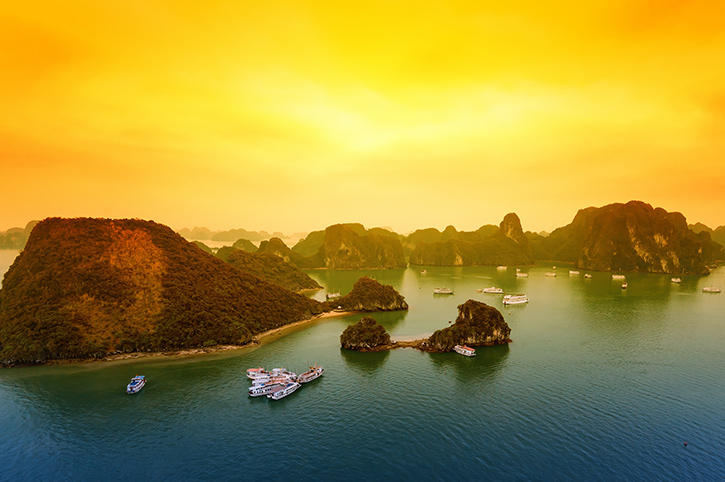 Multi Centre holidays in Asia are an increasingly popular option for travellers hoping to combine different types of break and see more of the world. With a two centre holiday, it's possible to experience different countries and cultures, to mix up action and adventure with rest and relaxation and to indulge a wider range of interests.
For those hoping to explore Asia, there are some truly incredible twin centre holidays available. This guide suggests where to take your Asia multi centre holiday: Vietnam and Cambodia, Laos and Thailand or Borneo and Bali.
1. Vietnam and Cambodia
Two fascinating countries, Vietnam and Cambodia can be combined in a single trip. What could be better? For travellers with an interest in history, there's no better place to spend time than the intriguing destinations of Vietnam and Cambodia.
In addition to temples and monuments, it's possible to explore beaches, ancient towns and villages, cosmopolitan cities, palaces and paradise islands. For those geared up for a voyage of cultural discovery with a healthy dose of R&R thrown in, a twin centre holiday in Vietnam and Cambodia is an ideal option.
When embarking on a multi-centre trip, it's wise to have plans in place to tick off the must-sees and make sure nothing gets missed off the itinerary. For inspiration, here's a list of locations to consider for adventures in Vietnam and Cambodia:
Hanoi, Vietnam
Start the trip in the bustling Vietnamese city of Hanoi. Steeped in history, the charming old town is captivating, and it has a wonderful warm ambience. Negotiate the maze of winding streets and marvel at the distinctive French colonial architecture before winding down by the shores of Hoan Kiem Lake.
Halong Bay, Vietnam
Halong Bay is an increasingly popular destination for globetrotters keen to enjoy beach life in Vietnam. Characterised by bright blue waters, craggy outcrops that pierce the waves and secluded coves, this is an idyllic spot to swim, snorkel and kayak.
Saigon, Vietnam
For a change of pace, head to the enigmatic city of Saigon and enjoy some serious sightseeing. Highlights include the Opera House, Saigon River and Hotel de Ville. It's also worth trying to haggle for a bargain at Ben Thanh Market.
Phnom Penh, Cambodia
After crossing the border, make for Phnom Penh, Cambodia's lively capital. Here, take time to visit the Royal Palace, the National Museum of Cambodia and the Silver Pagoda. With a population of more than 1.5 million, Phnom Penh is a thriving, forward-thinking city that has plenty to offer tourists of all ages.
Siem Reap and Angkor Wat, Cambodia
Staples on the backpacker route, Siam Reap and Angkor Wat are among the most famous tourist destinations in Asia. Dating back to the 12th century, Angkor Wat is a sprawling temple, which is characterised by intricate carvings and distinctive decorated domes.
Covering more than 120 hectares in total, the scale of the complex has to be seen to be believed. The Hindu temple was created as a representation of Mount Meru.
2. Laos and Thailand
Firm favourites on the backpacker route, Thailand and Laos are becoming increasingly appealing to a more diverse range of travellers. Tourists are treated to much more than full moon parties and tubing adventures, and there's a dazzling array of sights, attractions and experiences on offer.
With everything from deserted islands and lush rainforests to vibrant cities and ancient temples, there's something for everyone on this iconic multi centre trip.
Luang Prabang, Laos
While in Laos, it's advisable to explore the beautiful capital, Vientiane and the UNESCO world heritage site, Luang Prabang before leaving for Thailand's temples and beaches. Vientiane is the largest city in Laos, and it's a veritable feast for the eyes.
Mekong River, Laos
There are ornate monuments, parks and temples around every corner and the city stands on the banks of the famous Mekong River. It's well worth spending a couple of days roaming the streets at leisure and marvelling at the enchanting architecture. Highlights include Pha That Luang, Wat Si Saket and Patuxai.
From the city streets, head to the relative calm of Luang Prabang. This is undoubtedly a jewel in Laos' crown. Adorned with colourful houses and bejewelled temples, the landscape looks like a mosaic made from tiles glistening in the sunshine.
Luang Prabang is famed for its historic monuments, and it boasts a vast collection of temples. For those limited on time, must-sees include the Royal Palace, Wat Xieng Thong and Phu Si. The night market is also well worth a visit.
Bangkok, Thailand
Bangkok is the next destination on the journey. One of the busiest cities in Asia, there's no shortage of tourist attractions. The palace is the first port of call for most, and the markets are always a draw. For the best people watching opportunities in the world, head to the enigmatic Khao San Road, the hedonistic stretch made famous by cult noughties film, The Beach.
From Bangkok, it's possible to explore almost anywhere in Thailand thanks to internal flights and excellent private and public transport options. Many people choose to flee the crowded city streets and head for chilled-out bliss on the islands.
Beaches and Islands, Thailand
Head to the east and soak up the sun in the Andaman Sea or go west and discover the reasons why thousands of people visit the islands of Koh Samui, Koh Tao and Koh Phangan every year. Other options include the slightly quieter resorts of Hua Hin and Khao Lak.
Chiang Mai, Thailand
To the north of Bangkok lies Chiang Mai. This is the place to be for jungle adventures and cultural experiences aplenty.
A multi centre holiday in Thailand and Laos affords the opportunity to combine sightseeing and historical and cultural experiences with the chance to recharge the batteries in settings that are reminiscent of scenes from Treasure Island.
3. Borneo and Bali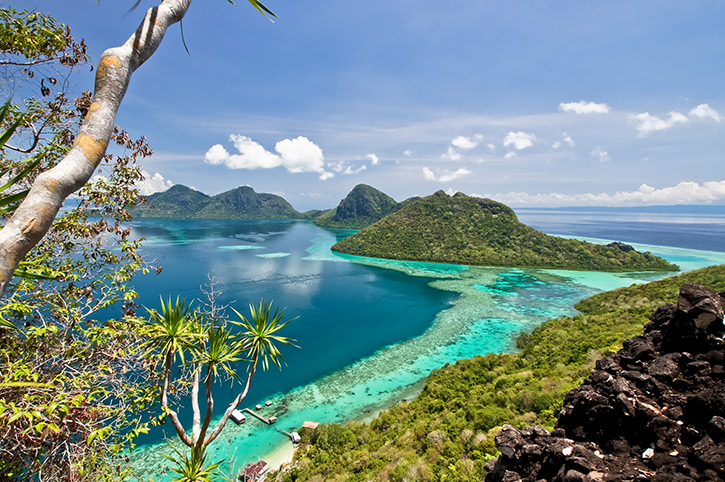 Multi-destination holidays offer a unique opportunity to travel more extensively and combine completely different types of break.
With a trip to Bali and Borneo, travellers can experience a diverse range of excursions, encountering all kinds of different environments and trying their hand at a wide range of activities along the way. From the beaches to the city and the jungle to the ocean, it is possible to have it all.
Bali and Borneo offer very different kinds of holiday experiences for travellers hoping to explore Asia. Bali is a nation famed for its glistening golden beaches, while Borneo is a wildlife haven that has a turbulent history.
By combining both countries in a single trip, tourists can enjoy the best of both worlds and mix animal encounters and laid-back beach living with city slicking. For an idea of what a twin centre holiday looks like, here's an itinerary for a Borneo and Bali holiday.
Borneo and Bali Itinerary Suggestion
Day 1: Arrive in Borneo and spend the day looking around the historic city of Sandakan. For the best views, take a hike up to the hilltop temple of Puu Jih Shih.
Days 2-4: Borneo is famed for its wildlife, and visitors can enjoy incredible encounters during their stay, including a trip to the Sepilok Orangutan Rehabilitation Centre. Here, it is possible to see the amazing conservation work that is underway to protect and rehabilitate orphaned, vulnerable and injured orangutans.
Other wildlife experiences on offer include seeing green and hawksbill turtles nesting on Selingan Island.
Day 5 and 6: Kuala Lumpur: spend the day in the captivating modern city of Kuala Lumpur before travelling to Bali. The most popular tourist attractions include the Petronas Towers and Bukit Bintang night markets. The Batu Caves, which are a short drive from the city, are also well worth a visit. These caves house a giant Hindu temple.
Days 7-11: From the hustle and bustle of Kuala Lumpur to the tranquil sands of Bali's beautiful beaches, it's time to unwind in style. Bali offers a diverse range of resorts, including the achingly hip and trendy beach resort of Seminyak, the heavenly oasis of Nusa Dua and the small but perfectly formed seaside town of Sanur.
Seminyak, Bali
Seminyak is ideal for those looking for exclusive restaurants, beach clubs and a host of other amenities and facilities, while the other resorts are better suited to those looking for a relaxing and more sedate retreat.
Bali is a haven for those looking to escape it all, but it's also a place where adventure is very much on the menu. Activities on offer for those willing to leave their sun lounger behind for the day include river rafting, swimming with turtles in the Gili Islands, diving and hiking.
By night, the main resorts come alive, and there's no shortage of bars and restaurants. For those looking to chill out and kick back, it's not difficult to find a secluded spot to enjoy the sunset with nothing but rolling waves for company.
Multi Centre Holidays in Asia are an excellent way to explore and experience this fascinating continent. Every country has something different to offer those looking for an overseas adventure, and it is possible to have it all when choosing a twin-centre holiday.
From beaches and island idylls to rainforests, temples, caves and metropolises, why not enjoy a holiday that promises something different every single day? Tailored trips offer the best of both worlds and provide a series of once in a lifetime trips on one unforgettable holiday.