Best Time To Visit Thailand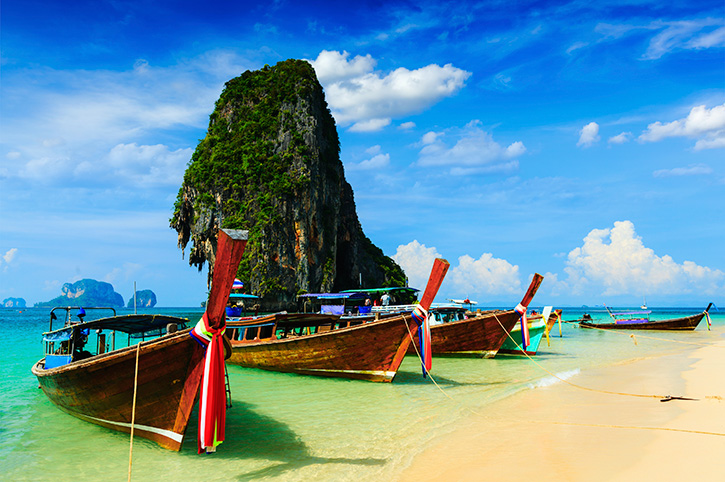 Thailand is an incredible country that boasts glistening waters scattered with traditional wooden long boats, pristine beaches, archipelagos worthy of movie scenes and verdant forests lush with vegetation. It is a wonderful place to explore but is loved by many as the ideal base to rest and recover from the stresses of modern life too.
Whether you are planning to pursue an action-packed adventure, relax in this stunning part of the world or open your mind to a fascinating and unique culture, you'll find something for you in The Land of Smiles.
For those who are planning to visit Thailand, it's always beneficial to think about the places you want to travel to ahead of time. It is especially important to consider the time of year you will visit.
So, when is the best time to visit Thailand?
There is no bad time to visit Thailand but certain seasons do offer something different for visitors. For many, the weather, public holidays, events and festivals, or even peak tourism seasons, can all play a role in influencing trip planning.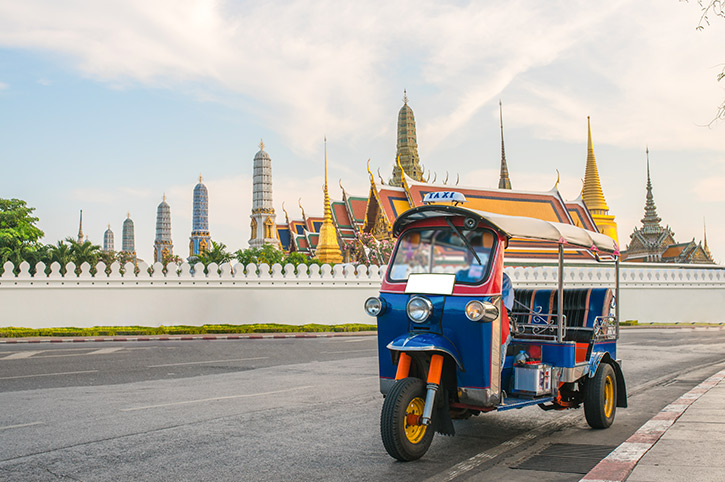 So if you're considering booking a trip to this tropical wonderland, our Asia Experts are here to give you a month by month guide to the best time to visit Thailand depending on your holiday preferences.
Thailand in January
The weather in Thailand is very pleasant in January. This is a wonderful time of year to hit the beach, especially on the west coast. With temperatures lower than in the height of the summer, this is also a great month to explore the forests and cultural gems of northern Thailand.
When it's a little cooler, it's possible to take full advantage of the opportunity to explore rainforests and jungles and enjoy outdoor pursuits like hiking and cycling in Chiang Mai and Chiang Rai.
For those looking for the ultimate beach break, head west to popular Phuket and Krabi, which are nestled on the shores of the turquoise waters of the Andaman Sea.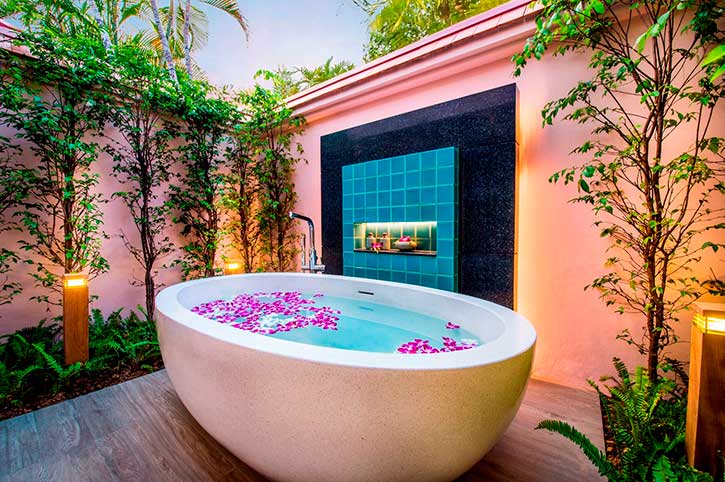 From Ao Nang on the mainland, January is the perfect time to travel to picturesque Railay Beach via longboat, and the stunning Phi Phi Island and Koh Lanta are also easily accessible. Here, visitors can chill out and soak up the sunshine, swim and snorkel or scuba dive.
The end of January is also an excellent time to get involved in the celebrations that take place to mark the Chinese New Year. Big cities like Bangkok often host elaborate parades.
Thailand in February
February is also the perfect time to discover the beaches in the west of Thailand and explore the northern part of Thailand. Temperatures haven't peaked yet which this means it is still a good time to trundle through the forests of Chiang Mai, to explore caves and hiking routes and to sunbathe in comfort in resorts located on the western coastline.
Phuket itself is a lively and vibrant place to stay. In contrast, it is surrounded by tranquil, secluded spots that are ideal for escaping for a quiet few days and perfect for a break within a break.
One of the highlights of the calendar this month is February's Chiang Mai Flower Festival, which is a must for those heading north of the capital. This three-day floral extravaganza marks the end of what is commonly known as the cool season as temperatures start to rise.
Let one of our Asia Travel Experts know that you want to include Chiang Mai Flower Festival in your Northern Thailand holiday.
Thailand in March
Visitors travelling to Thailand in March are almost certain to enjoy plenty of sunshine, making this a brilliant time to explore the country's incredible array of beaches. Most people tend to head towards either the west or the east of the country to take advantage of the best beaches in Thailand. One of our most popular island-hopping itineraries is Thai Island Dreams, which takes you to Koh Samui, Koh Phi Phi and Phuket.
To the west, you'll find larger resorts like Krabi and Phuket, as well as smaller, more tranquil island retreats. To the east lies the hugely popular archipelago that boasts hot spots including Koh Samui, Koh Phangan and Koh Tao.
The eastern areas enjoy drier weather at this time of year, with temperatures in Koh Samui usually reaching 30 degrees during the day with a gentle breeze soothing the coastal areas.
Koh Samui is the largest of the islands and offers an abundance of restaurants, hotels, cafes and beach bars. For those looking to enjoy a cultural experience, there are unlimited options here. Visit several temples, take the opportunity to visit the ethical Samui Elephant Sanctuary, learn how to cook traditional dishes or practice Muay Thai.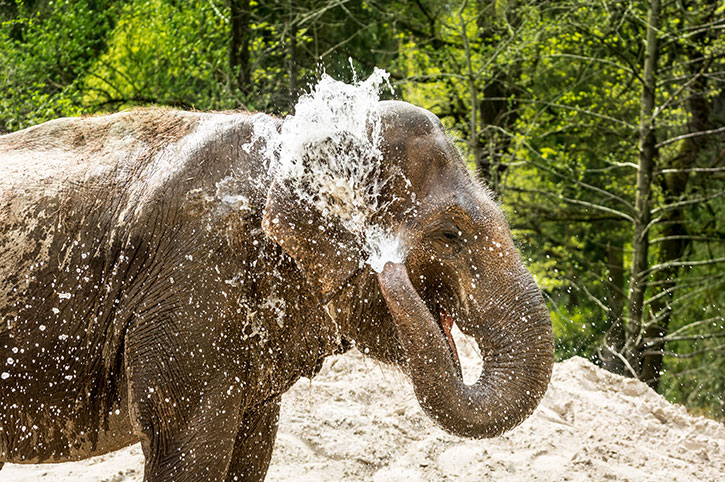 If you catch a boat from Koh Samui, it's possible to island hop to the smaller but no less lively island of Koh Phangan, which is famed for its full moon parties. You can also cruise to Koh Tao, great for keen snorkelers and scuba divers. Now, discover more things to do in Koh Samui.
Thailand in April
April is a very popular month to visit Thailand due to the excellent weather and the annual Songkran festival which marks Thai New Year. The 13th of the month is the actual day but the celebrations always cover a couple of days in April.
In Thailand, New Year's Day is celebrated on the 1st of January but the traditional Thai New Year is in April. This has become a cultural holiday period so expect this to be a lively and exciting time of year to visit as people gather to celebrate the festival.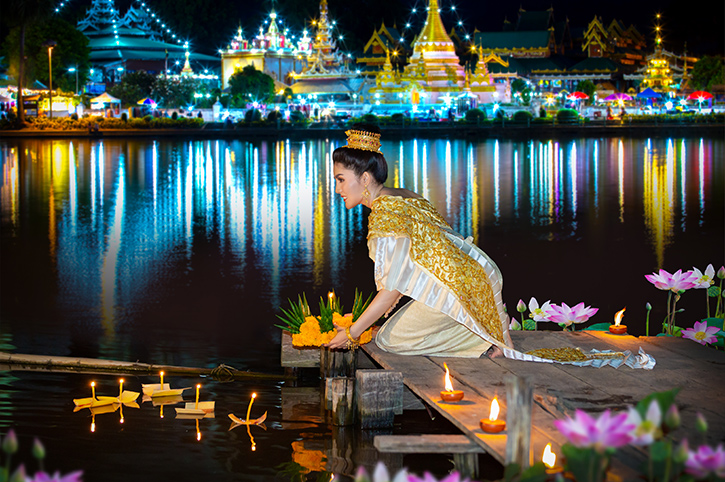 In April, the weather is hot and dry all over Thailand so it's perfect for R&R on the glorious Thai beaches or for seeking solace in the shade of the rainforests inland.
You may also like our 10 Best Beaches in Thailand.
Thailand in May
The arrival of May marks the end of the first peak tourist season of the year, making this a fantastic time to visit if you're looking to save a bit of money and see the sights with slightly smaller crowds to contend with.
May is generally warm and dry but the west coast can be subject to the odd downfall. If sunbathing and swimming are top of your priority list, it's best to head for the east coast of Thailand in May.
Thailand in June
June offers the best of both worlds for travellers to Thailand. It is still largely pleasant and dry but crowds are dissipating and the main resorts and large cities are far less busy.
This is still a month with plenty of sun-drenched days, perfect for enjoying the beautiful beaches but it's also a great time to meander around cities like Bangkok without feeling the intense heat. The Thai capital is packed with sights and attractions, including the Grand Palace, the Koh San Road, the floating flower markets and the Temple of the Emerald Buddha.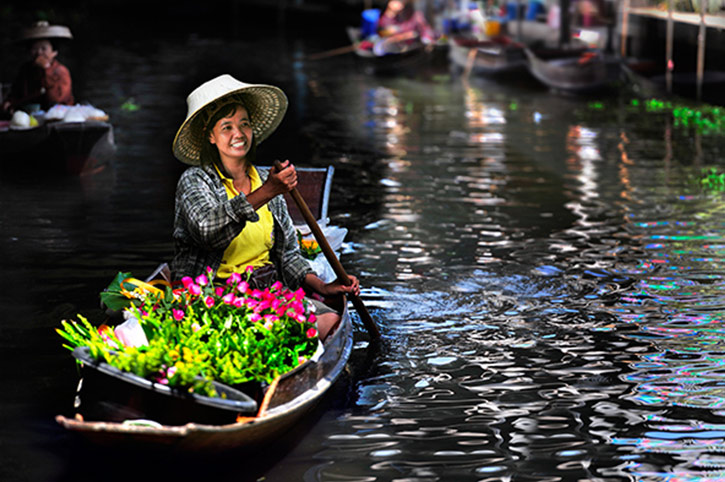 A holiday to Bangkok can be easily combined with many other areas of Thailand by an Asia Travel Expert.
Thailand in July
Temperatures slowly start to drop as July approaches in Thailand but at the beginning of the month, visitors can still enjoy dry, warm days. The eastern islands, particularly Koh Samui, tend to get busier as school holidays begin but are still ideally suited for visitors eager to catch those rays.
Further north, Koh Phangan and Koh Tao offer sunshine in abundance. Koh Phangan has a reputation for partying but large swathes of the island are untouched and offer plenty of places to enjoy peace and quiet while watching the waves roll in.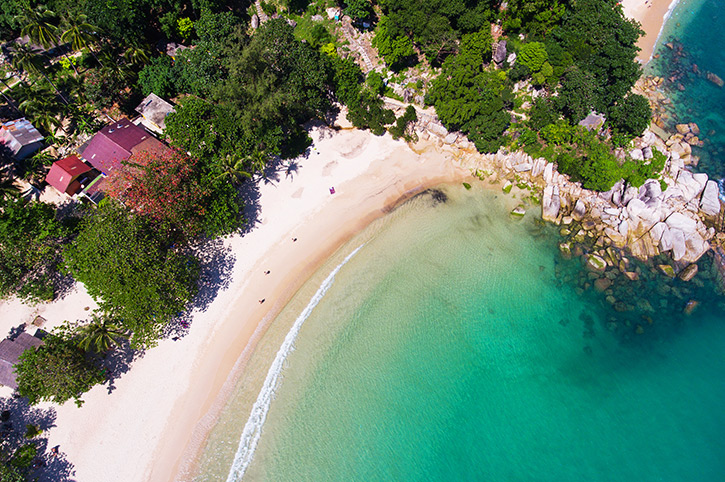 A short ferry ride away, Koh Tao is a picture-perfect idyll famed for its laid-back vibe, golden beaches and its raft of dive schools. This area is one of the best places to scuba dive and snorkel in Thailand.
Thailand in August
August brings more frequent showers and rainfall for Thailand, especially in the leafy, lush north of the country. While the weather may not be ideally suited to beach days, popular tourist spots become much less busy and many people prefer to visit at this time because tour attractions are open without the queues.
For the last embers of sunshine and the best opportunities to enjoy beach breaks in August, head for Koh Samui and Hua Hin. Hua Hin has grown from a rustic fishing village into a sprawling, chic resort, which overlooks the serene, clear waters of the Gulf of Thailand.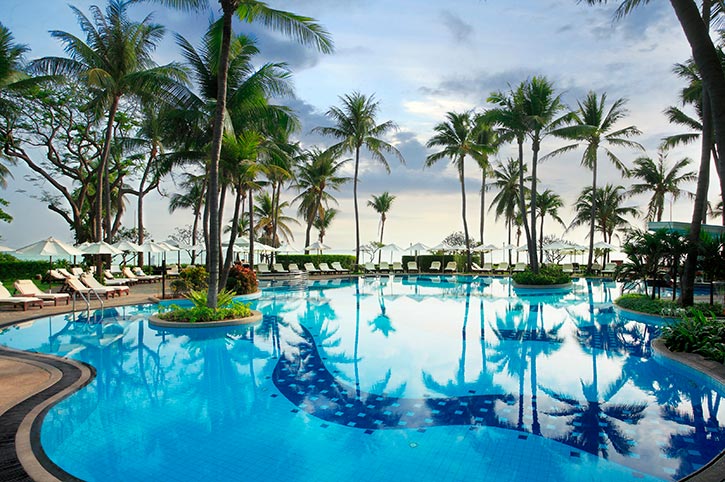 Thailand in September
The peak of the rainy season in Thailand, September is traditionally the wettest month, with rainfall reaching over 500mm in some parts of the country.
Despite the wet weather, this isn't necessarily a bad time to visit Thailand. Resorts are quiet and tranquil, while prices are significantly lower. Although rainfall is common and showers can be heavy, the temperature is still likely to reach around 30 degrees.
So if you are looking for a great Thailand deal, consider visiting in September.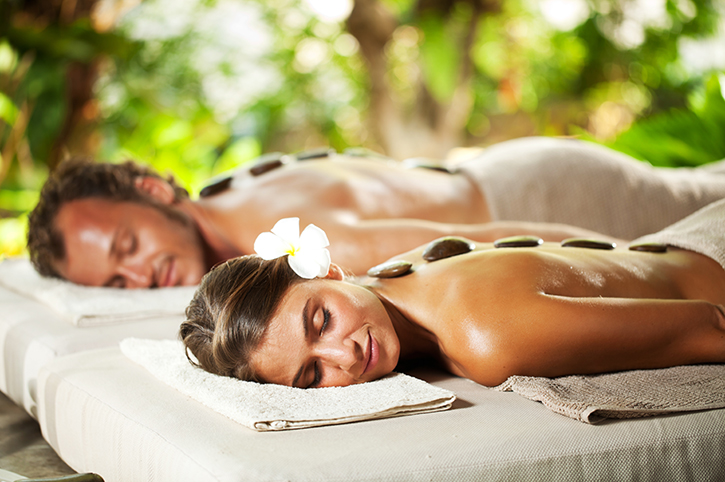 Thailand in October
October is also an appealing prospect for travellers to Thailand looking for lower prices, smaller crowds and cooler temperatures. The mercury starts to drop at this time of year and although rain clouds linger, October is drier than September, especially towards the end of the month.
Humidity is also at a low ebb in this part of the year which makes it a good time to explore the cities, temples and monuments that make this country so attractive to those in search of an enriching cultural break.
We love these top things to do in Bangkok.
Thailand in November
The arrival of winter should not dampen the spirits of tourists to Thailand, as there is a good chance of soaking up the sun in this month. For the best sunbathing weather in November, head to the beaches of the west.
As temperatures settle and the sun appears, Krabi, Phuket and Khao Lak start to draw crowds. In November, guests staying in the south west of the country can also get involved in Loy Krathong, a festival that is characterised by making ornate baskets using banana leaves and tree trunks and floating them down the rivers. This is believed to bring good luck and locals make a wish as their baskets drifts by.
Thailand in December
December is an ideal option for those hoping for good weather. At this time of year, the majority of Thailand's highest profile resorts and its most popular towns and cities enjoy dry, hot weather, with the exception of Koh Samui, which is still susceptible to the odd downpour.
Beach breaks can be enjoyed on the sought after west coast or at the northern gulf beaches of Hua Hin and Pattaya. We recommend whilst on the gulf tagging your beach holiday onto the back of a few days exploring the enchanting capital of Bangkok, such as in our Thai Capital, Culture & Coast holiday itinerary.
Thailand is a magical country blessed with diverse geography, an intriguing culture and an exotic climate. There really is no bad time to visit The Land of Smiles but if you are after enjoying a specific activity or location in Thailand, from sun-worshipping to exploring, the beaches to the city, we'll help you find the right season for your trip. This incredible destination will never fail to enchant and enthral, come rain or shine.
Still not sure when to visit Thailand or where to go? Take advantage of our free planning service and an Asia Destination Expert will help advise you on the best time for your multi centre Thailand holiday.
WRITTEN BY
Eric
Originally from Canada, Eric has been part of the Freedom Destinations Asia Specialist Team for nearly 3 years. His favourite places are Thailand and Myanmar … but he has actually visited every single Asian country featured on our website.