8 Things to do in New York City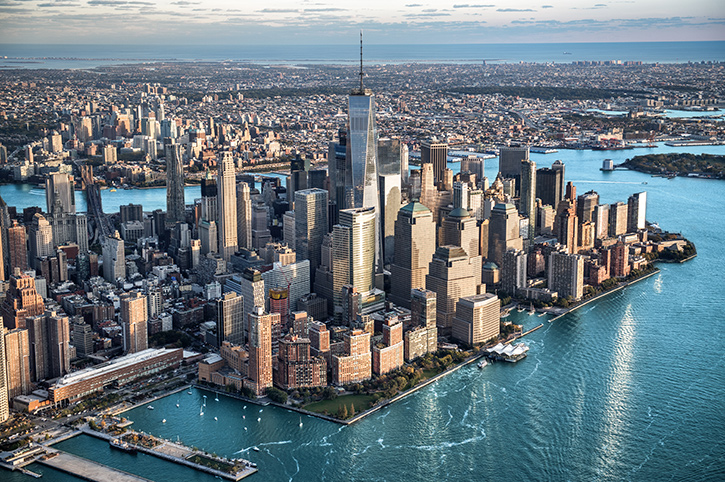 Arguably the most iconic city in the world, visitors flock to the Big Apple from all corners of the globe. An enigmatic, energetic urban maze, New York is a holiday destination like no other.
When planning a city break, it's always a good idea to do a little research, as there's a plethora of activities and attractions on offer.
Here are some of the very best sights, itinerary tips and useful insider information to help you get the best out of an NYC sightseeing trip. Discover the best things to do in New York City for your holiday.
What To See & Do
Few people touch down in the inimitable city of New York without checking out guidebooks or Instagram feeds first. It's common to arrive with a lengthy to-do list. New York is a large city, and forward planning is essential to make the most of every minute.
There's a vast array of sights and activities on offer. These are the highlights not to miss: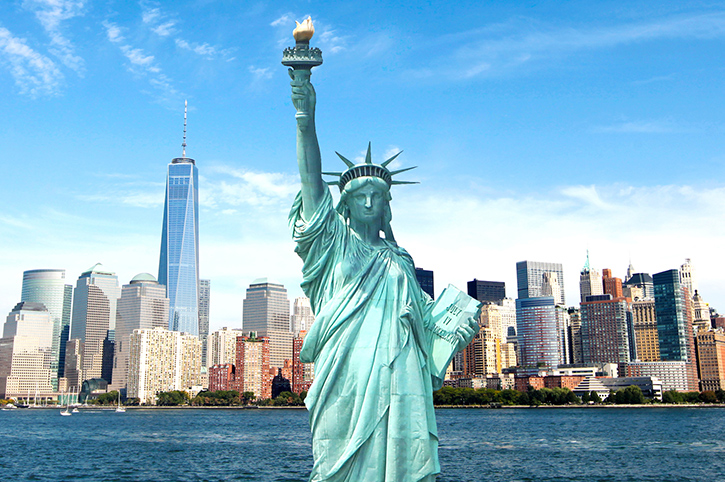 1. The Statue of Liberty
Overlooking the skyscrapers and bustling streets, the Statue of Liberty was given to the USA by the French as a symbol of friendship. It is possible to see the statue from the free Staten Island ferry, but for the full experience and the opportunity to walk around the monument and even climb to the crown, it's best to book a tour.
The Statue of Liberty ferries also stop at Ellis Island, which features a fascinating museum documenting the story of US immigration. It's wise to travel early in the morning, as it's easy to spend a few hours looking around Ellis Island and learning all about its rich history.
Liberty and Ellis Islands are located just off Manhattan, and it can get very windy, so pack warm layers.
Our Top Pick for the Statue of Liberty: Take the Best of New York Cruise
2. Central Park
Spanning over 800 acres, Central Park is one of the largest urban parks in the world. Flanked by Fifth Avenue, this is oasis is just a hop, skip and a jump away from the heart of the action. The sheer scale of Central Park makes it challenging to explore the area in its entirety on foot, but there are multiple transportation options available.
For a romantic trip, nothing beats a horse-drawn carriage, especially in the winter when there is snow on the ground. During the spring and summer months, cycling is a very popular way to get around. This stunning green space is an idyllic base for a leisurely stroll, but there are also activities on offer.
In the winter, for example, many visitors take advantage of the opportunity to go ice skating at the park's rink. The most popular parts of the park include the Alice in Wonderland statue, the lake, Belvedere Castle, the Mall, Strawberry Fields and Bethesda Terrace.
There's also a restaurant on the lake, which serves cocktails, light bites and hearty meals with a view, or you can take a trip to Central Park Zoo.
Our Top Pick for Central Park: Enjoy a Central Park Cycle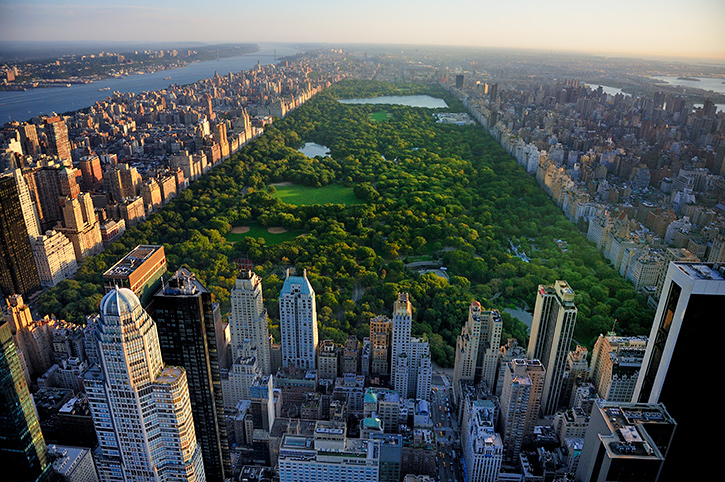 3. The Empire State Building
One of the most distinguishing features of the NYC skyline, the Empire State Building was completed in 1931 and it boasts 102 floors. The observatory deck, which is located on the 86th floor, offers incredible views of the city, and it is particularly enchanting at dawn and dusk.
For those who are keen to appreciate skyline vistas, Top of the Rock also comes highly recommended. The location of the deck at the famous Rockefeller Center affords views of the Empire State Building to one side and Central Park to the other.
It's best to visit first thing in the morning to watch the sunrise over the tranquil city streets. Sunset views are also magnificent. To enjoy the best of both worlds, it's possible to buy a ticket that offers entry at sunset one evening and sunrise the next day.
Our Top Recommendation: Grab a New York CityPASS
4. Times Square and Broadway
There are few places on Earth that are photographed as frequently as Times Square. A tourist hotspot adorned with neon lights and flashing billboards, this is the place to be to soak up the atmosphere and embrace city life.
Times Square never sleeps, and there's always a show going on. Musicians, artists and comedians gather here to showcase their talents and captivate passing audiences. Off Times Square, lies Broadway, New York's famous theatre district.
Home of the finest shows on Earth, visitors have an array of options available on a nightly basis. Popular shows sell out months in advance, but it is possible to buy tickets on the day for some performances.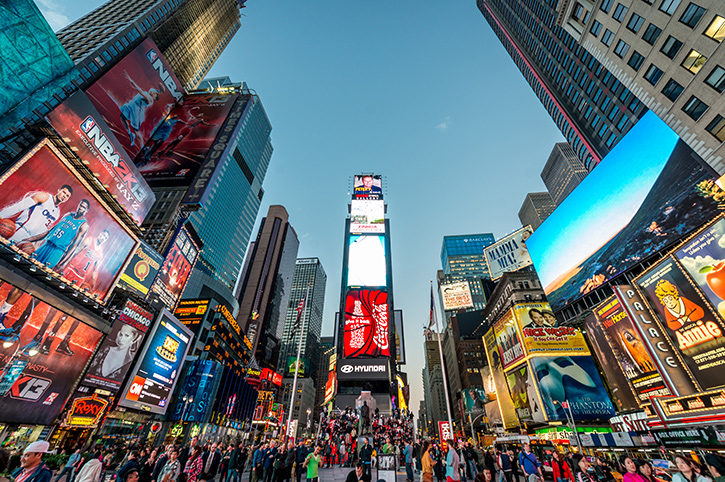 5. The 9/11 Memorial and Museum
The Big Apple is a vibrant city, but it's impossible to visit New York without thinking about the tragic events of September 11th 2001. The 9/11 Memorial is a beautiful tribute to the 2,977 people who lost their lives when the towers of the World Trade Center crumbled.
The Ground Zero water feature is inscribed with the names of those killed, and it serves as an eternal reminder of what happened. There's a tangible sense of sadness, but also a lasting impression of peace and hope.
The museum provides an interesting insight into the events that unfurled that fateful day and the heroic efforts of emergency services and rescue workers.
Highly Recommended: 9/11 Memorial Tour
6. Enjoy Sports in New York
New York is home to some of the best-known sports teams in the US. Sports fans will not be disappointed if they choose to take a trip to watch the Knicks basketball team in action at Madison Square Garden or the New York Jets NFL team at the Metlife Stadium.
In the summer, the Yankee Stadium often attracts sell-out crowds.
7. The High Line
Located on the west side of Manhattan, the High Line is a public park, which was established on an old rail road. Stretching from the Meatpacking District to West 34th Street, a walk along the High Line affords a different perspective of the city.
Offering great views of the centre of Manhattan, this location also provides a chance to explore areas such as Chelsea and Hudson Yards. The walk itself is stunning, but there's also a never-ending series of events and activities on offer.
This is a place where art, music, dance and drama are celebrated, and it's also a wonderful spot to grab brunch. Brunch is hugely popular in New York, so take advantage of Sunday staples like freshly-brewed coffee, bagels and pancakes dripping in maple syrup with crispy streaky bacon.
8. Exploring outside of Manhattan
The vast majority of tourists focus their attention on Manhattan, but New York actually comprises five districts. After ticking off the must-sees, it's a fantastic idea to explore other parts of the city, including Brooklyn and Queens.
Brooklyn is a trendy area, which is packed with coffee shops, galleries and quirky hotels, as well as boasting the iconic Brooklyn Bridge, a perfect backdrop for holiday snaps. Visitors can also visit Coney Island and Prospect Park. Queens is the largest New York district with a vibrant multicultural population.
Tennis fans may be familiar with Queens, as it plays host to the US Open. Away from the courts of Flushing Meadows, visitors can chill out at Rockaways Beach or indulge a love of music at the Louis Armstrong House.
Getting Around New York
There are several ways to get around NYC. The best is to explore on foot. The street layout is a very simple grid network, so it's easy to navigate from one point to another.
There is a lot of walking involved, and those keen to rest their legs and catch their breath can also ride the subway, hail a cab or take the bus.
It's best to avoid taking taxis at rush hour to prevent getting stuck in traffic. The subway covers most of Manhattan and it's a quick and affordable means of travelling.
Highly Recommended: New York Helicopter Tour
Where To Stay in New York
There are hundreds of New York hotels. Many are concentrated around the Times Square area. This is a great place to be for tourists who want to be amidst the hustle and bustle, as most attractions are within easy reach of this part of town.
For those keen to enjoy a quieter, more sedate pace of life while still being within a stone's throw of the action, Mid-Town is an excellent place to stay. Brooklyn is trendy and up and coming and the Upper East Side is famed for its boutique townhouses, fine dining restaurants and designer shops.
When looking for a hotel in New York, it's always a good idea to search for New York deals and offers that combine flights with accommodation. Flights to New York are typically very frequent and reasonably priced.
There really is nowhere quite like New York. Known as the city that never sleeps, this is an enthralling metropolis, which has so much to offer tourists of all ages. There's a vast list of attractions and sights and a huge amount to see and do.
Because New York is such a large city with so much to offer, pre-planning is beneficial and it's wise to touch down with a rough itinerary in hand. Walking is a fantastic way to see the city and soak up the ambiance but public transport is widely available for those keen to take a break.
The Big Apple has a big reputation but it never fails to deliver. Enjoy these top things to do in New York City as part of a bigger America holiday by adding our New York City Explorer to the other things in America you want to see and do.
WRITTEN BY
Kelly
Originally from Florida, Kelly joined the America Specialist Team nearly two years ago. She has extensive first hand knowledge of the states and loves sharing her passion with customers. What's her favourite US destination..? New Orleans!