3 Best Beaches in Darwin for a Picnic with the Family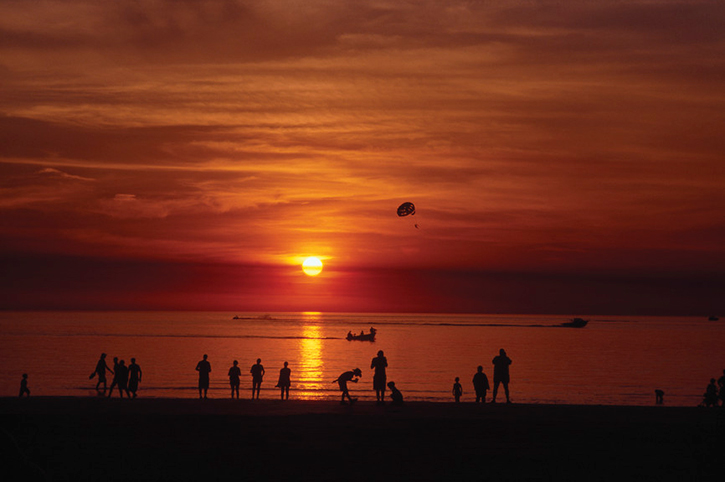 A trip to the beach in Darwin is likely to be a highlight of any personalised Australia holiday. Even on a cool day in Darwin, temperatures can reach up to 28 degrees, making it a perfect destination for a picnic in the sunshine.
If you're planning to visit Darwin on your travels Down Under, here are some of the best beaches to enjoy some quality time together.
1. Casuarina Beach
Casuarina Beach is ideal for families, as it has a large picnic and BBQ area and it also boasts a children's playground. There is ample parking available close to the beach and you're only a short stroll from the city's main streets.
This is a man-made beach and it is designed with families in mind. You'll have access to all the amenities you need, as well as being able to soak up the sun, splash around and play games.
2. Mindil Beach
Mindil Beach is famed for its markets and its dramatic sunsets. The markets, which are open during the dry season, are packed with tourists and locals alike looking to snap up bargains, including traditional foods and crafts.
Sunday evenings tend to be busiest, so try and visit earlier in the day or during the week to enjoy the views without the crowds.
3. Fannie Bay Beach
Fannie Bay Beach is often recommended for families, as it has a host of facilities and it's considered one of Darwin's safest beaches. A wide stretch of golden sand is usually accessible and there is also a playground and a BBQ area.
Bring your own picnic, lay down some towels or blankets and enjoy eating in the sunshine.
Planning Your Visit
Although Darwin has some wonderful family-friendly beaches, it's not usually the first destination that springs to mind when you talk about beach holidays in Australia.
Due to Darwin's geography, there are dangers and hazards that visitors should be wary of. Not all of the beaches in Darwin are suitable for swimming, especially at certain times of the year. There's a large jellyfish population and there are crocodiles in the area, although beaches are protected by traps and rangers.
Generally speaking, it's best to stick to the beaches recommended above and to keep an eye out for warning signs or advice from the local coast guard. Keep to designated safe swimming areas and listen out for advice from lifeguards.
It can get very hot in Darwin, so always ensure that you've got plenty of high-factor sun lotion with you.
Discover other amazing Australia beach destinations for your holiday, from Cairns & North Queensland to Perth & Western Australia.