The 5 Best Stopovers To Australia
Australia is an incredibly popular holiday destination, but if you're heading to the Sydney and the East coast there's no getting away from the fact that it's at minimum a 22 hour flight from the U.K. Luckily, though, for travellers who don't fancy doing the journey all in one go, a trip to Oz offers the perfect opportunity to break up your travel time and enjoy a stopover en-route to really make the most of another far-flung destination. With a host of amazing cities on offer along the way in Asia and the Middle East, here are five of the best stopover destinations for your Australia holiday.
1. Kuala Lumpur Stopover
If you choose to fly to Australia with Malaysia Airlines, you can enjoy a stopover to Malaysia's capital city, Kuala Lumpur, famed for its cutting-edge architecture, most notably the Petronas Towers. A pair of skyscrapers that stand more than 1,230 feet tall, the twin towers were designed by architect Cesar Pelli. Boasting more than 80 floors, they were officially the world's tallest building until 2004. This striking structure dominates the skyline but it is also possible to enjoy jaw-dropping views of the rest of the city from the viewing platform on the Sky Bridge. It's advisable to book your pass online in advance.
Discover our top things to do in Kuala Lumpur for your visit.
Art enthusiasts should not board the plane to Australia without visiting the Islamic Arts Museum, which boasts one of the world's most extensive collections of Islamic art. Another fascinating cultural experience to include in your itinerary is a visit to Kampung Baru, a traditional village set amid manicured gardens. The bustling areas of Little India and Chinatown are also worthy of exploration. Little India, as the name suggests, celebrates the Indian influence on Malaysian culture with markets, restaurants and street food stalls lining the busy alleyways. Chinatown is an explosion of colour that affords the opportunity to tour temples and sample Chinese cuisine.
A stone's throw from the heart of the city, visitors can soak up peace and tranquillity and enjoy scenic views of the urban skyline at Lake Titiwangsa. The city also has a wildlife park, Zoo Negara, which showcases some of Malaysia's best-loved native species. The Lake Gardens, a 92 acre oasis a hop, skip and a jump away from downtown KL, is perhaps the jewel in the crown in this vivacious urban labyrinth. The most famous feature is the Bird Park, a 20 acre aviary, which houses more than 3,000 birds.
Kuala Lumpur offers an array of accommodation options and those looking for five-star luxury won't be disappointed by the Mandarin Oriental Hotel. Find out more about our Kuala Lumpur stopover now.
2. Hong Kong Stopover
A former British colony, a Hong Kong stopover is an excellent option, a modern, densely-populated waterfront city which offers an idyllic base for travellers embarking on a trip to Australia. Famed for its skyscrapers, the city skyline is at its most impressive when the sun sinks and the lights start to twinkle under the night skies. On your Cathay Pacific flight, the views coming into Hong Kong are also part of the adventure.
No trip to Hong Kong is complete without a visit to the famous harbour, which is a joy by night and day. The harbour is a hive of activity and it's a wonderful spot to shop, soak up the sun on a rooftop bar or simply kick back and watch the world go by. During daylight hours, catching a ferry is the best way to discover the beauty and energy of Victoria Harbour.
Travel inspiration, delivered straight to your inbox:
All done! Thanks for signing up.
The Symphony of Lights show is a must for anyone keen to see the city in all its glory as the sun fades. This daily multimedia show floods the harbour with coloured lights, creating a visual display that is guaranteed to enchant every visitor. When exploring the streets after dark, it's also a great idea to visit the hectic night markets to grab souvenirs and haggle for a bargain. Head to Jade Street and Temple Street for the best selection of stalls.
Away from the hustle and bustle of the waterfront promenades, visitors can enjoy a trip to Hong Kong Zoo and the city's peaceful botanical gardens. Man Mo Temple is also well worth a visit. Dedicated to the gods of literature, this ornate temple is one of the oldest in Hong Kong.
To enjoy views of the city and the harbour, a trip to Victoria Peak comes highly recommended. The highest hill on the island, the summit is accessible by tram. Visitors who love theme parks and all things Disney should also take the opportunity to visit Hong Kong Disneyland Resort.
Our top things to do in Hong Kong will help you make the most of your stay. Hong Kong is bursting at the seams with hotels, guesthouses and luxury apartments. A stay at the Intercontinental Grand Stanford comes highly recommended.
3. Singapore Stopover
A 12-hour flight from London with Singapore Airlines, a Singapore stopover is the perfect choice for those travelling onwards to Australia. This is a sprawling and impressively progressive city that occupies an enviable location on an island off the coast of Southern Malaysia.
What strikes most visitors is the cleanliness of the city streets and the devotion to all things modern. Singapore is futuristic in terms of its architecture and construction, but it also paves the way when it comes to eco-friendly design. Many of the eye-catching skyscrapers and office blocks are adorned with urban gardens and Singapore has set its sights on becoming the world's greenest city. The Gardens by the Bay display is one of the best examples of urban green spaces and horticultural innovation in the world.
Singapore is a very cosmopolitan city and it is packed with designer malls, smart restaurants and luxurious hotels, including the Mandarin Oriental and Raffles, which is famed for its Singapore Sling cocktails. Whilst in Singapore, there is plenty to do. Highlights include Singapore Zoo, which offers a unique evening safari experience, and Sentosa Island.
Accessible by cable car from Mt Faber, Sentosa Island offers beaches and tropical gardens with spectacular city views. Clarke Quay is a vibrant hub for dining and entertainment, and the city's botanic gardens are famed for their diverse flora. Visitors who enjoy shopping should make for Orchard Road. This exclusive area is the place to be for those keen to indulge in retail therapy.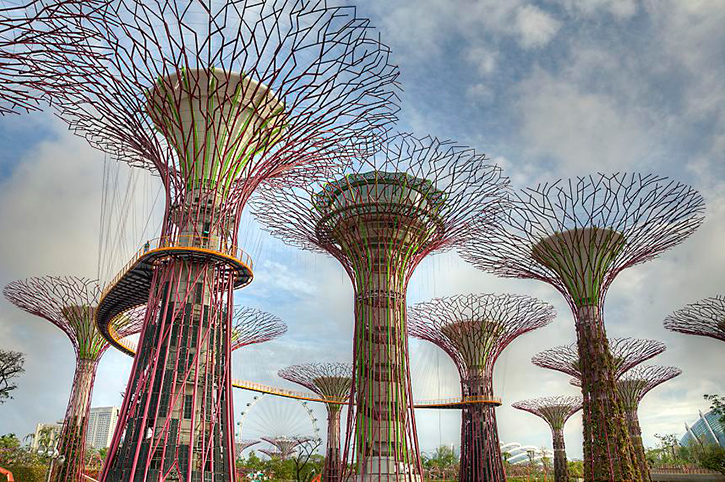 Discover more wonderful things to do in Singapore now.
4. Dubai Stopover
A glistening city flanked by ocean waves and desert sands, Dubai has become an increasingly popular stopover location for people making their way to Australia. Famed for its beaches, designer shops and opulent, lavish hotels and restaurants, Dubai is a year-round destination that offers a plethora of activities and attractions.
The Palm is arguably the most iconic symbol of modern Dubai and visitors can enjoy breathtaking views of the islands, the turquoise waters and the lively city streets from the observation deck of the famous Burj Khalifa Hotel. Located inside the world's tallest building, the 124th floor viewing deck is the ultimate place to enjoy scenes that encapsulate and celebrate the unique location of a city nestled between red-sand deserts and rippling blue waves.
Dubai has a global reputation for shopping and there are more than 70 malls to explore in addition to traditional markets, known as souks. Here, it's possible to buy artisan crafts, jewellery, leather goods and beautiful textiles and fabrics.
After catching rays on the beach and riding the slides at Wild Wadi Water Park, head into the desert to enjoy the thrills and spills of a wild 4WD adventure. Conquer the undulating dunes and bask in the adrenaline rush before rounding off a memorable day with a feast at a traditional Bedouin camp.
Dubai is synonymous with glitzy, glamourous hotels and Jumeirah Beach Hotel is the perfect base for those keen to be close to the action. Your stopover to Dubai is made possible with flights on Emirates. Be tempted by one of our Dubai stopover itineraries.
5. Bangkok Stopover
A city that stimulates every sense, Bangkok is a popular destination for backpackers and tourists looking for a city break or a stopover that offers unique and unforgettable cultural experiences. Undoubtedly one of the best stopovers to Australia, Thailand's captivating capital never fails to make an impression.
An urban gem packed with temples, palaces and floating markets, a visit to Bangkok awakens the nostrils, enchants the eyes and delights the ears. It's never quiet here and the city is incredibly diverse with modern hotels and shopping centres standing side by side with ancient temples and monuments. The first thing to do when arriving in Bangkok is visit the Grand Palace. A decadent celebration of artistry, religion and history, the Palace is adorned with precious stones and swathes of gold that glimmer in the sunlight. A vast complex that is characterised by giant domes, intricate spires and a rainbow of colours, the highlight for many here is the Temple of the Emerald Buddha. This mind-blowing structure houses the highly revered figurine of the eponymous Emerald Buddha, which was crafted from a single piece of jade.
Wat Pho, also known as the Temple of the Reclining Buddha, is another must for your itinerary. The famous gold-leaf coated Buddha measures 46 metres and is one of the most iconic sights in the city.
Many people visit Bangkok eager to experience the sights, smells and sounds of the nearby markets. The flower market is a highlight and it's also worth taking time to negotiate the world-famous floating markets, which are characterised by a series of wooden long boats laden with delights making their way down the city's waterways. For those keen to explore on the water, a voyage on the Chao Phraya Express is a wonderful way to see Bangkok. Discover more great things to do in Bangkok now.
Thai food has a reputation for taste and flavour, and there is no shortage of eateries, from simple street stalls to fine dining restaurants. For those looking for a place to bed down after a busy day of sightseeing, the Banyan Tree is an excellent option.
Book your Bangkok stopover today.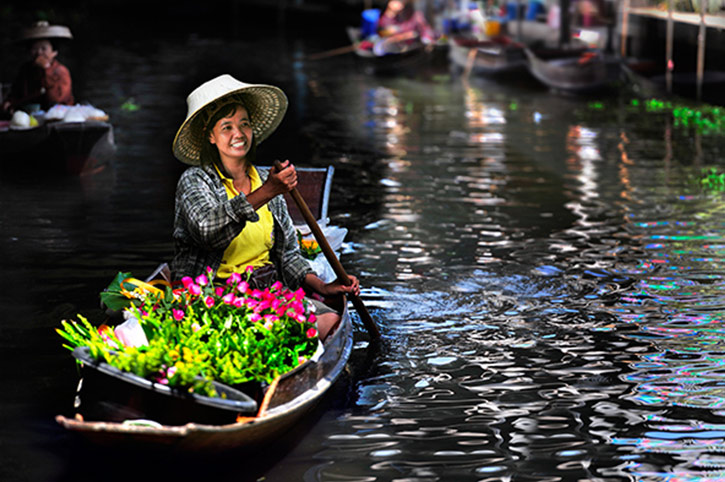 Travelling to Australia provides a brilliant excuse to stop off and enjoy a city break en route. After all, you've already paid for the flight, so make the most of the journey by adding a few days in a new place either on the way to Oz, on the way back, or even both, with these stopover destinations to Australia. With so many leading airlines providing excellent Australia flight options with easy and direct routes, the hardest part is choosing which Asian or Middle Eastern city to visit. Make the most of your flight from London by enjoying the best stopovers to Australia.