Day Trips, Hotels & Things To Do In Sydney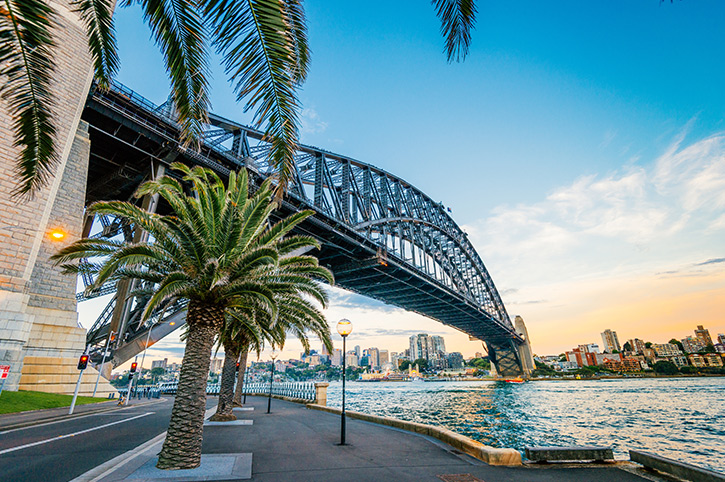 One of the world's most iconic cities, Sydney is a thriving tourist hub, which offers a vast array of activities, attractions and excursions. No trip to Australia is complete without a visit to this sensational waterfront city and for those putting plans together for a holiday down under, here's a guide to the best day trips, hotels and things to do in Sydney.
Things To Do in Sydney
Bursting at the seams when it comes to things to see and do, the highlights which aren't to be missed in Australia's largest city include:
Sydney Harbour
Many people who travel to Oz will be familiar with pictures of the famous harbour, and for most, this is the first port of call.
Sydney Harbour Bridge is a robust but beautiful structure, which dominates the skyline. This bridge, which was officially opened in 1932, spans more than 3,700 feet and it is more than 130 metres tall. The bridge itself is a sight to behold, but those who have a head for heights and nerves of steel can also enjoy a unique bridge climbing experience. Scaling the exterior, intrepid visitors can take advantage of sprawling views of Sydney's harbour, the CBD and the surrounding beaches and inlets.
Just a stone's throw away, lies another of Sydney's main attractions, the Opera House. A quirky architectural gem with an enviable location on the bright blue water, this unique concert venue was designed by Jorn Utzon. The Opera House hosts more than 40 shows a week, with a diverse range of events on offer. For tickets, though, it's best to book in advance.
Taronga Zoo
Taronga Zoo is one of Australia's most popular wildlife parks and many visitors to this continent are extremely interested in the flora and fauna unique to this vast land.
Home to native species, as well as as host of animals from Europe, South America and Africa, Taronga Zoo is a 15-minute ferry ride from the heart of the city. This is a massive zoo, and even the landscaped gardens are stunning. Animals reside in large, open enclosures, there's a raft of family-friendly activities on offer, and there's even a chance to get up close and personal with cuddly creatures and become a keeper for the day. If you fancy something even more immersive, try staying overnight in Taronga Zoo.
Royal Botanic Gardens
The Royal Botanic Gardens are beautifully manicured but perhaps the most impressive aspect of this urban oasis, is its location. From here, it's possible to enjoy views of verdant lawns, trees, and colourful flowers, as well as the Harbour Bridge and the Opera House in all their glory. The gardens are home to hundreds of different types of plants, and there's an extensive programme of events and seasonal activities on offer, too.
Darling Harbour
Darling Harbour is a bustling entertainment venue and transport hub located adjacent to Sydney Harbour. Here, visitors will find museums, restaurants, a cinema and the chance to enjoy all kinds of different boat trips. Get the adrenaline pumping with a jet boat blast adventure or take in the views on a more sedate cruise.
The Rocks
The Rocks is an area of the harbour famed for its independent shops, market stalls and quaint cafes and tearooms. This is the place to be for visitors looking for artisan souvenirs, organic produce and artistic masterpieces. It's also a wonderful location to grab a coffee and a slice of cake.
The Australian Museum
A vast building devoted to all things Australian, the Australian Museum is a fascinating place to while away the hours. With an extensive range of exhibits and displays focused on history, art, wildlife and nature, or traditional culture, this is an attraction not to miss for those eager to learn all about the country, its people, its history and its intriguing native wildlife species.
The museum is always packed with interesting exhibits, but it also offers a series of temporary displays, activities and special events so look out for those.
Bondi Beach
Perhaps the most famous beach in the world, Bondi is a must for sun-seekers. A sweeping stretch of golden sand flanked by clear blue waters and rugged cliffs, Bondi is a popular tourist spot all year-round. Swimming, sunbathing and surfing are the most popular pursuits on offer here, but for those keen to burn off some energy after soaking up the rays and catching the waves, the Bondi to Coogee cliff walk comes highly recommended. This 6km hike offers beautiful views of the coastline below.
Day Trips from Sydney
There are plenty of things to do in Sydney, but those who have a few days available to explore the local area can also take advantage of some incredible excursions. Examples include:
Manly Beach
Manly Beach is a short ferry ride away from downtown Sydney, and boats leave frequently throughout the day. Manly is a charming area, which has a beautiful beach perfect for water sports as well as sand-based activities like volleyball and beach cricket. The centre also has a selection of cafes, restaurants and shops.
Watson's Bay
Watson's Bay enjoys a stunning harbour-side location and it's a popular spot for both tourists and Sydneysiders. The beaches are unspoiled and they offer scintillating views of the Harbour Bridge. There are few things better than enjoying fresh fish and chips as the sun sets over the harbour.
Cockatoo Island
Located in the heart of the harbour, Cockatoo Island has become the place to be, especially on a Sunday when brunch with friends and leisurely games of tennis are the order of the day.
The Blue Mountains
Just a short drive or train journey from Sydney's enigmatic centre, the Blue Mountains are a world away from the lively city streets. A tranquil natural paradise that is characterised by rugged peaks, dense eucalyptus forests and waterfalls, this is an area ripe for exploration. For those keen on hiking or biking, this is a day trip that should not be missed – and as it's possible to join organised Sydney tours or to travel independently by car or train there's really no reason to miss out.
The mountains are ideal for rambling and it's also worth taking time to explore the local villages and towns in the area. The charming town of Leura, for example, is an idyllic spot to enjoy a cup of tea after a day of walking. The highlight of a trip to the Blue Mountains for most is the Three Sisters, a dramatic rock formation located in the Jamison Valley: for the best views, head to Echo Point lookout.
Hotels in Sydney
Sydney boasts a diverse range of accommodation options to suit all budgets. From affordable guesthouses, hostels and bed and breakfasts in the suburbs, to budget city centre hotels and luxury 5-star hotels, there's something for everyone. Apartments are widely available for larger groups, and it's also possible to hire out townhouses or bungalows in suburban areas. Hotels in Sydney are geared towards different types of break: stay in the heart of the CBD for city slicking or enjoy sea views and the sound of rolling waves in Manly or Coogee. All major chains can be found here, as well as independent boutique hotels and affordable guesthouses.
Food and Drink in Sydney
When it comes to eating and drinking, there's a whole host of options on offer. Sydney is packed with eateries, from fast food outlets, healthy cafes and bakeries to fine dining establishments, popular chains and family-friendly haunts. There's something for every budget. For those looking to celebrate a special occasion, nothing beats views of the water and there's an abundance of great places to eat or enjoy a cocktail down by the harbour. The nightlife in Sydney is diverse, with pubs, bars, live music venues and clubs on offer. The centre has a clutch of trendy bars and cool clubs, while areas on the outskirts, such as Kings Cross, Newtown, Darlinghurst and Bondi are also known for their ability to host a good night out.
Getting Around Sydney
It's very easy to visit Sydney and tick off a to-do list without worrying about transport. The best way to explore the city centre is on foot or on two wheels. For those staying slightly further out, it's possible to hire taxis or catch buses to get into the CBD. To travel around the harbour and visit places like Manly, jump on a ferry from the harbour. Boats leave on a regular basis, and multi-stop tickets are available. There's a huge range of tours on offer for those eager to discover the centre and see more of New South Wales.
Visit Sydney
Sydney is a beautiful, bustling city, which has so much to offer visitors of all ages. Packed with cultural attractions and boasting a vast range of shops, restaurants and bars, this is an ideal location to enjoy sightseeing, shopping, eating out and exploring the local area. The harbour is the heartbeat of the city, and it's well worth taking the time to hop on a ferry and take in the views. Back on dry land, there are museums, galleries, wildlife parks, gardens and markets to explore.
There's plenty to keep every visitor entertained but the city is also ideally placed to discover the beauty of the Blue Mountains and beaches further up the coast of New South Wales. There's an abundance of places to stay, and visitors will be spoiled for choice when it comes to choosing where to eat and drink. With so much to do, it's worth putting some rough plans together to take advantage of every second in this wonderful location.
To start planning your trip, visit our Sydney holidays page or alternatively, contact one of our Australia Experts now to help you plan your perfect getaway.