Things to do in Las Vegas
There is probably no other city in the world that is as well-known as Las Vegas for its legendary urban parties. It is a city that mushroomed in the desert to become the temple of bling and grandiose spectacles; the city of sin where excitement is never far away and the world capital of casinos and slot machines. It is a metropolis of huge hotels, often extravagant, sometimes kitsch and even often nerdy. It is fabulous and always unforgettable, but it's easy to forget when thinking of things to do in Las Vegas that it's a very multi-faceted city, too.
Start a trip on the roads of the great national parks of the American West with its incredible beauty and serenity – a place where it is unthinkable that the lights of Vegas could be just a day or two away. To some it is beautiful, to others it is shocking. It is loved or it is hated, but one thing is certain: visiting Las Vegas will not leave you feeling indifferent. If you're not a fan of glitzy hotels and casinos, there is at least an admiration for Las Vegas for being a city of incredible glamour built in the middle of nowhere in the Nevada desert. And yet, far from the temptations of the casinos and clubs, Vegas also makes an ideal starting point for visits to the Grand Canyon or Death Valley, or the start of an all-American road trip along Route 66. All of these places are essential to the experience of the country, and all of them have roots in Vegas.
The best things to do in Las Vegas
To help you organize your stay, then, we've prepared an easy to follow guide to the best things to do in Las Vegas, both on the strip and away from the strip, during the night and during the day.
Casinos and Jackpots
It would be simply impossible to visit Las Vegas without playing at least once in a casino … except, of course, if you are under 21!
Aside from that, even the most cautious can get caught up in the feeling that they are in a completely different world. In the midst of the frenzied desire to win and with the sheer number of games on offer, many have lost more than they bargained for: so it's best to set a limit and ensure you don't go overboard.
All around the city there are jackpots to be won. Advertising boards scream out prizes of millions of dollars and even when the big prizes aren't clearly on offer, there is the simple fun contained in a hand of poker, a roulette spin or the blackjack table. And, of course, who can say they've never dreamed of winning enough money never to have to work again?
But no matter what the winnings may be, living the excitement is the real payoff of Vegas. Play for the thrill of the ride instead of the big bucks but don't miss the most iconic part of the entire city – and let Vegas be Vegas!
The Mob Museum
Away from the casinos and the gambling, there's culture to be found – even if it has its own unique Vegas vibe. The Mob Museum – or Mafia Museum – is an interesting side note to any trip as it depicts the controversial relationship between organised crime and law enforcement in the historical context of Las Vegas and all the United States. This is certainly an original theme and whilst it fits in with the Vegas theme of forbidden fun, it is a wonderful distraction from the glitz of the rest of the strip – the name of the main avenue around which all major tourist centres gravitate.
Coyote Ugly Saloon
Brought to the silver screen by the film of the same name, the Coyote Ugly Bar and Dance Saloon is more than just a bar: it's an experience worth living. I won't say much in order to keep the mystery intact, but it is known for its sexy barmaids, live music and its shows based on alcohol and girls dancing on the bar to a musical background. It may not be to everyone's taste but this is a side of Vegas that that needs to be seen in order to discover a little bit of the Sin City lifestyle.
Finally, it's hard not to mention the many concerts, performances, magic shows and Cirque du Soleil performances that take place daily in the city. Las Vegas brings together the biggest shows in the world and it's 'the must do' when you are here. So before you go, consider looking for some shows that are on the schedules and book your tickets in advance.
Las Vegas Hotels
Every hotel has its own theatre. Celine Dion is regularly feted for her concerts here; a few years ago, it was on the Las Vegas stages that Britney Spears made her comeback and the Cirque du Soleil – although originally from Montreal – have settled in for performances in Vegas for many years.
As surprising as it may sound, you should take time to visit hotels in Las Vegas, they are part of things to do and they are simply much more than just hotels. Each of the hotels which border the Strip are unique in style, architecture and the many leisure activities they have to offer. These are not only hotels but also places to live, eat, drink and party – and some visitors never even leave! You can follow card games, bar parties, slot machines or even relaxing treatments at the spa and pool all within a hotel.
Las Vegas hotels compete to take their guests to the most diverse places in the world without ever moving. This is not limited to their facades on the Strip but it's a whole universe that is created around their own corridors Here, galleries, shops and restaurants are open to everyone and you can easily get lost from one hotel to another, completely immersed in the unique decors and vibes. Any notion of time and space is erased. It is impossible to be exhaustive, considering the number of hotels-casinos but some are still more striking than others.
Luxor
Starting from the south of the Strip, the first hotel that you will spot is obvious. This is the Luxor, built in 1993 on an Ancient Egyptian theme, the hotel offers 4,400 rooms on its 30 floored pyramid of a building, whilst outer towers were added in 2001. It is the fourth largest hotel in the world. Book your stay at Luxor Hotel and Casino today.
New York New York
A little further up, New York New York is one of the Vegas hotels that combines high-end theme parks and hotels together. The Big Apple is condensed with all its iconic landmarks and an incredible roller-coaster reaching over 70 mph. Don't miss New York New York Las Vegas on your visit to Las Vegas.
The MGM Grand
Located on the other side of the Strip is the MGM Grand. Named after the famous production house Metro-Goldwyn-Mayer, this hotel imposes itself on its surroundings by its sheer size. Its 6,800 rooms gave it the honour of being the largest hotel in the world at its inauguration in 1993. It is also connected with other hotels in the same group via a monorail. This is probably one of the landmark and iconic names in Vegas. The MGM Grand also presents sporting events such as boxing, UFC fighting and a lot of concerts and shows.
The Bellagio
A little further along, you will come to a real classic of the Strip: the Bellagio. Famous for its incredible water games, among many other attractions for guests and tourists, visiting Las Vegas simply must include a stop at this incredible free show. If you did not know about this hotel before, the movie Ocean's Eleven is enough to make you realise how impressive the Bellagio Hotel can be.
Caesars Palace
The famous Caesars Palace is based on the theme of ancient Rome and it's here that Celine Dion is booked for all her Las Vegas concerts. The hotel's roots go back to the 60's and it attracts a large family clientele. It's still very popular with tourists from all over the world and its huge shopping mall is one of the best known and most ornate in the world. Book your stay at Caesars Palace Las Vegas today.
The Venetian
Finally, it's impossible not to mention the Venetian! Opened in 1999, this hotel is based on the theme of Venice. Apart from this unique point of interest, the Venetian offers amazing rooms, great service, excellent restaurants, nice bars and outstanding attention to detail. It is the reconstructed network of canals and gondolas that really delight visitors here. Don't miss The Venetian and its gonadolas on your visit to Las Vegas.
Clearly, the most difficult thing is not to find a hotel in Las Vegas. There are so many to choose from. The difficulty arises when figuring out just which one to choose….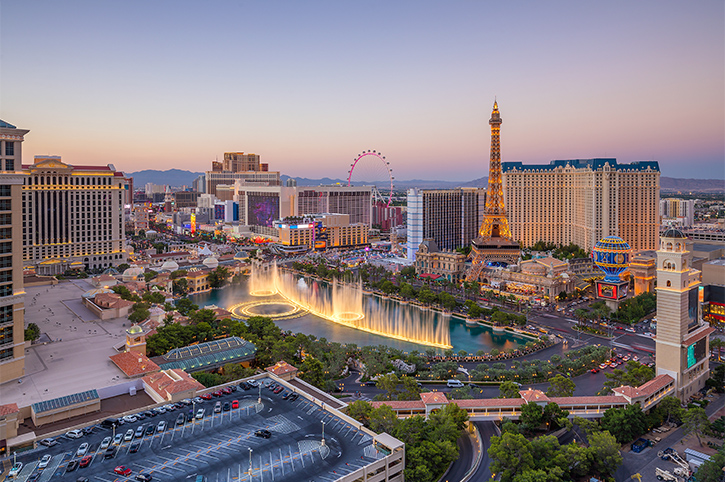 Las Vegas' Hockey Team
One of the more unexpected Vegas experiences is one of the newest too. Although far from the cliched snowy winter of the US's northern cities, Las Vegas has a new NHL hockey team, the Golden Knights, which played its first game in just 2017. The team made it all the way to the Stanley Cup finals in their debut season and the city really rallied behind its team. There are few 'normal' things about this city but watching Vegas locals get cheer on their local hockey players is a unique experience in a city of many unique experiences.
Night Flight over Vegas
Clearly an evening in the hotel is not the only night time option for anyone visiting the city of Vegas but a flight over the lights in a helicopter is one after-dark excursion not to miss out on. Gliding into the air with Sin City in full view down below, this is a truly unique experience. Less expensive than flying over the Grand Canyon, this is the kind of thing visitors can do with friends or family, but the best thing to do is to book in advance this is a popular pursuit.
Grand Canyon by helicopter
For those really looking to push the boat out, taking in both the city of Vegas and the Grand Canyon itself in a helicopter is the ultimate in aerial activities in the area. If you're travelling to Las Vegas, you cannot miss the Grand Canyon, so why do it any other way than with a helicopter ride? This is Vegas after all, so you probably have a few spare coins from your last roulette spin. Book your Grand Canyon Helicopter Tour today.
If a helicopter is not your preferred mode of transportation, there's still Route 66 and the chance to discover the Hoover Dam, Route 66 Train Museum, Mather Point and more with a Grand Canyon South Rim VIP Day Tour.
A City of Many Faces
In conclusion, it's impossible to visit Las Vegas without mentioning its underground side that also attracts many visitors. All night long – and all day long – parties by the pools, express weddings where good taste is left at the door, flowing champagne, fortunes that are made and undone in a few minutes on a game of blackjack… Everything you imagine when you think of this city is on offer here. Even if Vegas has worked hard on its image to make itself a more attractive proposition to families or those less interested in the party scene, it remains a city with a decadent reputation.
If you're interested in taking in a week in Vegas, you probably knew that already. This is a city like no other and with so many faces to it, you can decide to ignore or explore according to your tastes. But don't forget, regardless of the things you do there…what happens in Vegas, stays in Vegas! Discover all the best things to do in Las Vegas for your Las Vegas holiday.