Visiting Toronto & Niagara: Your City Guide
Arguably Canada's most cosmopolitan city, Toronto is a wonderful location for a city break and a perfect base for exploring further afield. For those keen to discover the best things to do when visiting Toronto before heading south to set eyes on one of the world's most iconic natural wonders, Niagara Falls, here is a useful city guide.
How To Get To Toronto
Toronto is an increasingly popular tourist location and it appeals to a wide range of travellers looking for a diverse range of things.
From those who wish to combine sightseeing with business to adventurous types eager to explore the urban maze before taking on the country's expansive network of national parks, this is a city that is growing in stature.
Toronto is a lively place to be and it has an inviting energy: it is a cosmopolitan world city but it's also a place that nestles comfortably in the category of having plenty to offer without being imposing or intimidating.
Many major international airlines operate direct flights here from the UK and further afield, and once landed, it's very easy to get from the airport to the city. Visitors can hail a cab outside the terminal, book a private car or minibus transfer, catch a shuttle bus or jump on the train.
The Union Pearson Express rail link runs from the airport to Union Square, taking just 25 minutes to reach the heart of the city.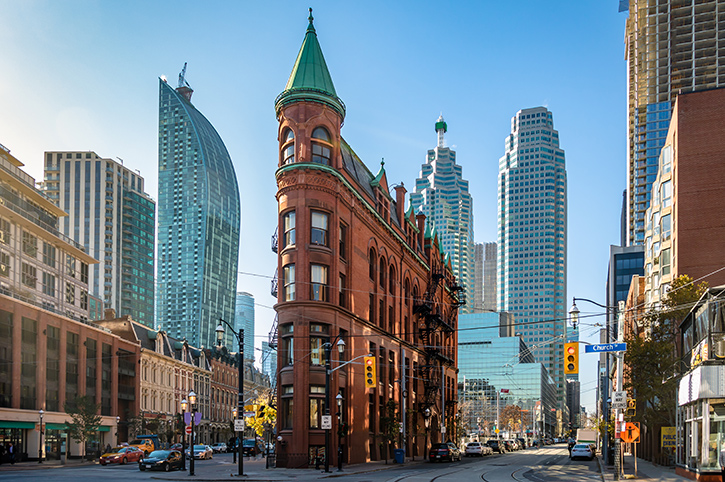 On arrival in Toronto, it becomes clear that the city is relatively straightforward to navigate. Parking tends to be expensive but the network of subway stations, cab links, bus and walking routes mean that this is one North American city where hiring a car is not a necessity.
Consider the Toronto Hop On Hop Off Bus for your time in the city.
Many areas are within easy reach of major hotels, so exploring the city in detail is possible whilst those who enjoy walking will love to stroll around the busy streets – many of which are lined with cafes providing an ideal pit stop for refuelling during a day of sightseeing and shopping.
Let us help you find the best flights to Toronto for your Canada Holiday.
Where To Stay In Toronto
There's a plethora of choices when it comes to where to stay in Toronto. After all, this is a big city, which is appealing to all kinds of different travellers, and as such, there's a huge range of options available.
As with most places, city centre hotels in Toronto tend to be more expensive than those out of town, but transport links are excellent so visitors hoping to save on accommodation costs won't struggle to tick off their to-do list in town.
Downtown hotels, though, are a popular choice for those keen to be close to the action, whilst the West End and Old Town are ideally suited to travellers who prefer a slightly quieter area that is still well-connected. Choose your Toronto Hotel today.
Things To Do In Toronto
There's no shortage of things to do in Toronto. Visitors planning to spend a few days in the city can easily pack an itinerary full of sights and attractions, but this is also a city where it's possible to kick back, relax, and soak up the atmosphere. Highlights include:
1. The CN Tower
This is perhaps the most popular and best-known attraction in Toronto, and scaling its many floors via a glass lift is undoubtedly the best way to see the city in all its glory.
A towering beacon in the centre of the skyline, the CN Tower is officially Canada's tallest building. Reminiscent of an oversized needle, it is a conical structure standing 553 metres tall, providing breathtaking views at any time of day.
Built in the 1970s, the tower is open to tourists and locals all year round, but it must be noted that a clear sky is needed for the best vistas. On a foggy day, when visibility is poor, visitors will be greeted with nothing but a sea of white or grey cloud.
Those who luck out and get a clear day, however, can expect city skylines as well as a glimpse of the inviting waters of Lake Ontario.
Book your CN Tower Tickets now.
If you want to test your mettle and embrace the daredevil within, the CN Tower EdgeWalk adventure might be for you. The whole trip lasts about an hour and a half, but with a 30-minute outdoor walk, taking visitors on a hands-free abseil tour around the exterior of the main pod.
It affords sensational views and a healthy dose of adrenaline to boot! This is a hugely popular attraction so it's best to buy tickets in advance.
2. Royal Ontario Museum
This should be on every visitor's list of things to do in Toronto. The Royal Ontario Museum is one of the continent's largest museums and it houses an incredibly diverse range of exhibits and displays. The most notable section for many is the natural history department, which is brought to life by giant dinosaurs.
A trip here will take you through every historic era imaginable, treating visitors to an exploratory voyage of discovery that stretches from prehistoric times to the modern day.
Areas as diverse as the Ancient Egyptian and Jamaican bat caves are always high on the list of must-sees, especially for younger visitors, and in addition to long-running exhibitions, there's a never-ending series of temporary displays and a great selection of live events.
3. Elgin and Winter Garden Theatre
This is a must for theatre enthusiasts whilst in Toronto. The world's only surviving Edwardian double-storey theatre, the Elgin and Winter Garden houses a theatre as well as a 1920's movie house. Tours are informative and enlightening and they run on Mondays and Saturdays.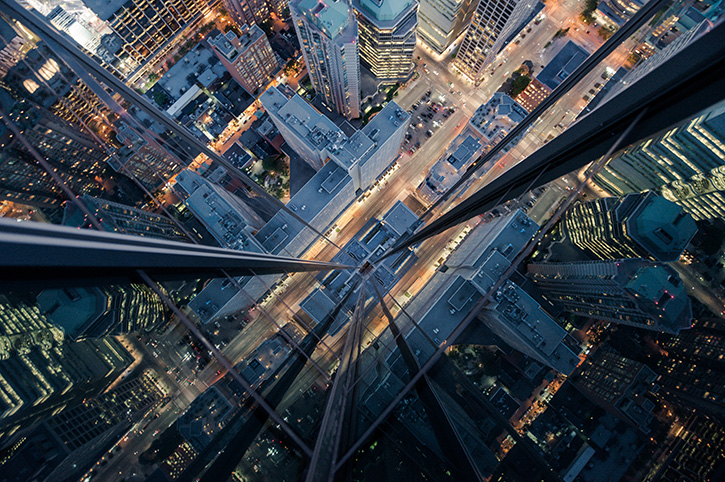 More Things To Do In Toronto
On top of the attractions above, sports fans should check out the calendar before touching down in Toronto in order to add to the itinerary list.
There's a vast array of options for those keen to watch live sport with the Toronto Blue Jays (baseball), the Toronto Raptors (basketball) or the famous Maple Leafs (ice hockey) in action at different times of the year.
Movie enthusiasts should try to time their visit to coincide with Toronto's International Film Festival, too. It takes place in September and is recognised all around the world.
Discover more things to do in Toronto now.
Visiting Niagara Falls
A trip to Toronto is, for many, the start (or end) point of an excursion to Niagara Falls. Despite being one of the world's most well-known destinations, this is a truly breathtaking natural wonder which will never fail to live up to the billing. It has to be seen (and heard and felt) to be believed.
Formed of three falls that come together to create one of the most impressive feats of nature on the planet, Niagara Falls forms the southern ridge of the Niagara Gorge. The centrepiece of Niagara State Park, the falls are open all year-round and they provide mesmerising views come rain or shine.
More than 168,000 cubic metres of water fall over the rim every minute, highlighting the sheer volume we're talking about and the power of the sight.
From Toronto, getting to Niagara Falls is easy. Many tourists choose to join organised tours, which provide return transfers as part of the ticket price. These tours offer guides and information, making them a good choice for those who wish to learn everything there is to know.
On the other hand, travellers just seeking to take advantage of a relaxing journey will be able to devote their attention to enjoying the scenery outside of the window without worrying about reading maps or choosing the best route.
Guides are also there to answer questions and choose the best spots based on the weather conditions, while many will also be happy to help out with taking your photographs.
Book your Niagara Falls Day Tour today.
For those going solo, however, it's possible to drive to Niagara, catch a direct train – or even a train and then a bus – to get there. The falls are located around an hour and a half's drive from downtown Toronto depending on traffic.
That means a day trip is possible for those short on time but the area is also blessed with an abundance of hotels for an overnight stay. More time in the company of the magnificent waterfall is a treat but so too is the rest of the national park – often overlooked because of the popularity of its main attraction.
Discover our top Niagara Hotels or book a Niagara 2-Day Explorer.
Niagara Falls State Park
It's quite natural that most people come to Niagara Falls State Park just to see the falls but there's a host of activities on offer for those who are staying for a while.
Popular winter activities include hiking, wine tasting courtesy of the Niagara Wine Trail (Southern Ontario and the neighbouring New York State are themselves up and coming wine regions), visiting the aquarium and learning all about the production of electricity at the Niagara Power Vista.
There's also an impressive selection of restaurants, cafes and bars, some of which have open fires that are perfect for warming the toes after a wintry walk.
The park hosts events throughout the year, including birdwatching and the chance to meet Siberian huskies so there's plenty to do even once you've seen the main attraction. Then there's the hidden gem!
Visitors who are eager to get as close to the action as possible can brave the elements and make their way to the Cave of the Winds.
Located 175 metres below the summit of the smallest of the three falls, Bridal Veil, this is viewing deck gives a real insight into the power and force of the thundering cascades and is a thrilling experience for anyone who wants to really feel the power of nature.
Do note, however, that this is on the United States side of the border.
For the most adventurous – and those really wishing to push the boat out – a helicopter tour is one of the most spectacular ways of seeing the falls in all their glory. Add a Niagara Helicopter Tour to your holiday today.
Toronto is an enigmatic, vibrant and welcoming city in its own right but it becomes an even more appealing prospect when you consider that it is just a relative stone's throw from Niagara Falls and some of nature's most iconic wonders.
Visiting Toronto will treat you to all kinds of adventures and cultural experiences from shopping up a storm and dining on gourmet cuisine to marvelling at artistic masterpieces, taking a trip back in time and embracing the thriving live music and sports scenes.
There's plenty to see and do and it's possible to get out and about and explore more of Canada and the northern parts of the USA with incredible adventures and wonders right on the doorstep.
For your Canada holiday, we highly recommend a pre-booked Toronto and Niagara Falls Explorer.