Travelling & Getting Around in Vietnam
Vietnam is the jewel in the crown of the Indochinese peninsula, and each and every facet of the country offers visitors the chance to discover unusual landscapes and uncover surprises that reflect the country's rich history and culture.
Today, Vietnam is an increasingly popular destination for tourists because it has remained a country dotted with hidden charms, despite its growing reputation as a hotspot for visitors to South East Asia.
Characterized by its distinctive 'S' shape on the map, Vietnam shares its borders with China, Laos and Cambodia and its 3,200 km long seafront is washed by the Gulf of Thailand, the Gulf of Tonkin and the South China Sea.
It also includes two large river plains: the Mekong in the south and the Red River in the north, with areas of mountains and plateaus to the west. Here are our top tips for getting around Vietnam and using the local transport.
How to get around Vietnam
With such a wealth of geographical variety, then, getting around the country requires using a multitude of different means of transport. That means there is ample chance for exploration and new experiences, though it also means there are some pitfalls to avoid – this article will help with that, as well as providing some tips to make it easier.
Long Distance Transport in Vietnam
To give some perspective, the distance from Hanoi to Ho Chi Minh City is roughly 1,700km and takes travellers around 32 hours to do by car. Cars and buses are obviously options for those on a budget, as well as those looking to explore the scenery around them or with a love of the open road. But when we're talking about such vast distances, planes and trains remain the best option for the really long distance trips.
Flying in Vietnam
For most, the attitude will be that long distances are best travelled in the shortest possible time – especially when the trip is short but there's lots to cover. Time is of the essence, and as a result, the abundance of airports dotted around Vietnam – as well as the regularity of the flights on offer – makes flying the chosen mode of transport for most.
Domestic airports are often fairly small and you won't lose much time attempting to find your departure gate, but passport control can take an hour or so depending on the day and time you are flying.
Vietnam Airlines, the country's national airline, has a good reputation. Its fleet – one of the youngest in Asia – serves 20 cities in the country creating a dense and convenient network at affordable rates. The company has new planes with an efficient service as well as helpful flight attendants who are used to foreign visitors, usually making for an enjoyable experience.
There are also two low-cost airlines who fly to most regional airports. Jetstar and VietJetAir offer good value flights in modern planes and are great if you are travelling without checked luggage.
Visas are required in Vietnam, so ensure that you have organised this before you enter. They usually last for 30 days but if you fall in love with the country and wish to stay longer, it is possible to extend them whilst you're there. As always, it is best to check this out through official channels before you travel.
Train Travel in Vietnam
Trains are an efficient means of transportation when traveling through Vietnam, connecting tourists to the next region in their itinerary.
The rail network in Vietnam, the Reunification Express, consists of a main line of express trains connecting Hanoi and Ho Chi Minh City. There are three per day in each direction. This line passes through several well-known towns near the coast such as Hue, Da Nang and Nha Trang, helping tourists to see more of the country should they wish to stop off en route.
Visitors are encouraged to take the "tourist class" for the most comfortable journey, which includes a bed in a compartment of four people. Given the nature of the special tourist provision, it is likely you will come across other travellers with whom you can pass the time for part of the trip. You will also find a restaurant car and sometimes even a karaoke one! The modernisation of the trains and lines is underway, but travel remains slow for the time being. That said, it's faster, safer and more comfortable than the bus.
For shorter journeys, the SE and TN registered trains are a safe bet and rates are the same for foreigners and Vietnamese locals. If you go to Sapa, in northern Vietnam, you can take the train to Lao Cai from Hanoi and then finish by bus. This line is one of the most beautiful in Vietnam and the sleeping cabins are a nice way of getting to your destination in Sapa. There is also a line connecting Hanoi to Haiphong, a major fishing port near Ha Long Bay where you can go for a Halong Bay cruise.
In order to book your train tickets you have to go through an agency, so be wary of this if you are booking last minute. It's recommended to book at least two days in advance to guarantee a ticket. It is also worth considering the length of journey for common train lines as this will need to be factored into your itinerary should you decide to take this method of transport:
Hanoi to Lao Cai by train: 10 hours
Hanoi to Hue by train: 14 hours
Hue to Ho Chi Minh City by train: 20 hours
The laid back nature of the country is reflected in the laid back attitude to train departures so don't be surprised if you're a little bit late leaving or arriving. Instead, consider this part of the experience.
Buses in Vietnam
Most of the time private buses are chartered by agencies to travel between major cities or to tour the sights. It is possible to cross Vietnam by bus with an open bus ticket. The SinhCafe agency offers tickets for between £20 and £30 and allows you to take the bus from place to place at any time.
This is probably the most cost-effective way of travelling throughout the country, but as with the train's travel times will need to be factored into your overall plan for the trip. The buses are all air-conditioned, but if you're travelling this way, be prepared for long journeys.
Local Transport in Vietnam
One of the best ways to really see Vietnam is via its impressive waterways. Traveling by boat really is a unique and original way to discover this beautiful country.
Boats & Cruises in Vietnam
The long coast of the South China Sea lies on the eastern side of the country and there are a multitude of rivers which cross the land and connect to Cambodia, China and Laos. And if you are attracted to the discovery of this enchanting place by boat, you won't have to look very far. From the small round "basket boats" in Nha Trang, to the fishing boats in Mui Ne, the options are endless.
The beauty of travelling on water is that there are several options to choose from. If you fancy taking a rustic, traditional approach to this method of transportation, have a go at getting around on a rowing boat. These small boats are still used today by fisherman and offer a unique way of getting from one place to another, certainly over short distances.
For an even more personal experience, take a round basket boat. They are incredibly difficult to maneuver due to their spherical shape but are definitely popular with tourists. Hoi An has become a common place for travellers to take basket boats and bob along the Mekong at a leisurely pace surrounded by local fishermen. It may not be the most efficient means of transportation, but it's certainly an experience, and one unique to Vietnam.
By far the best way to see the Mekong, though, is to get on it. Whether it's a small speed boat or a large cruise ship, travelling on the water is one of the best means of transport to take in all that this particular region of Vietnam has to offer.
You may also like our Mekong River Cruise Guide.
Halong Bay cruises are also a must when visitors are in the North of the country. Many traditional boats were converted into tour boats and offer nice cabins, dinner and drinks on the deck whilst giving tourists the chance to look out at the scenery over a cocktail or some food. The bay is inhabited by locals, with some families even living on bigger fishing boats or floating cabanas.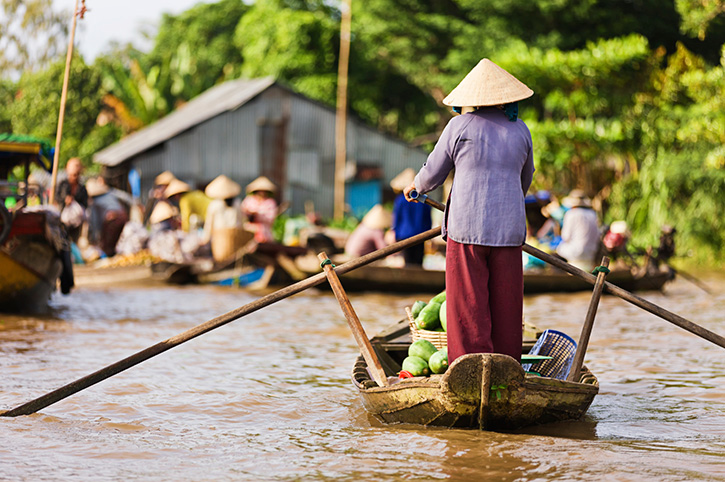 Taking the ferry between Ho Chi Minh (Saigon) and Vung Tau is one of Vietnam's most underrated trips. It is a fascinating journey from downtown, along several rivers and across the open sea to Vung Tau. Vung Tau is a very attractive and peaceful seaside getaway.
Even after the opening of a new expressway an improved motorway between Ho Chi Minh and Vung Tau, taking the boat is much more pleasant, comfortable and scenic. Going by bus, taxi or motorbike is simply a means to an end; going by boat is an experience.
To get to Ho Chi Minh from Phnom Penh, travellers can choose to travel by boat. Several companies offer this route and there are slow, fast, express and tourist boats. Make sure you book your seats at the international port of Phnom Penh, about ten minutes by tuk-tuk from the Royal Palace. The speedboat option equates to just over five hours and upon arrival in Chau Doc, take another boat to reach Ho Chi Minh City.
Getting around Vietnam is easy; choose to save time and fly to the next destination on your itinerary or take in the scenery with a slower method of transport but one that offers a more intimate encounter with a fascinating country. However you wish to travel in Vietnam, our Asia Travel Experts can help you.