Why You Must Visit Angkor Wat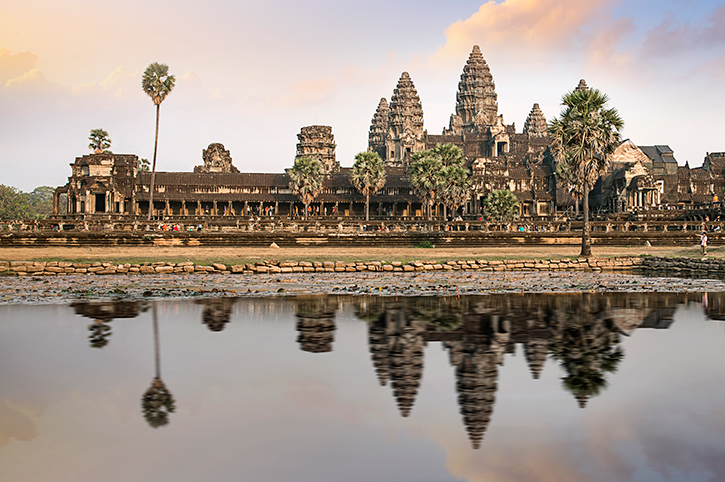 For a once-in-a-lifetime experience, you don't need to look any further than a tour of Angkor Wat in Cambodia. Our Asia Experts want to tell you why they think you should include a visit to this famous temple on your Asia multi centre holiday.
About Angkor Wat
Built between 1113 and 1150 AD by Suryavarman II and encompassing an area of about 500 acres, Angkor Wat is one of the largest religious monuments on earth.
Originally built as a Hindu temple devoted to the god Vishnu, it was turned into a Buddhist temple in the 14th century. However, this temple is the only one to have remained a significant religious centre since its creation and was never abandoned to the elements, a testament to the efforts of its worshippers who kept it preserved.
It's 213-foot-tall central tower has four smaller surrounding towers and a series of enclosed walls. This layout is said to recreate the image of Mount Meru, a legendary place in Hindu mythology that lies between the Himalayas and is said to be home of the gods. Named after the 'temple that is a city', Angkor Wat is the perfect union of ambition and spiritual devotion.
Where is Angkor Wat?
The city of Angkor is located in Cambodia and was once the capital of the Khmer Empire. Sitting at the heart and soul of Cambodia, Angkor Wat serves as a national symbol and the temple is a powerful symbol of Cambodian culture shown through its appearance on the national flag.
Building Angkor Wat
The architectural plan of Angkor Wat is difficult to comprehend due to its sheer size and complexity. From a distance, Angkor Wat appears to be an enormous mass of stone on one level with a long walkway leading up to it. However, it is in fact a series of elevated towers, galleries, courtyards, and porches linked by stairways.
Even though Angkor Wat is the most photographed Khmer monument, no single photograph remotely prepares you to witness the temple in person, commonly known as 'heaven on earth'.
The uniqueness of Angkor Wat can be explained through its creation; it is oriented to the west rather than the east. Symbolically, west is the direction of death, therefore many scholars believe it previously existed as a tomb. While Suryavarman II may have built Angkor Wat as his funerary temple, he was never buried there due to his unforeseen death in battle.
It is also famous for its beguiling apsaras (heavenly nymphs). Over 2,000 apsaras are carved into these famous walls, each of them offering a unique perspective of the hand who created it.
Visiting Angkor Wat
Angkor Wat is often considered to be the 8th Wonder of the World. To ensure the best possible experience, allow plenty of time to visit the spiritual site. Most Temples of Angkor Tours suggest at least three hours in order to explore the entire complex. If travellers want to take a tour guide, it is suggested to plan out half a day.
The temple opens at 5AM and for visitors who want a truly remarkable experience, why not get up early to watch the sunrise and experience the moment that attests to its 'heaven on earth' nickname? The northern reflecting pool of Angkor Wat is the most popular sunrise location and a silhouette of the temple' towers contracts sharply against a stained sky. It's a truly awe inspiring start to the day.
Easily include Angkor Wat in your Cambodia holiday or speak to an Asia Expert for more information and advice about visiting this temple.