5 Cruise America Suggested Routes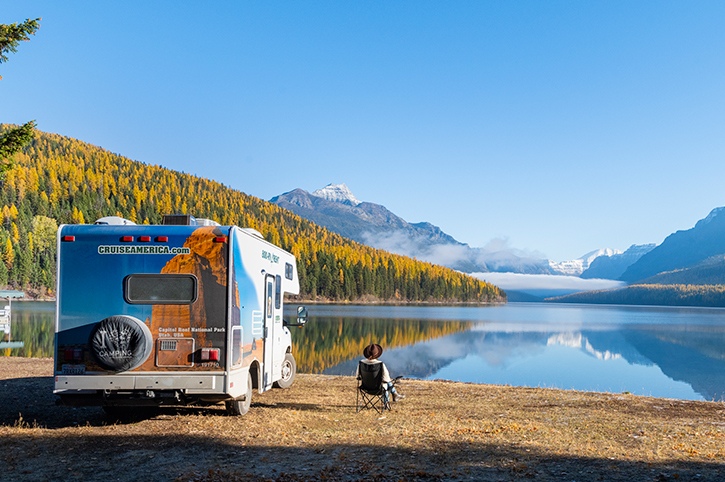 America is 2,680 miles wide, has 50 diverse states to explore and is home to well maintained inner highways, scenic mountain roads and coastal viewing points. There is no doubt that one of the best ways to explore the beauty and abundance of the states is via road.
We can't think of a better way to 'cruise America' than with a popular RV motorhome rental. To be able to offer great quality, service and a variety of vehicles, at FREEDOM, we have teamed up with the number one US motorhome company… you guessed it … Cruise America.
We've experienced these motorhomes first hand and want to tell you about the onboard facilities in a Cruise America RV, the pick up and drop off locations available for your America holiday and our top five Cruise America RV driving routes.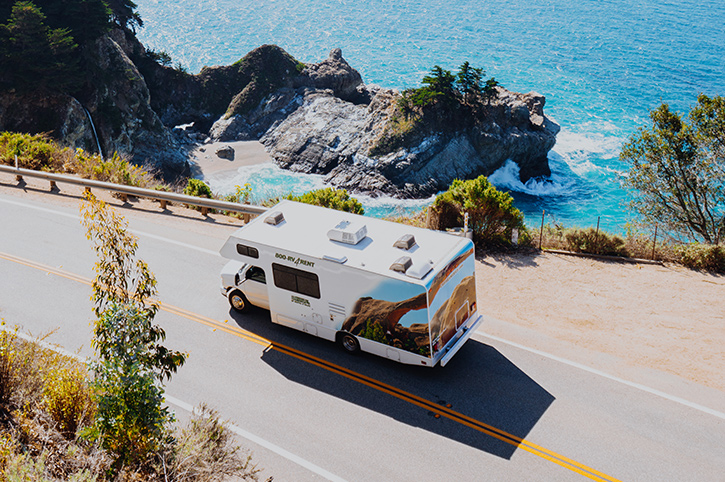 Your Cruise America RV
RVs in America have more room than you might expect. Cruise America provide a range of vehicle sizes for all travellers, from couples and families to larger groups of friends. Enjoy all the comforts of home with both your transport and somewhere to sleep with you at all times.
Features and amenities inside your Cruise America RV include:
Air conditioning
Fresh water toilet
Gas stove
Generator
Refrigerator
Microwave
Shower
Cruise America RVs are excellent value for money with prices starting from as little as £45 per day. These motorhomes also come with free insurance, a Cruise America 100 point inspection and 24 hour service should you need it.
From the Truck Camper that sleeps 3 to the C30 that sleeps 7, there's a Cruise America RV ideal for your party. America's roads are wide and well equipped for large vehicles. So don't worry, driving an American motorhome and manoeuvring it in and out of campsites is easier than you might think.
Where can you pick up and drop off with Cruise America?
There are 37 Cruise America rental depots in the United States, Canada and Alaska from which you can depart and return your motorhome rental. These include Los Angeles, San Francisco, Las Vegas, Orlando, Miami and more. Some depots stock all vehicles whilst others may see less visitors and therefore have limited stock.
Your Freedom Destinations America Specialist can help put together the itinerary you want with the vehicle that best suits your needs and style of travel.
Our favourite road trips with a Cruise America RV
So you've decided a motorhome holiday is for you and you can't wait to hit the open road in America. But where can you go in the time you have? What routes are easily accessible with a Cruise America RV? And what are the most recommended stops along the way?
These five popular Motorhome Routes in America are packaged together by our Travel Experts, ready for you to simply pick, book and enjoy.
1. Florida's Beaches | 3 Week Itinerary
Visit Miami, Key West, Orlando, the Florida Everglades and more.
With this itinerary, you can choose a Miami or Fort Lauderdale driving loop that takes in the best of Florida. This three week suggested route is ideal for families who want to do more than Disney and non theme park travellers who want to experience all the different sides to this state.
Soak up the sun and take it easy in the Florida Keys, search for alligators with an airboat Everglades Tour and enjoy as much or as little of Orlando's theme parks as your group wishes.
Don't miss a visit to the impressive Kennedy Space Center and allow some time to cruise through Miami with a driving break for the South Beach Food Tour.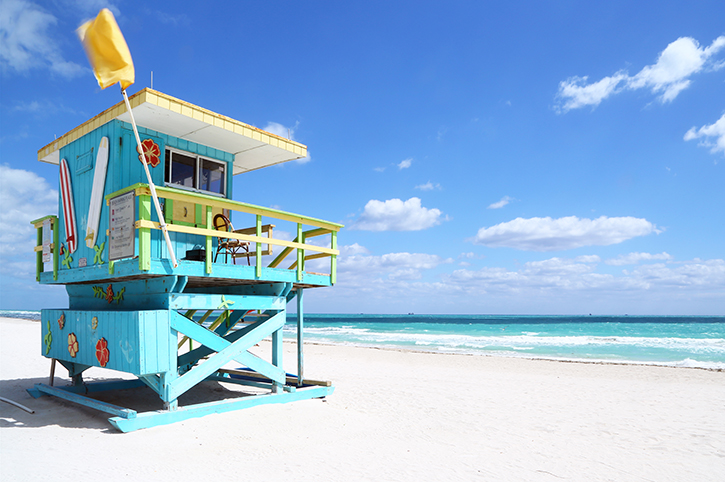 TOP TIP: We love Florida by motorhome because there's no need to eat out all the time, which saves money and creates far more fun. Try cooking on camp fires, BBQs and inside your fully equipped RV.
See the full itinerary: Florida's Beaches Motorhome Holiday
2. Attractions of the West | 3 Week Itinerary
Visit Los Angeles, San Francisco, Las Vegas, Yosemite National Park, the Grand Canyon and more.
This itinerary really is the ultimate tour of America's famous west coast, starting and ending in the home of the stars, Los Angeles. This three week suggested route is ideal for families and friends looking to combine the great outdoors with impressive cities such as Vegas and San Fran.
Relax on the best beaches in California, drive a section of world-renowned Route 66 and hike for as little or as long as you like through iconic national parks including Yosemite, Grand Canyon, Zion and Bryce.
Don't miss the Golden Gate Bridge in San Francisco, the opportunity to watch a fantastic Cirque du Soleil show in Vegas or the Hollywood Movie Stars Home Tour in L.A.
TOP TIP: We love travelling the west by motorhome because there is no need to pack and unpack multiple times between its different cities and national parks. There's so much to see and do here!
See the full itinerary: Attractions of the West Motorhome Holiday
3. New England by Motorhome | 2 Week Itinerary
Visit New York, Maine, Acadia National Park, Mount Washington and more.
New England in the fall just has to be done. What better way to experience this charming part of America, whatever season you choose to visit in, than with a motorhome meander. This two week suggested route is ideal for couples and friends looking to take a slower pace on America's east coast.
See idyllic homes with white picket fences, picturesque tree-lined highways and visit the house of Frederic D. Roosevelt. Starting and ending in New York, you should also make time for a Central Park Walking Tour and the 9/11 Memorial.
Remember to book Autumn dates if you want to see New England in full fall colours.
TOP TIP: We love New England by motorhome because there's no need for a rigid plan. Drive as much or as little as you like and stay overnight in some of the most scenic parts of the states.
See the full itinerary: New England by Motorhome Holiday
4. Rhythms of the South | 2 Week Itinerary
Visit New Orleans, Memphis, Nashville, the Mississippi and more.
With this itinerary you get to enjoy the incredible three cities that provide the best of American music; New Orleans, Memphis and Nashville. This two week suggested route is ideal for first time RV'ers, with most of the driving on Interstate highways; you'll travel to and from Atlanta.
Enjoy the many jazz clubs of New Orleans, learn about the history of the Deep South and photograph paddle steamers along the Mississippi river. Don't miss strolling round Elvis' Graceland Mansion and make time for the French Quarter Walking Tour in New Orleans.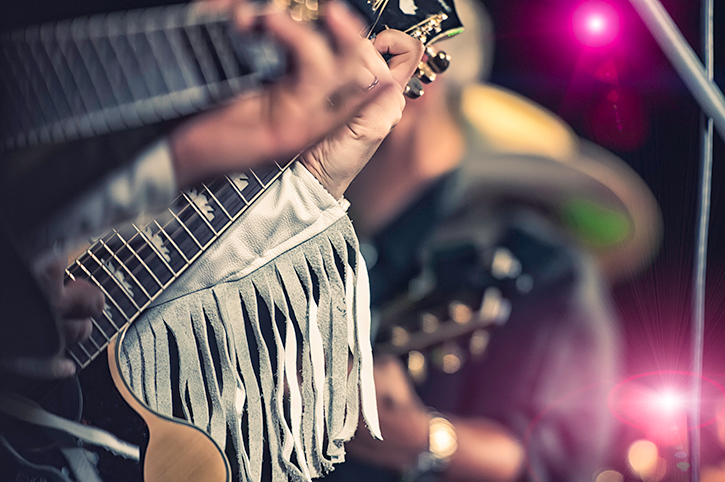 TOP TIP: We love the Deep South by motorhome because we don't have to pack for internal flights which typically have more limiting luggage allowances than international flights.
See the full itinerary: Rhythms of the South Motorhome Holiday
5. The Rocky Roundup | 2 Week Itinerary
Visit Yellowstone National Park, Mount Rushmore, the Rocky Mountains, Denver and more.
This itinerary creates a very memorable combination of national parks and several world-famous icons. Driving in a loop from Denver, this two week suggested route is ideal for families, couples and friends in awe of America's rocky backdrop.
Photograph Yellowstone's Old Faithful geyser, hike in the breathtaking Grand Tetons and see Mount Rushmore with your own eyes. All of the national parks included here offer well-maintained motorhome campsites where you can fall asleep to the sound of local wildlife and wake up to the colours of sunrise.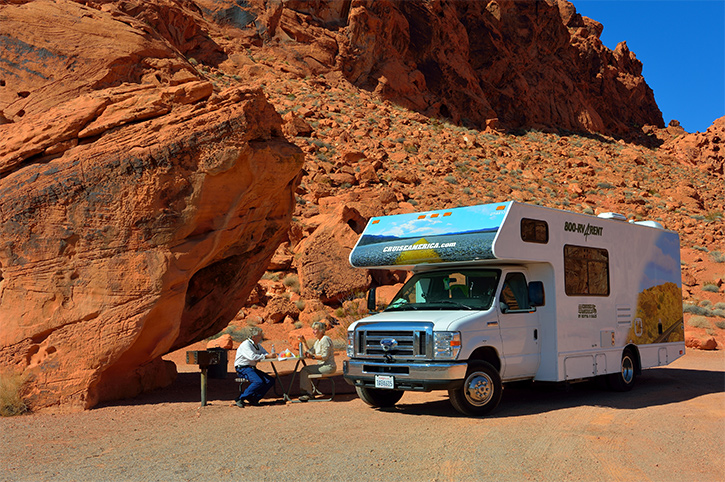 TOP TIP: We love America's national parks by motorhome because there's no need to locate multiple hotel or motel rooms near the natural attractions you want to visit. RVs get you closer!
See the full itinerary: Rocky Roundup Motorhome Holiday
Cruise America RV Rental with Freedom Destinations
There are many travel benefits to booking a Cruise America RV rental with us. These include:
Maps and driving information
Prepaid mileage based on your route
A UK based travel consultant who has visited America
A fully equipped motorhome
Roadside assistance
ABTA & ATOL protection
At Freedom Destinations, our America Experts recommend travelling in a loop, just like the itinerary ideas above, but there is also the option to travel one-way if you want to do something specific. A great example of this would be travelling iconic Route 66.
Your personal travel consultant can book flights in and out of different cities and discuss one way RV rental fees with you to help you make up your mind.
Nothing compares to a Cruise America holiday. You'll actually get to enjoy the bits in between A to B and experience a sense of freedom that's not possible on other types of adventures. If RV'ing is new to you, America is a great place to give it a go.
Find your ideal Cruise America motorhome, then start planning the adventure with one of our friendly America Travel Experts.