Best Time to Visit Australia
Australia is an incredibly popular holiday destination and it's not difficult to see why. A vast country that offers a magnificent array of holiday types and the opportunity to explore cities, coastlines, islands and jaw-dropping geographical features, a trip to Oz will not disappoint.
For those thinking about travelling, it's a good idea to plan an Australia holiday at a time of year that suits the activities and excursions that are of interest and to choose a season that offers the desired weather conditions.
Seasons in Australia
The seasons in Australia follow the opposite pattern to the UK. Our winter is their summer and vice-versa. The seasonal changes are less dramatic in most parts of Australia than at home, but it is worth noting that the sheer scale and size of Oz means that weather conditions can vary hugely according to the region.
While the southern states tend to enjoy a pleasant year-round climate with hot, dry summers, the tropical areas of the North are more prone to downpours at certain times of year.
Temperatures can also fall significantly in the winter in some parts of the country. In Melbourne, for example, it's not uncommon for the mercury to fall to less than 10 degrees in July and August.
With seasonal changes to bear in mind, it's worth exploring when the best time to visit Australia is. This guide will provide an insight into the best months to journey Down Under depending on your interests and your preferences in terms of temperatures and rainfall.
When is Autumn and Winter in Australia?
Autumn and Winter in Australia is typically considered to be between the months of March and August.
Many people choose to visit Australia to take advantage of the golden beaches, the clear blue, sun-drenched skies and the outdoor lifestyle.
The good news is that sun-seekers can find sunshine in Oz at almost any time of year. While some parts get chilly and a little grey in the autumn and winter, cities like Perth are perfect for a beach break.
Perth boasts an average of eight hours of sunlight per day and it's officially one of the sunniest cities on the planet. With easy access to beaches and island idylls like Rottnest Island, summer is the best time to visit Perth and catch some rays, but blue skies can be found all year-round.
Further north and to the west, the autumn and winter months provide pleasant conditions for those who don't want intense heat. For city breaks and outdoor adventures, for example, hiking and cycling, temperatures between 10 and 20 degrees are perfect.
These months provide excellent conditions for touring museums and galleries, meeting local wildlife at zoos and parks and avoiding crowds at major tourist attractions. Outside of the peak seasons, prices are also likely to be lower.
Autumn and winter are also fabulous times to visit the Northern Territory. During the summer, temperatures soar here, and the area is also susceptible to torrential downpours. When temperatures are cooler, and the risk of rain is low, it's possible to marvel at views of Uluru and the surrounding plains of the Outback in all their glory.
Australia's winter is also dry season for the Gold Coast and Tropical North Queensland. You could probably spend nearly every day at the beach, plus this is a great time to snorkel on the Great Barrier Reef.
When is Spring and Summer in Australia?
Spring and Summer in Australia is typically considered to be between the months of September and February.
The Australian summer coincides with our winter, making Oz a brilliant destination for a post-Christmas beach holiday in January and February. At this time of year, there's a plethora of locations to choose from, with sunshine guaranteed at almost every destination on the coastlines of Queensland, New South Wales, Victoria, South Australia, and Western Australia.
Temperatures tend to climb towards 30 degrees in Perth and Adelaide and 27 degrees in Sydney, Brisbane and Melbourne in the height of the summer.
Summer provides perfect conditions for those looking to soak up the sunshine and top up the tan in many parts of the country, but some areas are prone to intense heat, which may not be suited to some travellers.
In Darwin, it's not unusual for temperatures to reach 35 degrees in December and this is also the rainy season. During January, the average rainfall is 426mm. This is a stark contrast to July, when the average is just 1mm.
Australia's summer is also rainy season for the tropical north of the country. While downpours may not be ideal for those planning to hit the beach all day, it's still a great time to snorkel on the Great Barrier Reef and the best time to visit Cairns if you prefer quieter resorts and lower prices.
Spring is a season that showcases the best Australia has to offer, and it constitutes a happy medium for those who want warmth and sunshine without being too hot. At this time of year, temperatures reach around 22 degrees in the cities of the south, making this arguably the best time to visit Sydney.
The months of September, October and November are great for a holiday that includes excursions and activities in the great outdoors, sightseeing in the cities and the odd day at the beach or at sea.
What time of year is best for wildlife?
Wildlife spotting is hugely popular in Australia due to its spectacularly diverse collection of native creatures. While it is possible to spot many local residents all year-round, there are certain times of year that may be particularly appealing to animal lovers.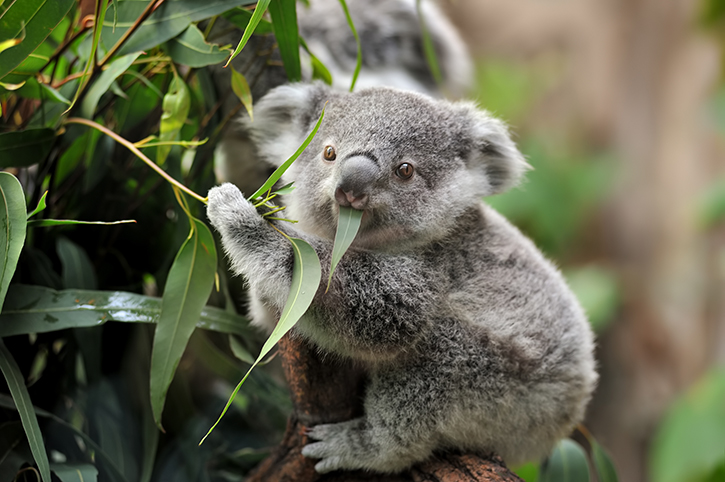 Australia is blessed with an abundance of zoos and wildlife parks that offer travellers the chance to meet native creatures, but many people want to see these mesmerising animals in their natural habitat.
When to see Kangaroos in Australia
Kangaroo Island, as the name suggests, is one of the best places to see the famous kangaroo in action.
It's not difficult to catch a glimpse of these elegant animals bouncing around at any time of year, but perhaps the best time to visit is late spring and summer when lucky visitors may be able to see mothers hopping around with their joeys peeping out from their pouches.
Make the most of this beautiful island with an overnight Kangaroo Island stay.
When to see Quokkas in Australia
For those visiting Perth, our Rottnest Island Explorer affords the chance to meet a rare species known as the quokka.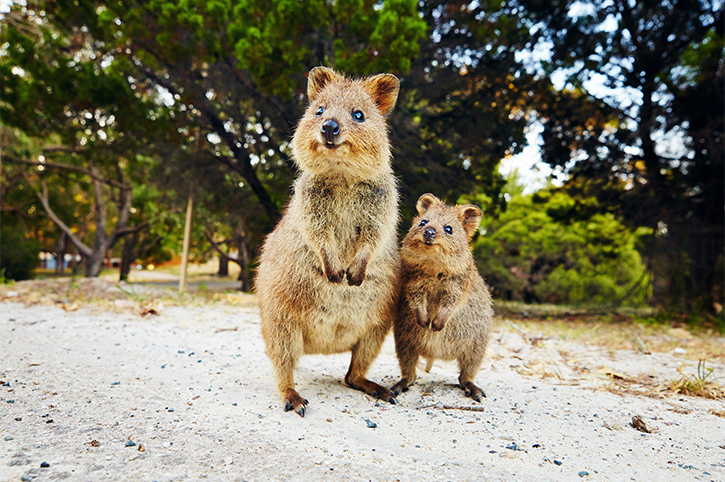 This friendly, inquisitive animal can be seen throughout the seasons, but mothers usually give birth between April and December, so this is a great time to see impossibly cute newborns.
Whale watching season in Australia
Whale watching is a highlight for many visitors, and the best time to travel Down Under will depend on the species and the location.
The season typically runs from May to December. In Victoria and South Australia, southern right whales can be seen between June and October, while it may also be possible to lay eyes upon the majestic blue whale in Warnambool in May.
On the East Coast, in the waters surrounding Sydney, humpback whales can be spotted making their way north to Cairns between May and July. In September, they start to make their way back, appearing in the waters close to the harbour until November.
Heading north? Stop in Australia's nature coast to go whale watching in Hervey Bay.
Further North towards the Great Barrier Reef, humpbacks can be seen between May and September, and it may also be possible to spot dwarf minke whales. The peak whale watching period on the Gold Coast is July and August.
In Western Australia, the whale watching season runs for six months between June and December. In the Margaret River region a host of species can be seen, including humpback, blue, southern right and minke whales.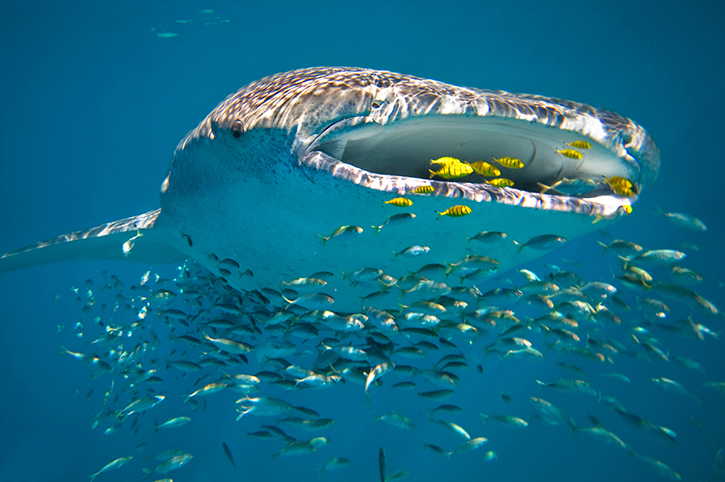 This state is also home to one of the only places in the world where it's possible to swim with the gentle giants of the ocean, the whale shark. At Ningaloo Reef, visitors can take a whale watching cruise and combine it with a once in a lifetime chance to snorkel with whale sharks.
What time of year is best for getting outdoors in Australia?
Australia is a veritable treasure trove when it comes to outdoor pursuits, with a vast range of activities on offer. From fishing and horseback riding to hiking, climbing, mountain biking and cycling, there's something for everyone.
Spring and autumn are generally considered to be the best times of year for discovering the great outdoors. Temperatures are moderate, rainfall is lower than in the summer and the landscapes look vivid and bright.
Our favourite places to visit for outdoor activities in Australia include the Blue Mountains, Uluru-Kata Tjuta and the Daintree Rainforest.
Australia's Cities
For those keen to live the high life in Australia's fabulous cities, it's a good idea to choose a time of year that is dry and warm. The summer months are warmer in the southern cities, whilst the 'winter' brings milder and drier weather to Australia's northern cities.
However, for those eager to shop, dine, trawl markets, visit museums and galleries and enjoy cultural experiences, the winter months in the south and the rainy season in the north see fewer crowds and lower priced hotel rooms.
With days of sunshine and warmth occurring in all seasons in all Australia cities, there's actually never a bad time of year to enjoy city slicking here.
Experience all of Australia's best cities in one on this popular Cities of Australia 3 week holiday.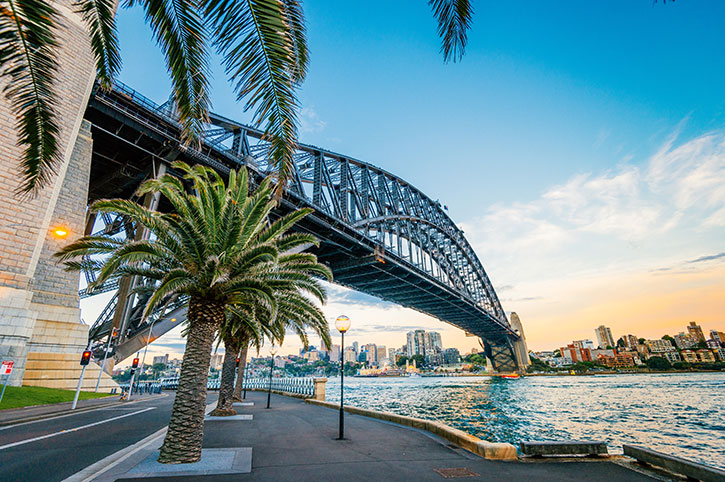 Australia is a mammoth country, which has so much to offer its visitors. With the variations in seasons across the country, it's a truly a fantastic year-round destination.
If visitors have specific desires, for example, a dream to see whales in the wild, it's advisable to narrow down a specific season for your visit. But no matter what time of year you book, you'll be able to enjoy the beach, the 'barbie' and the well-known Australian outdoor lifestyle.
If you would like to know more about Australia's seasons and where to go when, use our free planning service to get in touch with an Australia Travel Expert who can offer you their personal Australia advice.
WRITTEN BY
Christine
Christine has travelled to Australia, Fiji and most of South East Asia. The thing she loves most about working at Freedom Destinations is the shared passion and enthusiasm for Australia. Her favourite Aussie destination is Coral Bay.