The World From Above
The world can look a different place when you take a bird's eye view. We've picked 10 incredible aerial photos from around the globe, showing the world in all its colours.
Oh, plus this spectacular image above. We'll tell you where this was taken at the end.
1. Mount Lofty Botanical Garden
First open to the public in 1977, Mount Lofty Botanical Garden sits in the Adelaide Hills, South Australia. The temperate garden is particularly famous for its collection of rhododendrons, presenting a fabulous sea of colour from August to October. Free to enter, the garden is a 25 minute drive from central Adelaide.
2. Vancouver, British Columbia
Possibly one of the most picturesque cities in North America, if not the world, Vancouver sits between Canada's North Shore Mountains and the Pacific Ocean. It's cruise ship terminal is the 4th largest in the world, with most cruises heading to Alaska. A 22 km seawall protects downtown Vancouver and Stanley Park and provides an uninterrupted walkway around the city.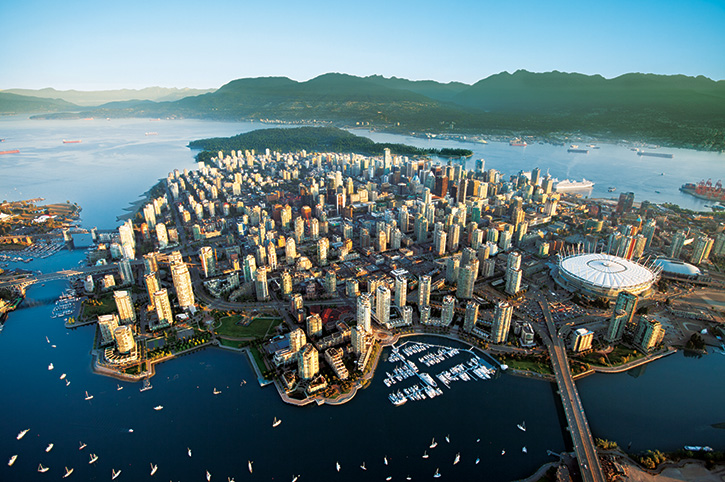 3. Okavango Delta, Botswana
After flowing 1,600 km from its source in Angola, the Okavango River never reaches the sea. Instead, it meets the Kalahari Desert, where the water spreads out to create a wetland, teeming with wildlife, known as the Okavango Delta. A UNESCO's World Heritage Site, the delta is best viewed by mokoro, a traditional Botswanan canoe, or from the air, which you could experience on our Okavango & Chobe Adventure fly-in safari.
4. The Seychelles
An Indian Ocean paradise, the Seychelles is an archipelago of 115 islands. As well as some of the best beaches in the world, you'll find coral reefs, mountain rainforests and nature reserves, which are home to some unique species including the Aldabra giant tortoise, which lives for between 80 and 120 years and can be spotted on our Robinson Crusoe day tour.
5. Srinakarin Train Market, Bangkok
Originally located on disused railway tracks, the Rod Fai Night Market, presents a rainbow of colour from above. At ground level you can buy almost everything, from clothes and shoes to genuine antiques and memorabilia, plus some incredible Thai street food. If you're on holiday in Thailand, a night at the market will give you a real feel for the buzz of Bangkok city life.
6. Alcatraz, San Francisco
Once the USA's most infamous maximum security prison, the island of Alcatraz is now a National Park and popular tourist attraction. Sitting 1.25 miles from the shore in San Francisco Bay, the island has a fascinating history. In 1969, it was occupied for 19 months by the Indians of All Tribes, in their push for Native American civil rights.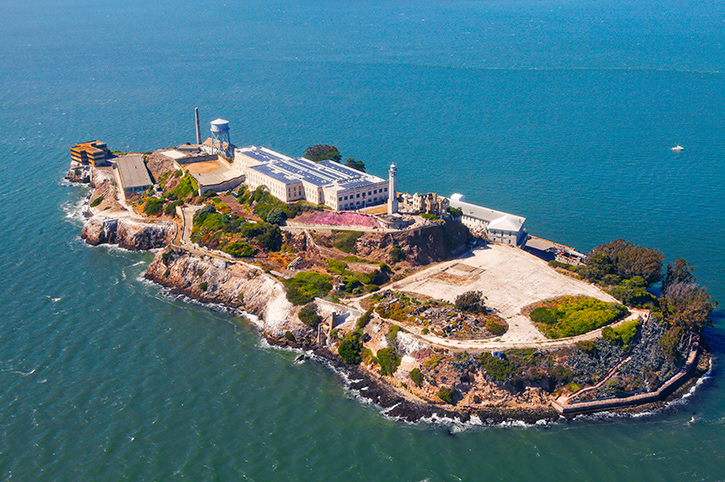 7. Grand Prismatic Spring, Yellowstone National Park
Staying in America… the orange, yellow and green rings around the deep blue waters of this incredible geothermal feature are caused by different species of heat-loving bacteria. The hot water comes from a crack in the Earth, 121 feet down. You may need to hire a car, motorcycle or motorhome to get to the Grand Prismatic Spring, but it's certainly a great stop on an America road trip.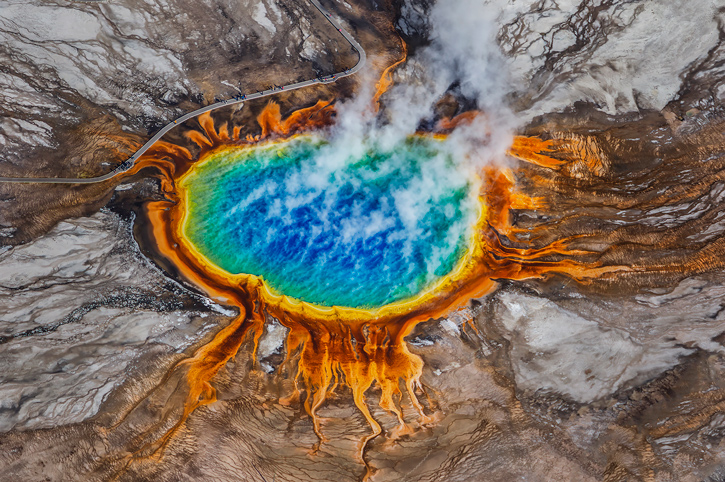 8. Tegallalang Rice Terraces, Bali
An essential photo stop on any holiday to Bali, it is thought the Tegallalang rice terraces could be up to 2,000 years old. The hand built retaining walls capture water running down the mountain to create the steeply tiered rice fields. Join our 3 day Ubud Explorer to see these shimmering rice fields in all their glory.
9. Aitutaki, Cook Islands
The spectacular island of Aitutaki is dominated by a large turquoise lagoon, which itself has 15 islets, known as motus, within it, as well as turtles and rays. Around 1,800 people live on Aitutaki, which is part of the Cook Islands in the South Pacific. It takes 3 hours 45 minutes to fly from Auckland, New Zealand, to the main island of Rarotonga and then 50 minutes in a small plane to Aitutaki.
10. The Pinnacles, Western Australia
Around 200 km north of Perth is the Pinnacles Desert, named after the thousands of limestone pillars, some up to 3.5 metres high, dotted over the 190 hectare site. You can walk amongst the rock formations or follow a scenic driving route. Enjoy a Pinnacles Day Tour from the Western Australian capital or as part of our 6 day Monkey Mia & the Pinnacle self drive itinerary.
And Lastly…
The photo at the top is also from Western Australia, where the magnificent red sands of Shark Bay swirl into the ocean.
If that's left you feeling inspired to plan your next holiday, find out more about these and other great destinations on our website.