5 Icons of America & Where to Find Them
The magical, marvellous nation of America conjures up all kinds of impressions and images. If you were to ask a room full of people what they think about when they hear the word there would be a whole host of answers: from iconic American landmarks, wildlife and famous foods to breathtaking places and historic symbols. As vast as this land is, however, it's still possible to design an itinerary that allows for discovery of all kinds of icons of America. But the first step is drawing up a list of those you want to see, as well as the best places to find them.
What follows below is a list of some of the most significant symbols of America and then some tips to allow you to plan a great holiday that celebrates the best aspects of America, meaning you make the most of your time in this incredible country and sample the best of all things to do in the USA.
1. The Bald Eagle
The bald eagle is the national bird of America and the only native species of eagle confined to the continent of North America. Easily distinguished from other birds by its feather-covered head, its sharp, yellow bill and its incredibly powerful wings, it is one of the most recognisable symbols of the country and probably one of the most famous species of bird in the world, having been an official icon of the USA since the 1700s.
Despite its name, this species of eagle is not actually bald. Its head is covered in snow-white feathers, but seeing one in full flight is every bit as astonishing as you might expect. Indeed, these days perhaps even more so. Although the native population is growing thanks to conservation efforts these are fairly rare creatures, meaning not every visitor to the US is guaranteed a glimpse of the country's majestic national bird.
It is best to tailor plans accordingly if seeing a bald eagle is top of your America holiday wish list, seeking out spots that are renowned for eagle spotting, rather than relying on a lucky encounter.
The best places to spot the bald eagle include some of the country's beauty spots meaning visitors can take in the majestic the scenery as well as the iconic wildlife. Some of these spots dotted all over the country include:
Crab Orchard National Wildlife Refuge, Greater Marion and Starved Rock State Park, Illinois
Upper Mississippi River National Wildlife and Fish Refuge, Clinton and Dubuque, Iowa
Blackwater National Wildlife Refuge, Maryland
Squaw Creek National Wildlife Refuge, near Kansas City, Missouri
Carson Valley, Nevada
Wabash, Minnesota
Chilkat River, Haines, Alaska
Sequoyah National Wildlife Refuge, Oklahoma
Lower Klamath and Tule Lake Refuges, Oregon and California
Bear River Migratory Bird Refuge, Utah
Emory, Texas
Approximately 50 percent of the world's bald eagle population resides in Alaska and numbers are particularly high during the winter months. To maximise your chances of seeing bald eagles, think about joining organised tours, which are run by guides with extensive knowledge about this extraordinary species. Guides are often linked to conservation projects and they use the latest technology and information from colleagues to provide visitors with the best eagle spotting opportunities.
2. The All-American Burger
They've become a trendy treat for many these days with burger joints offering all kinds of concoctions popping up all over the UK, but for burger aficionados, there's no place like America. Trying an authentic burger is a must for every bucket list USA itinerary, but the trouble is that there is a vast number of burger restaurants in every city, making it virtually impossible to track down the best burger in the land.
The burger industry is worth more than $73 billion, so it's no surprise that when staying in America – no matter whether you are based in a small town in the south of America or in the heart of the skyscrapers of the Big Apple – it's not difficult to source a great burger.
For those eager to lay claim to sampling the best of the best, here are some suggestions that have attracted rave reviews and can boast some of the best in the country and indeed the world:
Al's Burger Shack, Chapel Hill, North Carolina
Brooks Gourmet Burgers & Dogs, Naples, Florida
Honest Abe's Burgers & Freedom, Lincoln, Nebraska
Grumps Burgers, Granbury, Texas
Slabtown Cafes and Burgers, Traverse City, Michigan
These are all what are classed as 'non-fast food burgers'. It's worth noting that there are also fast food outlets that sell all kinds of burgers and hot dogs around almost every corner but when looking for that authentic taste of America it's definitely worth seeking out that handmade touch. Burgers in the US aren't just a celebration of beef patty and fresh sesame-covered buns. On any menu, there is likely to be a host of options, with all kinds of additional items, ranging from salad and vegetables to onion rings, cheese, bacon, avocado, pineapple and seafood.
Eat your way through America on an epic Coast to Coast Adventure.
3. Route 66
Famed for being the most iconic road trip destination in the world, Route 66 is a historic highway that traverses the United States. Spanning more than 2,000 miles and crossing eight states and three time zones, this is an epic voyage of discovery for anyone keen to celebrate the diversity of America and enjoy a never-ending series of unique experiences.
Today, the Route 66 Highway is not in use for transport purposes but many of the most famous spots are still accessible and it is possible to drive sections of historic Route 66.
Spanning a huge section of the country and allowing visitors the chance to see parts of America they wouldn't usually think of discovering on a normal holiday, a suggested Route 66 itinerary would include these incredible stops, giving a flavour of the sheer diversity of America:
Start in Chicago
Springfield, Illinois
St Louis and Springfield, Missouri
Tulsa and Oklahoma City, Oklahoma
Amarillo, Texas
Albuquerque and Santa Fe, New Mexico
Holbrook, Arizona
Flagstaff and the Grand Canyon National Park
Las Vegas, Nevada
Finish up in downtown Los Angeles and Santa Monica, California
A Route 66 tour affords such a vast range of excursions and experiences and it's no wonder that this is one of the most popular things to do in the USA. From the grandeur and beauty of national parks and the bustling hubbub of cities to the rustic charm of old-school towns and the neon lights of enigmatic Las Vegas, there's something for everyone and a surprise around every corner.
If a group tour is not for you, take the wheel on our 16 day Route 66 Self Drive Tour.
4. The Statue of Liberty
Standing tall, overlooking the streets of New York City, the Statue of Liberty is one of the most recognisable monuments in the world. Gifted to the US as a symbol of friendship by the French in 1886, the statue is located on Liberty Island, a short boat ride away from the skyscrapers located on the Manhattan shoreline. This iconic statue became a symbol of freedom and hope and a representation of the future for millions of immigrants who passed through the harbour to reach America via Ellis Island. Today it is a symbol of the country to people around the world.
A tour that includes the Statue of Liberty is one of the most popular America day tours and there are several options available to anyone looking to tick this icon of America off their America Bucket List. Boats run from the mainland to Liberty and Ellis Islands on a regular basis meaning you can do this trip in just a couple of hours and get back to sightseeing in the city itself but it's worth taking an early ferry to get the most out of the day. Ellis Island is a fascinating place and it's possible to spend a few hours touring the museum and learning all about the history of migration to the USA in the 19th and 20th centuries.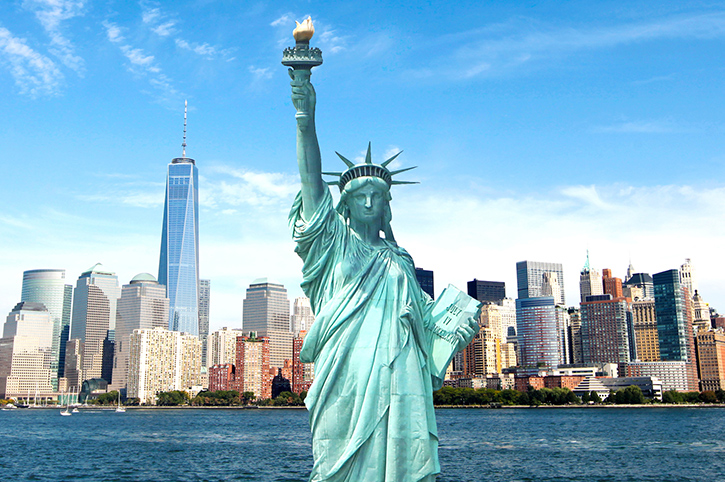 Visitors to Liberty Island can also enjoy stunning views of both the monument and the city from the ground but for the best vistas it's worth buying either pedestal or crown tickets. Be aware that the island tends to be breezy, so it's best to wrap up, especially between September and March. Another way to see Lady Liberty up close and to explore more of New York City is to catch the free ferry to Staten Island. This takes visitors close to the statue but does not afford access to Liberty Island or the Ellis Island museum.
For a visit to the Statue of Liberty with all the hassle taken out of it, book your Ellis Island & Liberty Cruise today.
5. Cowboys
For visitors who are familiar with old Westerns, there's nothing like the opportunity to immerse themselves in America's wild west culture and learn all about the history of cowboys. The South has a rich heritage and Texas is often the first port of call for those hoping to enjoy an authentic experience of life on a ranch.
The history of cowboys in the USA dates back several centuries. Initially, the nation's cowboys came over the border from Mexico. Ranch owners in the lands that later became known as Texas and New Mexico hired cowboys, known as 'vaqueros' to care for and herd cattle and livestock. In the 1800's, more and more Americans became involved in the industry and working on ranches was no longer a purely Hispanic role. California and the South were becoming more prosperous, the number of ranches was growing and the gold rush of 1849 generated an influx of people, which caused demand for beef to rise. As the livestock industry boomed, cowboys became more commonplace, taking up roles in Oregon, Idaho, Nevada and Arizona.
Thanks to the film industry and the small screen, the lifestyle of cowboys has become a TV trope and is now an intriguing topic to many. As such, ranch tours are now a hugely popular bucket list item. Although Westerns and TV dramas may paint a very different picture, life on the ranch is often a chance to get back to basics, appreciate the surroundings of nature and also find out just how important hard work has been in the lives of owners and ranch workers. An authentic tour affords the chance to explore incredible places, enjoy amazing views, learn to ride horses and really get an insight into what goes into the business of sustaining a successful ranch. After a day at work in the great outdoors, there's nothing more comforting and uplifting than huddling around the fire, enjoying a hearty meal and settling into bed with nothing but the sound of birds and the satisfaction of a day sampling 'the good life'.
To really get a taste of cowboy life, choose our 13 day Lone Star Roundup fly drive holiday, including a stay at Wildcatter Ranch.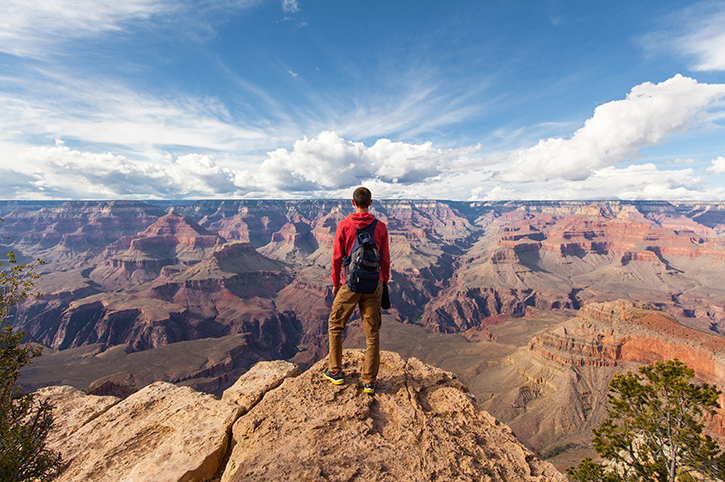 America is a land that provokes a strong reaction in almost everyone who travels there. It is a hugely diverse nation and its range of iconic symbols demonstrates this perfectly. From the dominant bald eagle and the strong-willed cowboy to the indulgent All-American burger and the inspiring Statue of Liberty, every icon of America plays a role. When planning a trip to the States, it's possible to enjoy all kinds of unique experiences that treat visitors to a glimpse of the most important American landmarks, monuments and symbols, providing an insight into what makes this country so unique. Discover these top 5 icons of America on your America holiday.