Where Is This? (Africa)
Mara River, Kenya
It's typically August each year when over a million wildebeest, accompanied by vast herds of zebra, impala, eland and gazelle, risk their lives crossing the crocodile infested Mara River to reach the fertile savannah of the Masai Mara.
No one knows for sure what makes these wildebeest do it, in other parts of Africa they're a non-migratory species, but over 12 months they complete a 1,000 km journey, covering swathes of the Serengeti National Park and Ngorongoro Conservation Area, in addition to their Kenyan soiree.
If you would like to witness the Great Wildebeest Migration yourself, please speak with our Africa Experts who can recommend a suitable Kenya safari or Tanzania safari and advice on the best time to travel.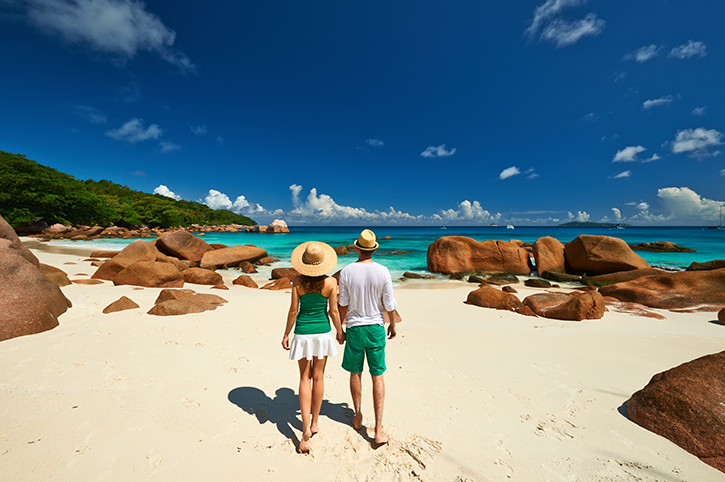 Anse Lazio Beach, Praslin Island, Seychelles
Picture tropical paradise in your mind and our bet is that it won't look too different from Anse Lazio Beach, on the northwest of Praslin, the Seychelles' second largest island.
You'll find plenty of space to yourself along its 300 metre stretch of soft, white sand, and intimate coves and picturesque granite boulders to explore at each end. The Indian Ocean water is warm and clear, and resident tropical fish curious, making it a fun place to snorkel.
Our 8 day Seychelles Island Odyssey itinerary includes a stay on both Mahe and Praslin and a day trip to the beautiful La Digue. Another popular option is to combine the Seychelles and Kenya, for a safari and beach adventure.
Kgalagadi Transfrontier Park, Botswana & South Africa
Big cats, such as this resting lioness, are common in the Kgalagadi Transfrontier Park, which largely sits in the Kalahari Desert, straddling the Botswanan and South African border. They roam the arid environment in search of wildebeest, hartebeest, springbok and eland which migrate through the park.
The sparse vegetation provides for excellent game viewing, especially from March through to May as the rainy season comes to an end and wildlife doesn't stray too far from the rapidly drying riverbeds, the last easy water source. The park's red sand dunes also provide an epic backdrop.
The Kgalagadi Transfrontier Park offers a more off-the-beaten-track safari experience than such as Kruger National Park. Speak with our team to include it in a tailor made South Africa holiday.

Kwa-Zulu Natal, South Africa
South Africa's coastal province of Kwa-Zulu Natal has the second largest population of white rhino in the world, most of which live in the hilly Hluhluwe-iMfolozi Game Reserve. It was in fact the discovery of 40 Southern white rhinos in 1894 that led to the reserve's designation a year later, to protect the species which had been presumed hunted to extinction.
Hluhluwe-iMfolozi Game Reserve is also home to an important population of the critically endangered black rhino, of which there are just 5,000 living in the wild, as well as the other members of the 'Big Five'.
Located within the reserve, Rhino Ridge provides its guests morning and afternoon game drives, led by experienced guides who rarely fail to spot white rhino at the least. A stay at the luxury safari lodge can be included in a tailor made South Africa holiday.
Amboseli National Park, Kenya
The arid climate of Amboseli National Park is caused by its towering Tanzanian neighbour, Mount Kilamanjaro, prompting the moisture in the prevailing air flow from the Indian Ocean to discharge as rainfall before it reaches the park. This results in superb game viewing, as vegetation is low to the ground and birds and wildlife cluster around what limited water sources there are.
Amboseli is known as one of the best places in the world to observe elephants, but is also home to cheetahs, lions, hyenas, giraffes, zebras, wildebeests and buffalo, as well over 400 species of birds, including kingfishers and pelicans.
You can visit Amboseli National Park on an eight day Kenya Favourites safari including the Masai Mara and Lake Nakuru or as part of a Kenya safari and beach holiday.

Etosha National Park, Namibia
Almost a quarter of this National Park in northern Namibia is covered by the Etosha salt pan, hence its name.
The salt pan remains dry for most of the year, filling briefly following summer rains when flamingos and pelicans arrive. At other times, the nutrient-rich dust from the pan gets blown across the park, providing a lifeline for vegetation, which in turn supports a surprisingly large number of animal species including lion, leopard, black rhino and elephant.
Game drives in Eotsha are excellent, especially in the dry season between May and October as animals converge on numerous waterholes.
We update this page each week, with the featured image from our e-newsletter, which you can sign up to in the footer below.