Best Things To Do in Cape Town
You only need to see photos of Cape Town to realise it is one of the most spectacularly beautiful places in the world. On the map, too, you see it has the best of all possible worlds: it's a major city with the cultural benefits that entails, a coastal town with world-class wildlife and a place for rest and relaxation after you've taken in all of the above. The weather is ideal, the history is intriguing and the wine is some of the best produced anywhere in the world.
The world capital of design in 2014 also boasts stunning architecture, despite owing much of its reputation to the famous natural wonders in the area: Table Mountain and the Cape of Good Hope.
All of this alone is more than enough to whet the appetite for a holiday to Cape Town and its surrounding areas but we'll take a look at all of this in greater detail as we shine a spotlight on the city and detail the best things to do in Cape Town.
Table Mountain Tour
Cape Town best-known landmark is a mascot of the region. No matter what you find yourself doing in the city, Table Mountain towers over it to the west and is visible from almost everywhere. It is the beat to which the city hums and it also serves as a great point of orientation for tourists exploring for the first time.
This natural wonder sets the scene for everything that happens here. It provides a constant backdrop setting the tone for life in Cape Town but also creates shelter from harsh sea breezes (which is especially important for the region's famous vineyards). Plus, it makes for a wonderful escape for a day to get away from the bustle of town and into a natural setting with an amazing view.
This landmark takes its name from the flatness of its mountain top which rises to 1086m and is located right by the ocean. The views on top are dramatic no matter which way you look.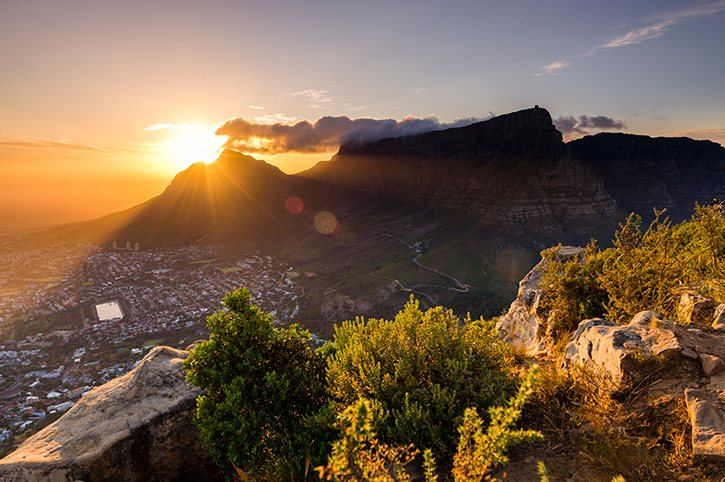 Combining a city tour with a day trip to visit Table Mountain is the perfect way to kick off any itinerary in this interesting city, allowing you to find your feet with a tour of Cape Town's most famous landmarks before ticking a mountain hike off the list. Visiting a new city is not about ticking boxes off of course and especially not somewhere as rich in experiences as Cape Town but climbing Table Mountain is one of those must-do activities. And if you're only here for a few short hours as part of a wider South Africa tour, this one can't be missed.
Visit Victoria & Alfred's Waterfront
The nature surrounding Cape Town is a theme we will come back to, but the architecture and culture of the place itself is impressive in its own right. This city is still informed by its geographical setting, making for a stunning clash of man and nature.
The city's Victoria and Alfred Waterfront is home to a harbour and marina filled with boats of all kinds, while the surrounding area plays host to a vibrant hub for locals, tourists and city slickers alike. It is something of a mini-town in itself, with colourful buildings and stalls, bars, restaurants and a variety of interesting shops. This is an area with enough to keep anyone occupied for hours and when the sun shines there are few things better than enjoying a drink or a spot of lunch on a terrace overlooking the shimmering ocean and listening to the hum of the bustling city all around.
Robben Island Tour
V&A Waterfront is the starting point for cruises off the coast but one, in particular, is an essential cultural excursion and a great reason in itself to visit Cape Town. This harbour is the starting point for all visits to Robben Island. During the Apartheid years, political prisoners were held here during their fight for equal rights. This remains one of the most iconic struggles for justice of the 20th Century in any country; today it is home to a museum and tour around Nelson Mandela Prison.
As you would expect, a Robben Island tour is a moving experience. The history of the country provides context for what happened in the latter part of the last century in South Africa but this is also a place of great importance not just for this incredible country but also for civil rights and democracy in the wider world. A great deal of Nelson Mandela's life was spent on Robben Island and a tour offers the chance for all of its participants to take a true dive into the past in order to bring back some valuable lessons for the present and indeed the future.
On arrival, you'll be greeted and guided by former prisoners who recount their experiences of daily life in the prison. The cells and common rooms have remained intact since its closure and hanging on the walls are pictures of former prisoners. Nelson Mandela's cell is the unmissable centrepiece, of course, but this is an experience that offers so much more than that too.
Coastal Activities from Cape Town
South Africa owes a great deal to the struggles of those who experienced Robben Island for real and the result of a more open society in the country is its booming tourism industry. That's also to the benefit of those of us from the rest of the world. The success of South Africa in attracting tourism stems from the diversity of its natural riches. You may conjure up ideas of safari parks, the Big Five and Kruger National Park when you hear the name of this vast country but Cape Town shows the level of contrast that's on offer within it.
The coastal areas offer opportunities to go out onto the sea in search of the impressive wildlife living under the waves and this is also one of the few countries in the world where you can go Shark Cave Diving with great white sharks. Not too far to the south, just across False Bay, is where you'll find all sorts of marine life on show. Any itinerary that involves observing the rich litany of sea creatures in the Southern Atlantic ocean should include a trip out in this direction.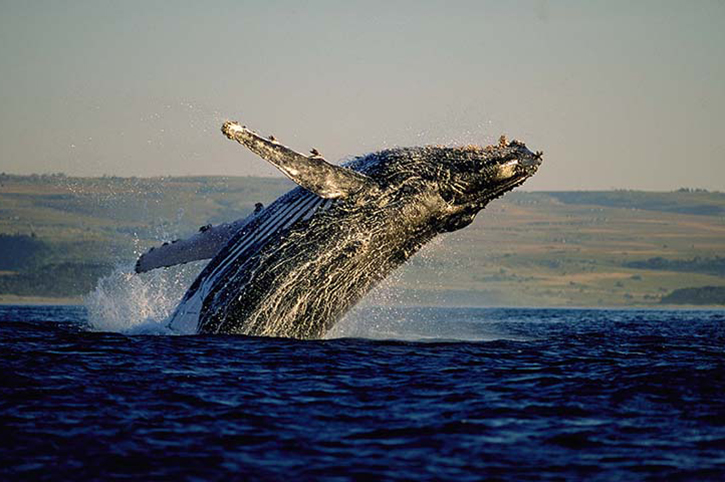 Here, there is an excellent population of sharks where the most intrepid of tourists can be taken down in a cage to see these incredible animals up close. Proper safety is a must, naturally, but the instructors and guides are trained to take tourists through all of it and enrich the experience with knowledge. It's not for the faint-hearted but it's very much a rewarding experience.
Other delights here include the town of Hermanus, the whale watching capital of South Africa and perhaps even the world. Regular Hermanus whale watching cruises start from here to take tourists and marine mammal seekers out onto the open waters in search of some of nature's most incredible animals. Sea lions as well as whales, dolphins and sharks live here and this is an incredible chance to see them all.
If you have a bit of time left over, drive even further along the coast to L'Agulhas, where the Indian and Atlantic Oceans meet each other at the Border of the Oceans – which is a truly magnificent thought. Drive back through the Cape Floristic Region and see the stunning flower and plant life of the southern tip of Africa.
While these trips aren't within the boundaries of Cape Town, strictly speaking, the Southern Coast offers the chance of a fantastic getaway for those with a few days to spend in the area. The flora and fauna on offer within an hour's drive from the city is yet another example of the incredible richness of natural and cultural wonders that this region has to offer and it would be a shame to miss it if you have the time to explore.
A scenic South Africa self drive comes highly recommended.
Beaches from Cape Town
If whale watching, nature seeking and frankly everything else on offer feels like a little too much physical exertion for your trip to Cape Town, that certainly doesn't mean that Cape Town isn't for you. The splendid beaches of the Cape of Good Hope are home to bright sunshine, clear seas and white sand. They are also home to waves for surfing and the breathtaking backdrop of the 12 apostles – the craggy rock formations created by Table Mountain as it sweeps down to the sea.
Wineries from Cape Town
Whether you're looking for relaxing days on the beach, chic lunches by the waterfront or a chance to unwind after a long day hiking or hunting for wildlife sightings, don't forget that Cape Town is nestled perfectly in one of the world's most important wine-producing regions. Tours and excursions to nearby Stellenbosch and the Winelands of the Cape are readily available and worth a trip if you're an aficionado (or just like the thought of being one). The city itself is also the perfect place to sample the local produce in the bars and restaurants on offer in Cape Town.
Some of the world's best and best-loved wines are made in this region and no trip would be complete without toasting to your new favourite place with a quality tipple. Spend even longer enjoying the local wines with our Cape Winelands Explorer.
The Cape of Good Hope was a stopping point for French and English sailors as they travelled from Europe to India in the 18th and 19th Centuries but today this is so much more than passing point on the way to better things. This stunning city and its surrounding regions is a breathtaking destination in itself, so don't miss Cape Town and the southern coast if you're planning a holiday to South Africa: its melange of nature, history and its appreciation of good life is simply too good to miss!
See more South Africa holiday ideas.