Where To Go & What To Do In Florida
Affectionately known as the Sunshine State, Florida is one of the United States' prime tourist destinations. Home to some of the world's most famous theme parks, as well as vibrant cities, beautiful beaches and mind-blowing national parks, this is a holiday destination that really does have it all. So, whether you are searching for a peaceful retreat, thrills and spills or a combination of the two, Florida will not disappoint. Uncover the best places to go and what to do in Florida, as per our expert's advice.
The Best of Florida
Florida is a deceptively large state, spanning over 65,000 square miles in the tropical regions of the mainland US. Many will visit Florida in order to undertake specific activities rather than to travel around to take in the culture, but it is still relatively easy to navigate from A to B for those who do have the time to explore the different parts of this varied and vibrant state.
All forms of transport are on offer, from internal flights between the different cities, to self drives along the highways or catching buses and trains. For those who don't have time to see it all, here are some of the highlights offered to tourists on holidays to Florida.
Theme Parks in Florida
Many of us immediately conjure up images of fairy-tale castles and much-loved screen characters when we think of Florida. Home to the world-famous Walt Disney World resort, in addition to a host of other theme parks and attractions, Orlando is the place to be for those keen to walk in the footsteps of movie stars, meet their childhood heroes and get the adrenaline pumping on terrifying rides.
Walt Disney World
Walt Disney World covers an expansive area around Lake Buena Vista and it comprises a series of different themed areas and zones. The scale of the park is staggering and the level of attention to detail breathtaking. Even adults are blown away by the visual aesthetics and the undeniable magic in the air.
Within the complex, visitors can explore a series of individual wonderlands, including the Magic Kingdom, Animal Kingdom, Epcot, Disney's Hollywood Studios and Toy Story Land. There are also two water parks, an endless array of eateries and shops and plenty of Orlando hotels to suit all budgets. It is possible to stay within the park or to reserve a room slightly further afield in a hotel that offers a shuttle service.
After discovering the wonders of Disney, it'll then be time to experience Universal Studios, a paradise on Earth for film buffs.
Universal Studios
Universal offers a host of tours and rides, set across a selection of parks, which includes Universal Studios Florida, Universal Islands of Adventure and Volcano Bay. This is a colourful, lively destination, which looks exactly like something out of a film set and there's no shortage of opportunities to set the pulses racing, meet famous faces from the silver screen and catch a glimpse of sets and props from the best-loved Hollywood productions.
Get your Universal Orlando 3-Park Explorer before you travel.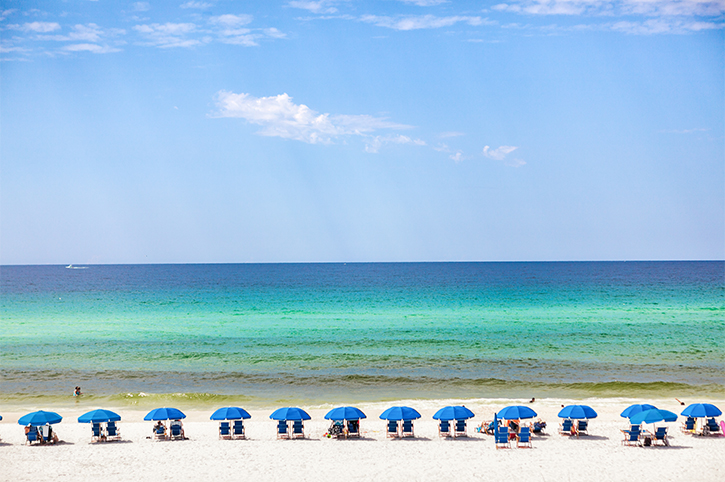 Florida Beaches
Away from the bright lights and the endless energy of Florida's theme parks, lies a beautiful coastline, which offers a chance to catch up on some rest and relaxation – much-needed after the thrills and spills of the adventure parks, we're sure!
As the Sunshine State, Florida really is one of the best places in the US to visit to catch the rays, enjoy vivid blue skies and top up on the tan. Flanked by the crystal clear waters of the Gulf of Mexico, Florida beaches are a dazzling collection of pristine sands, which are the perfect base for recharging those batteries after an epic Orlando adventure.
Perhaps the most popular spot for beach lovers is the famous Florida Keys. This glimmering collection of tiny tropical islands nestled at the foot of the state is blessed with an abundance of quiet, secluded beaches, charming seaside towns and waters that are ideal for swimming, snorkelling and water sports. There's a cool, laid-back vibe in this part of the world and it provides a wonderful contrast to the buzz of both Orlando and Miami.
The main towns in the Florida Keys are Key Largo, Key West and Islamorada. These destinations are ideal for visitors looking to recline in the sunshine with an exotic cocktail in hand and nothing but swaying palm trees and pink-tinged skies for company as the sun plunges into the horizon.
Find your ideal Florida beaches hotel for your stay or discover Key West in a day on our Key West Tour.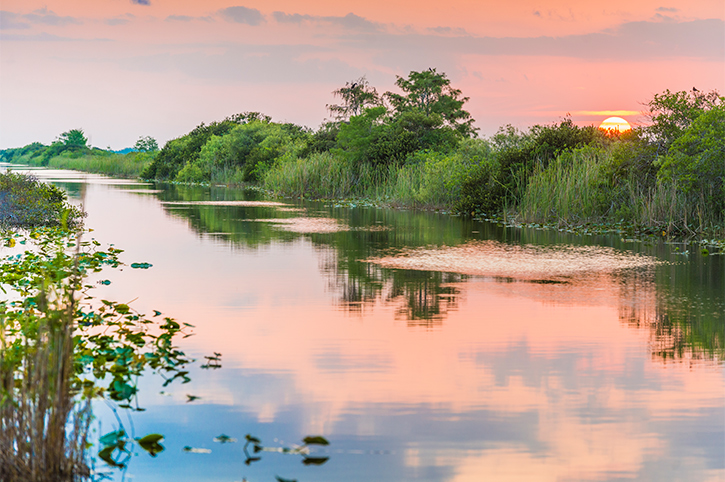 Everglades National Park
Just a short drive north of the Florida Keys, visitors will stumble upon the most high-profile national park in the state. The Everglades National Park is an enormous area of wetlands, which covers over 1.5 million acres. As a stunning area of natural beauty, this is a World Heritage Site and protected under the Cartagena Treaty, protecting the vast biological diversity on offer here.
The Everglades itself is a watery wilderness, which can be explored both on foot and by boat. There are certain areas that are accessible via wooden walkways, but the best way to get around is very much by boat. Guided tours enable visitors to learn more about the park, to get a better insight into the scale of the wetlands and to maximise their chances of spotting some of the native species that make this such a special and unique place.
Wildlife is abundant in these parts, with a diverse range of inhabitants on display, including alligators, turtles, herons, crocodiles, dolphins, manatees and a host of bird species. There are three entrances to the park and they are not joined to each other, so forward planning is essential.
Highlights to factor into itineraries include:
Hiking the short Anhinga Trail to see turtles, herons and alligators
Climbing the observation tower at Shark Valley
Boating or kayaking in Florida Bay
Taking a slough slog tour with a ranger to explore the cypress dome
Watching the sunset over Flamingo Bay
Cycling and hiking in the pinelands
Paddling in Nine-Mile Pond
Of all the things to do in Florida, it's difficult to beat a day or two in the spectacular damp oasis that is the Everglades National Park. Book your Everglades Day Tour today.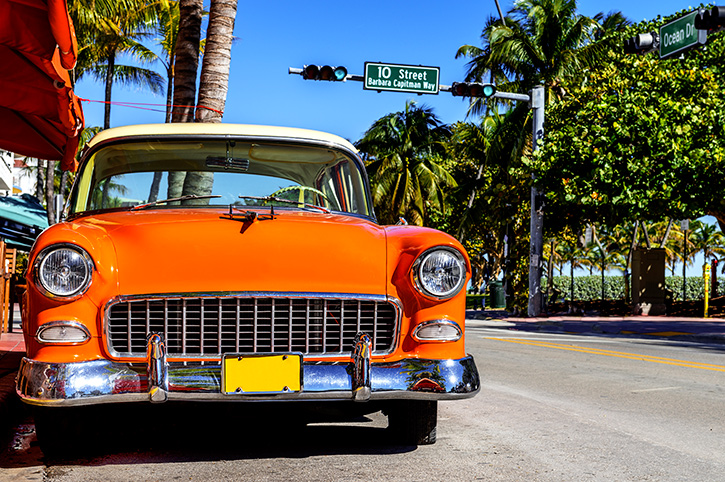 Urban Adventures in Miami
Florida is known for its golden beaches and its ability to host unforgettable, fun-packed family holidays, but it's also a cool, cosmopolitan state, which offers incredible urban adventures. Miami is the most popular city for tourists and it's not difficult to see why visitors from all corners of the globe flock here.
A sun-drenched jewel in Florida's crown, Miami is achingly hip and it's every bit as trendy and appealing to the eye as its residents. This is a city where going to the beach is part and parcel of everyday life and there's an alluring sense of calm and relaxation as soon as you hit the waterfront. Just a stone's throw from the luxury hotels and skyscrapers, there's an array of seaside resorts embellished with art deco architecture, rolling waves and glistening sands.
When in Miami, a visit to South Beach is a must. This is the place to be seen and it boasts everything from a fabulous beach and glitzy bars and clubs to some of Miami's most iconic buildings. The Art Deco district is a treat for the eyes and Ocean Drive is everything you would envisage when you think about taking a break in Miami. Think wide promenades lined with palms swinging in the breeze and unrivalled ocean views.
Miami has a thriving arts scene and there's a wonderful collection of galleries and museums on offer. Take some time to meander through Miami Design District, marvel at the masterpieces at Perez Art Museum and check out the Institute of Contemporary Art.
Make the most of your time in Miami with Big Bus Miami tickets or try something different with our Original Miami Tour.
Where To Stay In Florida
Visitors will be spoilt for choice when it comes to narrowing down their options after browsing Florida hotels and looking at condos and villas to rent.
This state has a hugely diverse collection of hotels on offer in all the major tourist areas and there are options to cater for all budgets. There are hotels located within the famous theme parks, but for those eager to save it is possible to stay a little further away and still be close to the heart of the action.
In the south of Florida in the sun-soaked beach resorts of the Florida Keys, guests can choose from large, luxury hotels, smaller, more intimate resorts or villas and apartments that are close to the beach. In Miami, there's a veritable feast of options available, with some of America's most distinctive, colourful buildings acting as a base for those keen to explore the city, dance until the early hours and embrace the Miami way of life. Downtown Miami is great for those who want to be close to shops, restaurants, and museums, while the beaches and night spots of South Beach are a draw for those keen to party hard by night and top up their vitamin D levels by day.
Find your ideal Miami Hotel today.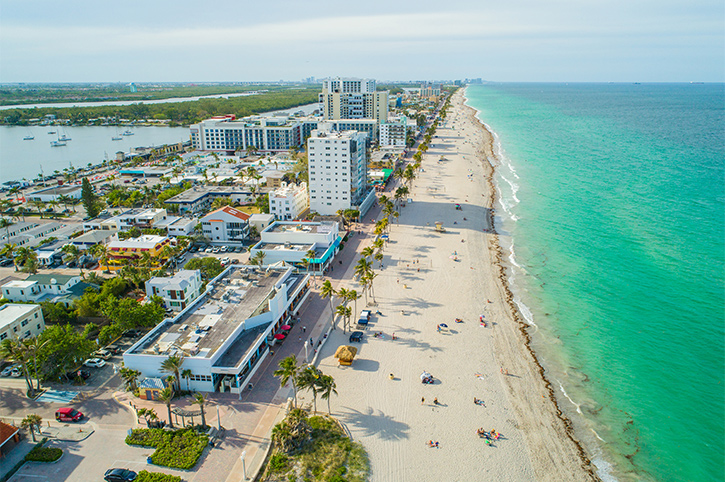 Florida is one of the most popular tourist spots in the US, and it's no surprise. The sunshine state offers everything any visitor could possibly want from a vacation. With everything from national parks and sweeping golden beaches to the world's most famous theme parks and captivating, enigmatic cities, it's possible to enjoy every kind of break without crossing the state border. Still stuck for where to go and what to do in Florida? Let us help you plan your Florida holiday today.