The Top States In The States For Your Visit
Made up of a dazzling array of diverse states, the USA is a fascinating, unique country, which provides the perfect playground for any traveller looking for anything from stunning vistas to outdoor adventures and cultural experiences.
Offering an incredible selection of tours, attractions and excursions, a trip to the US caters for visitors looking for every type of break. From action, adventure and adrenaline-pumping activities to cultural experiences and serene beach sojourns, the US is very much the place to be.
For those hoping to cross the pond, here's a handy guide to the top states in the States to make narrowing down where to go on your USA holiday a bit easier.
The Best States in America To Visit
America is such an intriguing country and every state is completely different. For those who love to travel, there are endless gems to discover when crossing borders or jumping from one coast to another. With so many opportunities on offer, it's not usually possible to cover the entire country in one go, but there are definitely some highlights you won't want to miss.
Here are our most popular states to visit, handpicked by our customers and America Experts.
California
Known as the Golden State, California is drenched in sunshine all year-round but it's not just the beaches that draw crowds.
Boasting enigmatic cities like San Francisco and Los Angeles, a stunningly picturesque coastline and a host of amazing historical and cultural activities, this state is a fabulous location for every tourist. When it comes to things to do in California, highlights include the waterfront city of 'San Fran' with its magnificent burning-red Golden Gate Bridge and the bustling, glamorous city of Los Angeles.
While staying in San Francisco, there's a host of attractions to get around, including cycling across the Golden Gate Bridge, and the mysterious, nerve-jangling Alcatraz Island experience. A short boat ride from the vibrant piers of Fisherman's Wharf lies the vacant cells that once housed some of America's most notorious lawbreakers. It's possible to explore by day, or to test the nerves with a spine-tingling tour in the dark.
Travelling from one iconic Californian city to another, visitors will find an entirely different proposition lying in wait in Los Angeles. Sandwiched between the opulence and glitz of the Hollywood Hills and the laid-back, achingly hip ocean-front communities of Santa Monica and Venice Beach, LA is a melting pot that offers a dazzling selection of sights. Of all the things to do in California, visiting Hollywood is top of many a travel bucket list. Spot well-known names on the Walk of Fame, catch a premiere at the Chinese Theatre or meet iconic characters and brave the rides at Universal Studios.
Florida
Affectionately known as the Sunshine State, Florida offers the perfect blend of fun and relaxation. While Orlando is a hotspot for thrill-seekers and those looking to travel to fantasy lands and magical kingdoms, the Florida beaches are an idyllic base for recharging the batteries and soaking up the sun.
Away from the famous theme parks, there are plenty of things to do in Florida. This sun-soaked state boasts some of the most spectacular natural scenery in the US. The Florida Everglades, a wetland wonderland that covers thousands of kilometres, is a wonderful place to indulge an interest in wildlife and to appreciate the staggering beauty of this corner of America. The Everglades is a landscape like no other in America and our boat tour is an ideal way to get around, to spot alligators, rare birds and manatees, and to get a sense of the awe-inspiring scale of the park.
Having enjoyed adventures on the water and activities like hiking, bird or gator spotting and cycling, the next port of call in Florida, Key West, provides an idyllic base to rest and recover. A trendy seaside spot that boasts beautiful beaches lined with cosmopolitan cafes and bars, this is a lovely location to take a break and explore the other towns and beaches of the islands. For those who are feeling energetic, there's a chance to try water sports and to snorkel and dive on the colourful reefs.
Having topped up the tan, enjoyed the thrills and spills of the theme parks and cruised through the marshes alongside the alligators, why not enjoy Florida's iconic city.
Miami is famed for its beautiful people and quirky Art Deco architecture. South Beach is a hive of activity with a host of bars and clubs overlooking the water, with the incredibly photogenic Ocean Drive the jewel in the crown. A walking Original Miami Tour is a fantastic way to see the sights and get a feel for the city's unique vibe and culture.
Tennessee
A landlocked state in the heart of the South, Tennessee offers a completely different type of holiday to adventures in Florida and California. Known for extending a warm welcome and its vibrant live music scene, this is a state where every visitor is guaranteed a good time.
There's a raft of things to do in Tennessee. The city of Nashville is a must for music lovers and Elvis Presley aficionados should head straight for a Graceland Mansion Tour. Tours are readily available and they provide a fascinating insight into the life of one of music's indisputable legends. For those with an interest in American music, the Sun Studio Tour is another highlight to incorporate in the itinerary.
The birthplace of rock 'n' roll, this tour offers an unparalleled opportunity to hear outtakes, see memorabilia and take a walk in the steps of some of the country's most famous and respected musicians. This is the studio that catapulted names like Elvis, B.B King, Roy Orbison and Johnny Cash to stardom.
One of our favourite ways to explore Tennessee's culture is to take a showboat cruise. The General Jackson Dinner Cruise offers the chance to enjoy one of the state's most loved traditions. Climb aboard and get ready to be entertained, with top class performers putting on a show while guests enjoy a sumptuous dinner and refreshing drinks.
New York
New York features on many travel bucket lists and it's not hard to see why. This state is most famous for the city that never sleeps, with a breathtaking selection of sights and attractions that enchant visitors of all ages. There's a range of options available when it comes to ticking off things to do in New York and it's possible to take a Best of New York Cruise, to buy a New York CityPass or to soar high above the skyline and enjoy a bird's eye view from a helicopter.
The Big Apple is renowned for its inimitable energy and it's difficult to imagine ever getting bored. Unfortunately, most visitors have just a limited amount of time to discover a city it could take years to get to know fully! Joining tours is a great way to cover a lot of ground in a short space of time and tick those best sights and experiences off the bucket list.
There is so much to see and do in New York and most itineraries feature the Statue of Liberty and Ellis Island, the Empire State Building, Central Park and Times Square. It's also a great idea to try and catch a show on Broadway, to visit Brooklyn Bridge and to enjoy the views from the Top of the Rock Observation Deck. For those keen to explore a little further afield, walking the High Line is a brilliant way to see some of Manhattan's trendy suburbs and to appreciate the views from a different angle.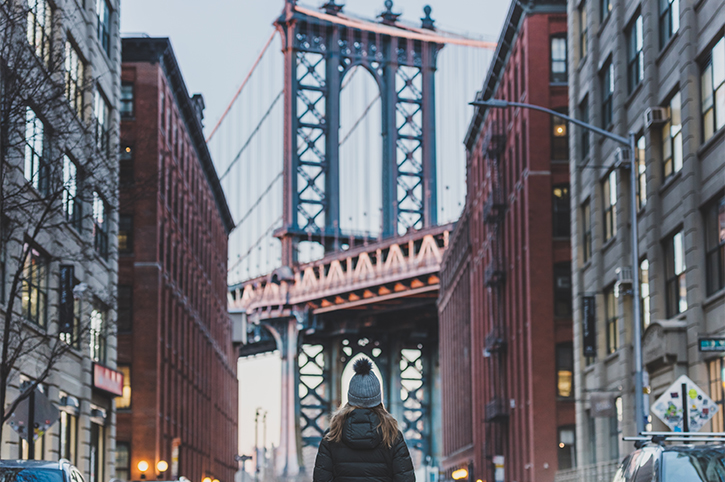 Nevada
Defined by its contrasting expanses of arid desert and neon cities, Nevada provides a base for outdoor pursuits and city slicking. Of the many things to do in Nevada, the most iconic attraction is surely the Grand Canyon, a mind-blowing natural wonder that straddles the border of Nevada and Arizona.
Stretching for hundreds of miles, the magnitude of this plunging gorge has to be seen to be believed. The Grand Canyon has various entry points, with the North Rim open in the summer months, and the West Rim offering the chance to enjoy the vistas from the transparent sky deck. The South Rim is further away from Las Vegas but it is often quieter, and it's a perfect spot to catch the sunset. Don't miss the best bits with a Grand Canyon South Rim Tour.
A few hours' drive from the solace and serenity of the Grand Canyon lies Nevada's other travel guide favourite, Las Vegas. A heady, luminescent paradise surrounded by desert, the famous strip is lined with giant, themed hotels that boast casinos that operate 24-hours-a-day. From Paris to Venice and New York to Ancient Egypt, you can travel the world just by strolling a few blocks. Catch a show, plump for red or black and visit the old town, Fremont Street. For the ultimate adventure, fly high above the bright lights and take a Las Vegas Night Flight in a helicopter.
Louisiana
Nestled on the Gulf of Mexico in the South East of the States, Louisiana offers an authentic taste of the South. Known for its rustic charm and warm hospitality, this state is a world away from adventures in Las Vegas and Los Angeles. Exploring New Orleans is top of any things to do in Louisiana for many travellers, and it's no wonder. This charming, old-fashioned city oozes character from every corner, and it's visually enchanting. Our America Experts highly recommend the New Orleans City Tour to help make the most of your visit.
When in New Orleans, visitors should also take advantage of the opportunity to listen to live music, notably jazz and blues, and to sample the traditional cuisine, which combines tastes and flavours from all over the world. To tick both of these boxes, what could be better than a Jazz Dinner Cruise. Departing from the famous French Quarter, a two-hour ride on a traditional steamboat treats guests to a spectacular performance and a tasty dinner on the water.
As well as its music and gastronomy scene, Louisiana is also known for its natural beauty and a tour of the Manchac Swamp comes highly recommended. This watery network adorned with greenery and foliage is bursting with wildlife, and the colours are so vivid that they look like a movie scene created by CGI. Examples of residents to look out for include the well-known snapping turtles and the American alligator.
America is a land that offers unrivalled opportunities for globetrotters. From rustic river cruises that take you back in time, to golden beaches and historic monuments via casinos that never close and some of the most awe-inspiring geographical features on the planet, the US will never disappoint – no matter which states you choose to visit. If planning your America holiday feels like there is too much to fit in, take note of our personal recommendations above or get in touch with an America Expert today.