Where To Find Winter Sun
The sun is setting earlier every day in the U.K., and there's a definite chill in the air. As temperatures tumble and wintry weather looms, what could be better than escaping the cold and swapping dark afternoons for bright sunshine? If you're looking to banish the blues, there's a host of dazzling winter sun destinations on offer worldwide. This guide provides inspiration for sun-seekers ready to book their next international holiday.
Our Top 5 Winter Sun Destinations
As the mercury plunges in the UK, the other side of the world is heating up. For those who don't fancy short days, rain, wind or snow, heading overseas during the winter is a great idea. With a raft of countries basking in the glow of the sun while Brits wrap up warm, here's our selection of the best places to go to find winter sun.
1. Thailand
For travellers looking to hit the beach and catch some rays, a holiday to Thailand is a fabulous choice. A stunningly beautiful country that offers a diverse range of holiday experiences, Thailand provides everything from tiny islands and bustling cities to lush rainforests and deserted beaches. For a beach break, there's a clutch of wonderful locations dotted around the glistening coastline. To the west of the country, visitors can take advantage of pristine golden sands and the vivid turquoise waters of the Andaman Sea.
The most popular resorts include Phuket, which has a very lively vibe, and the smaller, quieter islands of Phi Phi and Khao Lak. Krabi is an excellent base to discover the natural beauty of this part of Thailand, and Ao Nang provides a spectacular setting for voyages across the water via longboat. Railay Beach is a popular choice for visitors of all ages.
To the east of the country lies an archipelago that is characterised by glimmering beaches, green forests and sparkling blue-green water. Koh Samui offers the best of both worlds, with the opportunity to relax and unwind, as well as a chance to embrace the local culture and enjoy activities like hiking, kayaking, and watching or learning about Muay Thai. There are vibrant markets to explore and animal lovers can take the opportunity to visit an elephant sanctuary.
From Koh Samui, those looking to explore further afield can travel by boat to Koh Phangan and Koh Tao. These islands are smaller but no less enchanting. Diving is a major draw in Koh Tao, while Koh Phangan is famed for its iconic full moon parties. The weather can be changeable and unpredictable during the rainy season so the UK winter represents the best time to visit Thailand. At this time of year, there's plenty of sunshine and dry weather around.
2. South Africa
A holiday in South Africa is a fantastic choice for those seeking some winter sun. With January and February representing the summer months, this is the best time to visit South Africa. At this point, visitors can expect to enjoy warm, sunny days, which are perfect for seeing the best this incredible country has to offer. This is a hugely diverse destination, which promises all kinds of experiences and adventures, and as such, it works for a broad spectrum of travellers. From wine tours and city slicking to beach breaks and unforgettable safari adventures, there really is something for everyone.
South Africa is one of the best places on the planet to get out into the great outdoors and appreciate the majestic, magnificent creatures that roam the arid plains and lush grasslands that make this continent unique. Kruger National Park is home to the famous 'big five,' with all kinds of safari options available, including traditional game drives and walking tours. Hot air balloon trips are also available close by.
While Kruger attracts crowds and grabs headlines, there are several smaller and less well-known reserves and parks, which provide magical wildlife viewing opportunities. Highlights include Sabi Sands and Mala Mala game reserves.
As well as offering visitors the chance to marvel at all creatures great and small, South Africa is also an awesome destination for those keen on city breaks and other wildlife experiences. Whale watching is a popular pursuit around Hermanus, and a trip to Cape Town can feature everything from touring historic sights to tasting wine and topping up the tan.
Climbing Table Mountain provides scintillating views of the city and the coast, and Robben Island is a must for those eager to learn about the country's chequered past. The waterfront is picturesque and there's an array of restaurants offering lunch with a view. The Garden Route is a road trip like no other, and it's ideally suited to wine lovers.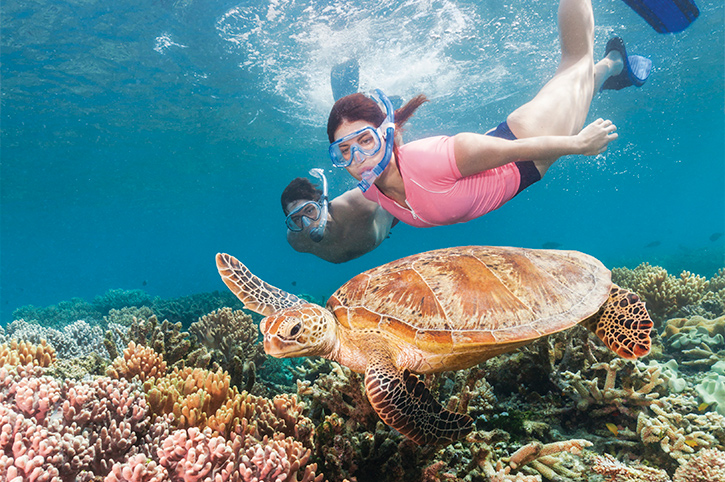 3. Australia
A giant landmass surrounded by ocean waves, Australia is one of the most enticing prospects for anyone searching for sun. Located in the Southern Hemisphere, 'Oz' basks in the golden glow of sunshine while frosts blanket the UK. The size and scale of Australia makes it difficult to explore every corner in a single trip, but there are several highlights, and no itinerary will disappoint.
The summer is the best time for an Australia holiday, to make the most of the vast swathes of golden sands, with destinations like Perth, Sydney, and the Gold Coast particularly popular at this time of year. Temperatures tend to reach up to 30 degrees by the coast with a refreshing breeze. Further north, a short boat ride from Cairns, visitors can enjoy snorkelling, swimming, and scuba diving tours of the Great Barrier Reef and hiking excursions in the forests of the far north are perfect for those keen to test their mettle.
One of the best ways to get around in Australia is to hire a car and follow a self-drive itinerary. The East Coast draws crowds from all corners, offering a never-ending series of incredible beaches, archipelagos and quaint seaside towns and villages. For those who enjoy sailing or snorkelling, sailing the Whitsundays is a must. Located just off the mainland, with easy access from Airlie Beach, this is the place to be to discover secluded coves, white sand beaches and tiny land masses that look like something generated by movie animators.
Another essential road trip for those eager to tick off an Antipodean bucket list is the Great Ocean Road. The jewel in Victoria's crown, this winding track provides staggering views of the dramatic, rugged coastline. The highlight for most is the Twelve Apostles, a series of stone stacks that rise from the ocean with inimitable majesty. Starting the trip in Melbourne is a wonderful idea for those keen to combine sightseeing and cosmopolitan living with outdoor pursuits and balmy beach days. Melbourne is a bustling, cool city, which offers everything from artisan markets and giant designer malls to seafront amusement parks and skyscrapers that afford stunning skyline views.
4. New Zealand
A land famed for its unrivalled natural beauty, New Zealand is a perfect destination for travellers looking to escape the winter in the UK and embrace outdoor living. The summers are warm and dry, making this the best time for a New Zealand holiday. With temperatures hovering at a pleasant level, it's possible to explore cities, to catch the rays at the beach or to hike, cycle, canoe or climb without succumbing to scorching heat.
New Zealand is a relatively small country which comprises two islands. The scale makes it ideal for those keen to get around on two wheels. Following the coastline on the South Island will take explorers from the pretty city of Christchurch down to Dunedin and round to Queenstown, taking in the serenity of the Otago Peninsula and incredible views of Milford Sound en route.
Lake Wanaka and Lake Matheson provide awe-inspiring photo opportunities, while the tranquil fjords that stand in the shadow of Milford Sound's Mitre Peak are ideally suited to languid boat rides. Queenstown is a hive of activity, with every kind of adventure sport available.
On the North Island, travellers can enjoy another packed self-drive itinerary, taking in the cities of Wellington and Auckland, and discovering amazing geographical wonders such as the pungent thermal waters of Rotorua and the intriguing Hot Water Beach. On a sunny day, the beautiful beaches of the Bay of Plenty and the Bay of Islands attract locals and tourists alike. Further inland, fans of the Lord of the Rings books and films will be blown away by the opportunity to see fictional fantasy lands brought to life on a tour of Hobbiton Movie Set.
5. Malaysia
Sandwiched between Thailand and Singapore, Malaysia is a country that is famed for its unspoiled beaches and jaw-dropping island idylls. Away from the buzz of the cities, the coastline is dotted with small islands, which provide a paradise-like base for recharging the batteries and topping up vitamin D stores. Langkawi, an archipelago consisting of 99 tiny masses off the West Coast, is a perennial high-flier in the best beaches category.
Langkawi is known for its swaying palms, golden sands and luminescent blue waters, and there's a sumptuous selection of luxury hotels, as well as boutique resorts and guesthouses. For those able to tear themselves away from the sun lounger, there's a range of activities on offer, including parasailing, boating, jet-skiing, snorkelling and kayaking.
For travellers on a quest to find winter sun, the best time to holiday in Malaysia is the UK winter. Between December and the end of February, temperatures are set steady at 25-35 degrees, with a gentle breeze on the west coast and minimal risk of downpours.
While the prospect of snuggling up in front of the fire and indulging in hearty roast dinners can be appealing, there's no doubt that the lure of sunshine and dry weather can be tough to resist. For those keen to escape the dark nights and the chill of winter, taking a winter sun break is an excellent idea. Thankfully, if forecasts that feature snow are filling you with dread, there are plenty of spectacular locations to soak up the sun at this time of year. Find your ideal winter sun holiday now.