America Holidays for Movie Fans
America has provided a backdrop for some of the most famous and iconic movies ever made. Comprising a patchwork quilt of filming locations that takes in sights and attractions ranging from city skylines and plunging canyons to golden beaches and charming, rustic towns and ranches, it's no wonder than many a director has been drawn to the fascinating landscapes of the US.
For movie fans, there's no better place to be than the States, but where do you start your epic Hollywood-themed adventure? With such a vast range of filming locations to boast about, it can be difficult to narrow down the top movie spots, but don't worry. Here's a handy guide to the must-see destinations on a movie-themed America holiday.
Famous Movie Locations in America
America is one of the most photographed countries on the planet and it's no surprise that its striking landscapes have inspired directors, producers and writers for decades. Over the years, the US has featured in a never-ending stream of Hollywood blockbusters, as well as independent films and hit TV shows.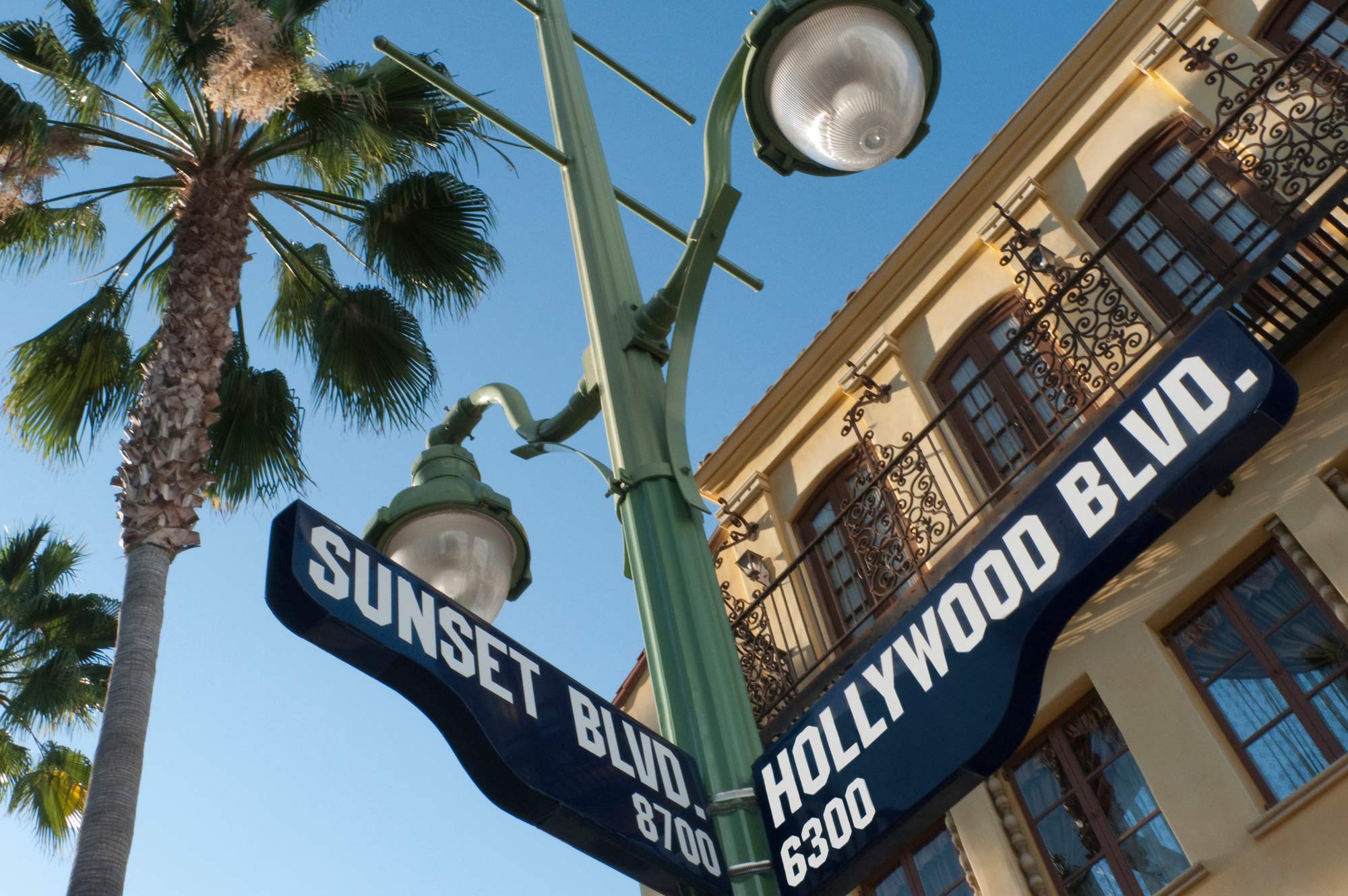 For movie buffs, there's nothing quite like seeing famous locations in real life and following in the footsteps of iconic characters and award-winning actors. Every state has a claim to fame but many travellers touch down on the tarmac with a to-do list in hand. For those keen to recreate epic scenes, here are some ideas for America holidays for movie fans.
Movie Locations in San Francisco
San Francisco is a city that is very easy on the eye and its unique features make it an ideal base for filming all kinds of movies. While the Golden Gate Bridge has appeared on many a movie, perhaps the most famous films set in San Francisco feature another of the city's infamous landmarks.
Alcatraz Island Movies
Alcatraz, which was home to some of the country's most renowned law-breakers, provides the setting for cult classics, including Escape from Alcatraz and The Rock. This brutal prison is perched on an imposing stone mass, set apart from the city by the glistening waters of the harbour. Include a trip over to Alcatraz Island on your America holiday, with the choice to visit either during the day or after sunset.
Mrs Doubtfire & San Francisco
The city of San Francisco is also home to the property made famous by the 1993 movie, Mrs Doubtfire. A film that cemented Robin Williams as a firm favourite for children and adults alike, the movie sees Williams' character, Daniel, dress up as an extroverted older lady affectionately known as Mrs Doubtfire in a desperate bid to spend more time with his children. The house is located on Steiner Street and went up for sale in 2016 with a price tag of over $4.5 million.
Find the best located hotels in San Francisco for your visit.
Golden Gate Bridge Movies
It's not possible to talk about movies and San Francisco in the same paragraph without mentioning the Golden Gate Bridge. This stunning, vivid red structure, which spans the harbour, is a film star in its own right, appearing in several movies, including A View to a Kill, Star Trek and Superman. On your visit, you can drive, walk or even cycle across the Golden Gate Bridge.
Travel inspiration, delivered straight to your inbox:
All done! Thanks for signing up.
Movie Locations in Hollywood
Hollywood in Los Angeles is the home of the silver screen and a shining light of the global film industry. As well as hosting high-profile premieres on a weekly basis, this exclusive area has also been featured in some of the world's best-loved films.
Pretty Woman & Rodeo Drive
The standout movie for many visitors staying near Beverley Hills is Pretty Woman. Julia Roberts' iconic strut along Rodeo Drive has prompted many a visit to this lavish row of luxury stores and designer boutiques, with many keen to recreate the famous scene that sees Vivian shoot down a snooty assistant, cooing, 'Big mistake. Big. Huge mistake' as she sweeps out of the shop preparing to splash the cash in another store. Many tours include a stop on Rodeo Drive, including the Hollywood Stars Home Tour.
More Hollywood Film Sets
More recently, Hollywood provided a stunning setting for the musical masterpiece, La La Land and the 2011 Academy Award winning, The Artist. Hollywood is home to some of the most famous movie locations in America and most high-profile filming locations are easily accessible either by foot, by tour bus or by car.
From hotels in Los Angeles to complete holidays to California and the west, we have all the individual elements to create your dream trip to L.A.
Movies Filmed on Route 66
Route 66 is the most famous road trip on the planet, so it's no wonder that there is a huge catalogue of movies that have featured this notorious stretch of tarmac.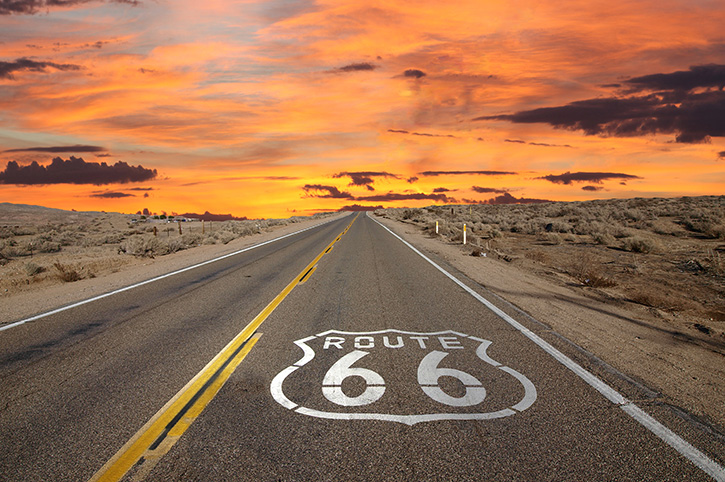 Thelma & Louise Road Trip
Perhaps the most well-known offering is Thelma and Louise, the title that is bound to come to mind when anyone mentions a road trip film. Thelma and Louise depicts a journey from Arkansas to Arizona, but the film was set predominantly in California and Utah.
More Route 66 Film Sets
Away from the thrills and spills of girls on tour and all the adventures that ensue, the instantly recognisable Route 66 signs can also be spotted in The Grapes of Wrath, Easy Rider, Little Miss Sunshine and even Disney Pixar's 2006 hit, Cars. Embark on your very own Route 66 holiday.
Movie Locations in Las Vegas
A neon hive located in the heart of the desert, Las Vegas is one of the most unique cities in the world. Known for its glitz, glamour and 24-hour parties, Vegas has enjoyed many a movie cameo over the years. The luminescent playground that is the Strip has featured in several movies and a stroll along the sun-baked pavements reveals one high-profile location after another.
Oceans Eleven & The Bellagio
Multiple Hollywood movies feature some of the strip's most notable luxury hotels. Fans of George Clooney and Brad Pitt's thrilling heist movie, Oceans Eleven, should head to the Bellagio.
Rain Man & Caesar's Palace
Those keen to follow in the footsteps of Tom Cruise and Dustin Hoffman can pay a visit to the Emperor's Suite in Caesar's Palace, which is known as the Rain Man Suite to this day. This is the room the brothers stayed in after winning big on the blackjack tables.
Movie Locations in New York
New York is one of the most photogenic cities on Earth and it's also played a crucial role in bringing many a film reel to life.
Sex and the City
One of the city's most famous fictional residents, Carrie Bradshaw, has inspired many a themed trip to NYC, with Sex and the City gripping both female and male viewers for years during the 90s and noughties.
The TV series, which later inspired a set of movies, showcased the city in its best light, with stunning sequences of the stylish ladies strolling through tree-lined avenues overlooking Central Park, the Statue of Liberty and the Empire State Building a regular feature. You can see all of New York's most famous icons on a Best of New York Cruise.
More New York Film Sets
The Big Apple has also provided the set for some of the most universally adored rom-coms, including When Harry Met Sally and You've Got Mail. The expansive streets and twinkling skyline have also appeared in Taxi Driver, Breakfast at Tiffany's, Ghostbusters, Gangs of New York, Goodfellas, Once Upon a Time in America and Fame. We can help tailor a New York and the East of America holiday to suit you.
Move Locations in Philadelphia
Philadelphia might not be the first destination that springs to mind when you think of movie locations in the USA, but there's definitely at least one movie filmed here that provides a super iconic photo opportunity.
The Rocky Steps in Philadelphia
Most visitors don't want to leave Philadelphia without taking a trip to the famous steps of the Museum of Art. Now known by many as the 'Rocky Steps,' these 72 stone steps starred in one of the most well-known movie scenes of all time.
Most people can't resist the temptation to follow Sylvester Stallone's cue and climb the stairs, taking photographs and videos to capture the moment. Philadelphia also boasts a bronze statue of the fictional boxing hero, Rocky Balboa. Visit Philadelphia on one of our America Self Drive holidays, like this 8 day itinerary that visits all the gems of the northeast.
Movie Locations in Savannah
In recent years, many Hollywood films have been based in and around the city of Savannah in Georgia, a stunning part of America for a film backdrop.
The Forrest Gump Bench
Few films have made an impression like Forrest Gump. Tom Hanks' mesmerising performance as the eponymous character won him an Oscar and the movie, which brings a truly heart-warming tale to life, also scooped the Best Picture accolade.
Although the film documents Forrest's fascinating life story, covering the far reaches of the globe, much of the narrative is focused on story-telling that takes place on a bench in Savannah. While waiting for a bus, Forrest starts to talk to a series of strangers, telling them all about his difficult childhood, his relationship with Jenny and his adventures as a marathon runner, a soldier, a shrimp boat sailor and a football star.
The bench is located in Chippewa Square Savannah and it's a popular haunt for movie fans and the many viewers who were enchanted by Hanks' flawless portrayal of an unlikely but hugely lovable hero. Incorporating some time in Savannah is easy on a 2 week Dixie Swing Southern USA driving holiday.
Movie Locations in Hawaii
The spectacularly beautiful islands of Hawaii have long been attracting creative talents, including writers and directors. This small cluster of islands, which boasts incredibly diverse geography, has appeared in a number of movies, providing the perfect setting for everything from action and adventure films to romantic comedies.
The Pearl Harbour Film Set
The most famous movie scenes recorded here include those from the 2001 budget-blowing blockbuster, Pearl Harbour. Pearl Harbour itself provided a focal point for the movie, but other parts of the islands were also utilised, including Ford Island and Honolulu.
Spend time visiting the many memorials in and around Pearl Harbour on Oahu Island. Learn about the fatal events of the Sunday morning of 7th December 1941. The USS Arizona Memorial marks the resting place of 1102 of the 1177 sailors and Marines killed on this ship.
Visit Pearl Harbour and more as part of a once in a lifetime Hawaii touring holiday.
There's no shortage of options when it comes to planning America holidays for movie fans. From the bright lights of the best-known cities to Route 66 and iconic locations in Philadelphia and Savannah, cinema lovers will never be disappointed when following in the footsteps of Hollywood greats and reliving some of the most notorious moments captured on film.
Start planning your movie-themed holiday to America with a Destination Specialist today. We provide a free planning service where you can list all the exciting places you want to visit on your USA adventure.
WRITTEN BY
Kelly
Originally from Florida, Kelly joined the America Specialist Team nearly two years ago. She has extensive first hand knowledge of the states and loves sharing her passion with customers. What's her favourite US destination..? New Orleans!