Where To Stay In Bangkok – Our Favourite Areas & Hotels
Bangkok is one of the largest cities in Southeast Asia. With over 19 million inhabitants in its centre and surroundings, the city is the one of Asia's main touristic hubs and has a lot to offer. You will discover friendly people, a great culture and a nice sense of hospitality during your Bangkok holiday.
Choosing where to stay can be a challenge as Bangkok's areas vary hugely. In order to help you get the most out of your trip we have picked out our favourite areas and hotels for where to stay in Bangkok to give you an idea about the real differences and the many styles of accommodation this Asian city.
Bangkok can be divided into 5 main areas for accommodation.
1. Staying in Sukhumvit
Sukhumvit is the most central and modern area. At walking distance from some of Bangkok's best shopping centres, bars and restaurants, it is a cosmopolitan district where locals, expats, and tourists all mix together to enjoy the bustling city.
Sukhumvit doesn't offer too much in terms of tourist attractions but you can find excellent accommodation, spas, clubs and great access to all public transport. There's an abundance of bars here so don't be afraid to enjoy the nightlife along the streets of Sukhumvit. For first-time visitors, take an evening stroll and really soak up the nightlife that Bangkok is so famous for.
The choice of hotels is impressive in Sukhumvit so here are some top picks:
Rembrandt Hotel
Located on one of the quieter streets and in walking distance to Asoke BTS station, Rembrandt hotel is close to shopping malls, restaurants and bars. The hotel offers rooms with fantastic views over the city of Bangkok. Equipped with a large swimming pool, it's the perfect place to relax after a day of sightseeing and shopping. It also provides a varying choice of food with Thai, Indian, Italian and Mexican cuisines all on offer.
Majestic Grand
Situated near the Phloen Chit skytrain, Majestic Grand is a modern city hotel only a couple of stops away from Siam Square where travellers will find many sightseeing spots and local markets. As well as large spacious rooms, the hotel also offers, a rooftop pool, spa and two restaurants serving Thai and Indian food making this the perfect place to take a break from the bustling rhythm of the city.
2. Hotels in Silom
Silom is a popular area to stay in Bangkok as you will find the Lumphini Park, hundreds of restaurants and great street food stalls. It is also very well connected by the MRT subway and BTS skytrain.
When staying in Silom, relax in the Lumphini Park or stop at the Banyan Tree rooftop bar, Vertigo, to see one of the best views of Bangkok. For night explorers head to the Patpong market to try some Thai specialities such as grilled cricket or fried scorpion. Sit down on the small plastic chairs, open a cold beer and enjoy!
Some of Silom's best hotels are listed below:
Furama Silom
Furama Silom is situated in the financial centre, right in the heart of Bangkok. Only few minutes away from the Chong Nonsi SkyTrain station, (arguably the best way to travel around the city), the hotel is surrounded by restaurants and the Siam shopping mall as well as the taxi-boat pick up point by the river. Enjoy the rooftop views from the comfort of the swimming pool and then head to one of the hotel's restaurants to taste some Thai delicacies.
Ramada D'Ma
Ramada D'Ma is ideally located next to an array of restaurants, cafes and bars, that would take travellers weeks to work their way through. It provides a complimentary shuttle bus to all the shopping malls making it easy for travellers to move around. Why not start your day with an early morning gym session at the fitness centre, grab your breakfast at the restaurant and head for a day out sightseeing and shopping. Then, after a long day around town, hit the rooftop pool, spend a few minutes in the sauna and get ready for dinner at the hotel's restaurant.
3. Staying in Siam
Siam is Bangkok's local young, trendy area with all the major shopping malls on offer such as Siam Square and Central World. It is also home to a number of expensive restaurants and bars providing western food rather than traditional Thai cuisine.
There are plenty of things to do here. Siam Ocean World with its huge aquarium, Madame Tussaud's wax museum, the ice skating rink in Central World, or several cinemas with all the new movies in original languages. On Wednesdays, you can also see Thai boxing near MBK mall. Look at the fights, bet a bit of your baht and feel the excitement alongside the locals.
Some places to stay in Siam area:
LIT Hotel
The modern LIT Hotel is situated next to many sightseeing spots and some of the largest departments stores in town, such as Siam Paragon and MBK. It is only a few minutes walk from the National Stadium BTS station that connects many skytrain lines which can send you to every corner of Bangkok.
Offering stylish rooms with all amenities, it also includes two restaurants, a leisure centre equipped with pool, spa, jacuzzi and steam room, making it the perfect place for a city break.
4. Bangkok Riverside Hotels
Along the Chao Praya river, Bangkok Riverside is a beautiful scenic area at night with the lights of the Royal Palace and temples visible in the background. Located in Bangkok's historic part, it is the area where you can find most of the 5-star hotels and top end accommodations.
The Riverside area has a lot of historic landmarks and is the best spot to watch the night ferries cruise up and down the river that flows into the city centre. Visitors can even grab one of the dinner boats and spend the evening dining on the water. You can also visit Wat Arun (the temple of the dawn), the grand palace: Wat Phra Kaeo, the famous giant reclining Buddha of Wat Pho and the flower market of Pak Klong Talat.
Our pick of some of the best places to stay in Bangkok Riverside include:
Amari Watergate Hotel
Amari Watergate Hotel offers spacious rooms and one of the best locations in town within the commercial district. With the Pratunam Market and the Platinum shopping mall just next door, Amari Watergate is a great accommodation providing several restaurants offering Thai and Western cuisines as well as a fitness club, swimming pool and business centre.
Anantara Riverside Resort
Along the west bank of Chao Phraya River, the Anantara Riverside Resort is a peaceful resort with lush gardens which offers a complimentary boat transfer to the Saphan Taksin pier which connects the BTS stations. The hotel offers impeccable service and a whole host of facilities such as several restaurants, a great swimming pool, kid's club and a private pier where you can unwind while watching the sunset.
5. Staying in Khao San
Khao San is the main backpacker area in Bangkok. Here you are likely to find young travellers with a limited budget. The hotels here are mostly small hotels and guesthouses as well as a number of good mid-range hotels. If you are looking for a good night out then this is your area with lots of cheap restaurants, bars and Thai street food stalls. The area is busy and noisy at night, but it is worth a visit as it is situated very close to the Riverside area.
Visitors can grab a cold local beer after visiting the Democracy Monument, the golden mount of Wat Saket, Phu Khao Tong Buddhist temple or the 20 metre high Giant Swing built in 1784 for King Rama.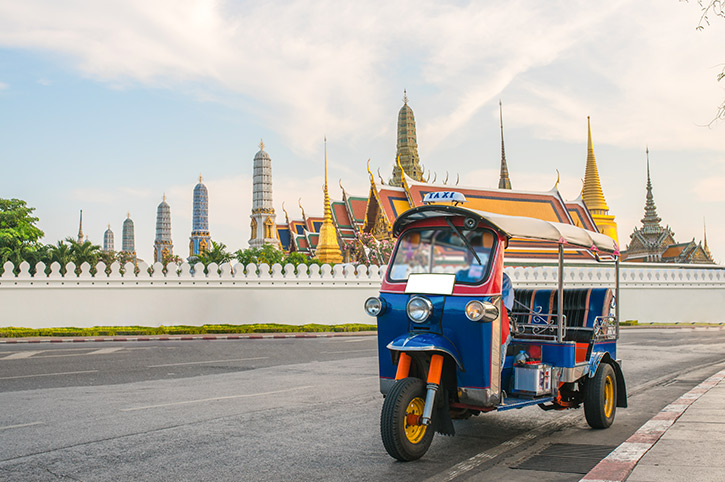 Our guide to the best areas to stay in Bangkok is a great way to get to know this vibrant city especially for first time visitors; it is always good to take the time to wander the streets and really get a feel for the small wonders that make up this amazing city.
To start planning your stay in Bangkok, browse our Bangkok holiday ideas or contact an Asia Expert now to help you plan your perfect getaway.